This orange jelly recipe uses fresh oranges and lemons to create a burst of summertime citrus flavors! After tasting this sunshine-y jelly, you'll want to make it every year and keep a stash of it in your pantry!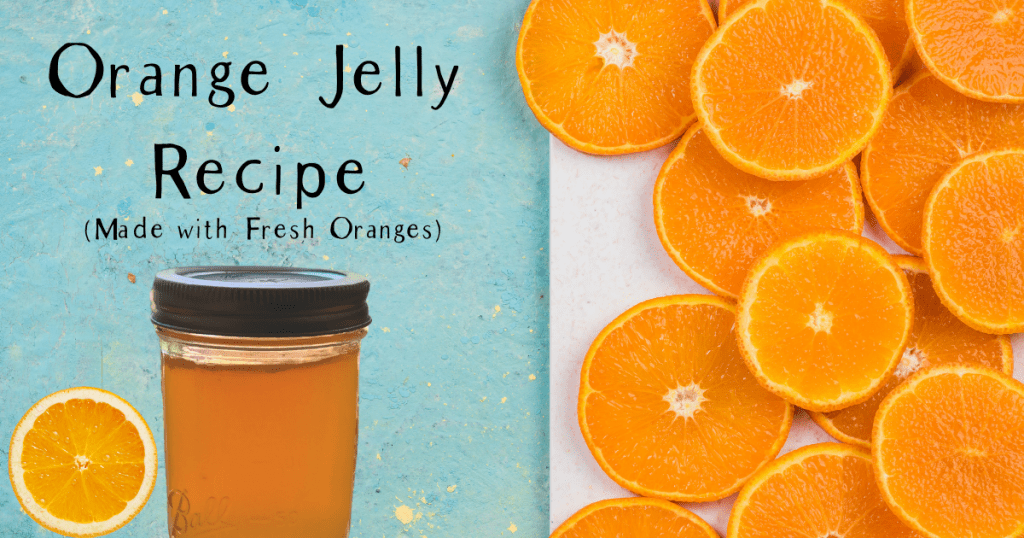 I don't generally make jelly because it seems like such a waste to not use all parts of the fruit. However, orange jelly is so very good I break all my rules and make it anyway.
This orange jelly contains both oranges and lemons and is bursting with fresh citrus flavors. It's like opening a jar of sunshine on a cloudy day. Seriously.
While making jelly requires a bit of extra work over the jam variety, the steps are easy to accomplish and you'll have jars of bright jelly ready to stash in your pantry in no time.
Let's get started…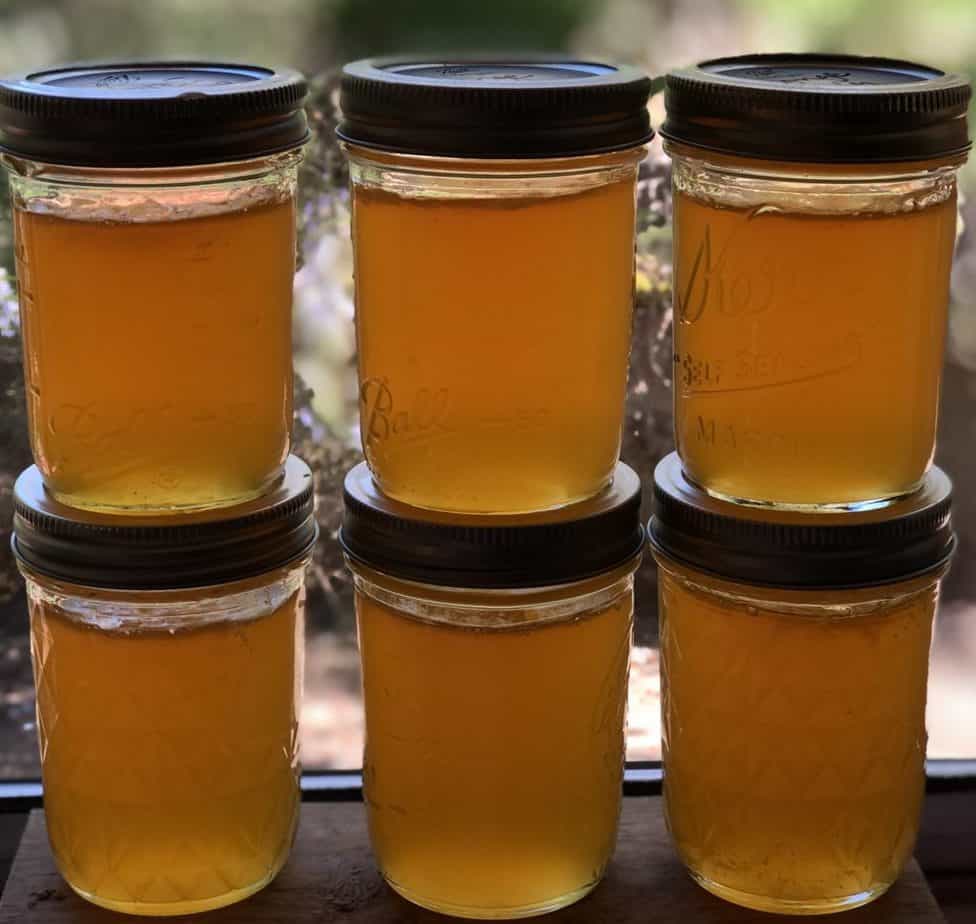 How to Make Orange Jelly
First, if you're new to canning, start here. You'll want to prep your jars and pull out all the canning equipment you'll need for water bath canning.
Orange Jelly Ingredients
The ingredient list for this recipe is short and sweet.
About 3.5 pounds of oranges (you'll want to end up with 6 cups of chopped orange pulp)
2-3 lemons (to end up with 1 cup of chopped lemon pulp)
1/2 cup thinly sliced orange peel (from the above oranges)
1 cup water
6 Tablespoons regular powdered pectin (this will be 1 full box and 1 T from a second box of pectin)
5 cups sugar
You'll also need 5-6 half-pint canning jars, lids, and rings as well as some cheese cloth (or a jelly bag) and a vegetable peeler (in addition to your regular canning supplies).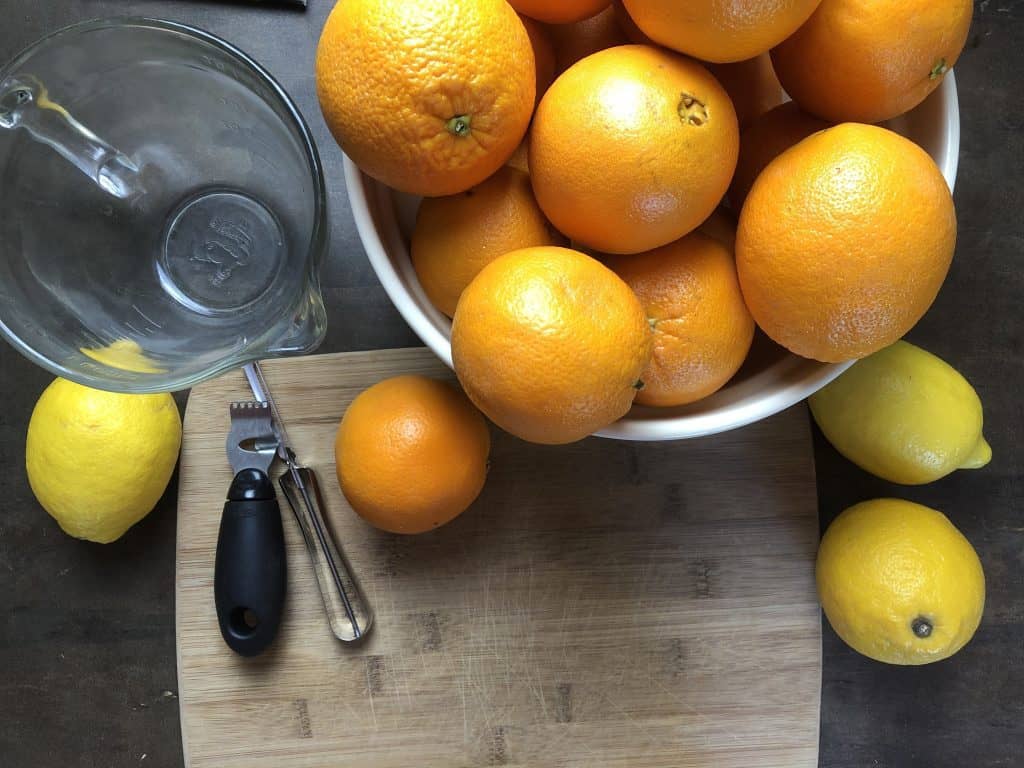 Directions-Prep Work
Wash the fruit in cold water. Using a vegetable peeler, peel some of the rind off the oranges and chop up to equal 1/2 cup. (You can also use a knife, but a veggie peeler takes less of the white part, which is better for the final taste–this peel part will be discarded before the jelly is canned–it just helps with the thickening.)
Cut the fruit in half and remove seeds. Remove the pulp from each half of the cut fruit (keeping the orange pulp in a separate bowl from the lemon pulp). Chop each kind of pulp up to measure the amounts above–6 cups of orange and 1 cup of lemon.
Measure the sugar out and into a bowl to have ready for later.
If you haven't already, you'll want to sterilize and prepare your jars and water bath canner now, too.
Directions-Cooking
Combine both fruit pulps and orange rinds with 1 cup of water in a large saucepan. Cover and simmer for 10 minutes, stirring occasionally.
Strain this mixture through several layers of a damp cheese cloth (or jelly bag). Measure out 4 cups of drained liquid. This is what you'll use to make the jelly.
Rinse the saucepan and place the strained juice and pectin back in it. Bring mixture to a boil over medium-high heat, stirring to make sure the pectin is mixed in and dissolved. Add the sugar. Continue to stir, dissolving the sugar and bringing the mixture to a rolling boil (one that can't be stirred down). Once the rolling boil is achieved, boil for 1 minute.
Remove from heat. Skim any foam off top of mixture.
Directions-Processing
Fill jars leaving 1/4 inch headspace. Add lids and rings to jars. Process in a water bath for 10 minutes (adjust the time, if necessary, to your elevation). Remove from water bath and let sit for 12 hours before storing.
Any jars that don't properly seal need to be stored in the fridge and eaten soon. The rest will last you a year (or more). If you can wait that long! Mmmm.
If you like oranges, you might like to try this Orange Marmalade recipe, too.