Have you ever made dandelion cookies? If not, it's time! For one, they're tasty! They're also easy to make and have some great health benefits to boot. If you're new to cooking with dandelions, its great fun to forage for those lovely yellow gems and then turn them into delicious food. These dandelion cookies will be loved by everyone. Ready to try them?
I've been a dandelion lover for as long as I remember. I even wrote a poem about dandelions when I was younger! While I've never understood why people view dandelions as weeds (they ARE actually flowers. Invasive flowers, but still flowers!) and took such drastic measures to destroy them. Needless to say, it's exciting to watch dandelions rise from hated to revered in our culture. Slowly but surely.
Why Dandelions?
Why the sudden mainstream interest in the lowly dandelion? The masses are finally catching on to what so many have known for a long time: they are good for you. Not only that, but every single part of the dandelion can be used for a variety of amazing things.
Dandelions are high in antioxidants (they contain things like luteolin (known to reduce free radicals) along with vitamins C, A and B12. They help support such things as healthy blood sugar levels, blood pressure and gall bladder function.
Dandelions are thought to help with supporting your body to its proper weight (by helping to get rid of 'water weight'), help loosen you up when you're elimination tract is stopped up, and even helps support the skin to stay healthy (and zit free).
More widely, dandelions known to help with aches and pains (which is why they're often found in salves like this one). In fact, they're found in all sorts of things: tinctures, tonics, tea, pesto–like this, wine, cordial, pie (like this dandelion rhubarb pie I make every year), lip balm, jelly (it tastes like honey–here's the recipe) and more.
If you'd like to know more about the health benefits of dandelions, check out this article by Dr. Axe.

Picking and Preparing Dandelions
And now, if you're still craving dandelion things, here's yet another recipe for you:  dandelion cookies! I love giving people reasons to nurture and not kill dandelions (another important reason for dandelions is that it's some of the first food for bees in the spring).
These cookies are tasty and easy to make.
First you'll need some dandelions. When collecting your flowers, it's good to go early while they're fully open. Also, avoid areas that have been sprayed (or that you're unsure about) and areas that are close to heavy trafficked roads. One of the biggest reasons to eat dandelions is for health benefits, so be careful to select 'organic' flowers that aren't covered with toxic substances.
You'll need 1/2 up of just the petals for this recipe (no green parts at all–those parts are bitter). Generally, I pick around 3 cups to get .5 cups of petals.
Once you collect your dandelions, gently rinse them in cool water and lightly pat them dry-ish with a towel or paper towels (they will stain with their yellow pollen, so don't use something you love).
Next, you'll want to de-petal the flowers. The easiest way I've found to do it is by firmly taking the green bulb part of the flower with my thumbs and pulling it apart. Then it's easy to pull the flowers from the base without getting any green bits in it at all. Here's a bit more detail on how to do that:

Or, if you'd rather, here's a little video of the process:
Dandelion Cookie Recipe
Now that the hardest part of the process is complete, the cookies themselves are quick to make.
First, pre-heat your oven to 375 degrees.
You will need:
1/2 cup coconut oil (softened) or other oil or even butter
1/2 cup honey (if you slightly warm it, it's easier to stir into the mixture)
2 eggs
1 teaspoon vanilla
1 cup flour (I use Bob's Red Mill 1-to-1 Gluten Free Flour–but regular flour will work fine too)
1 cup old-fashioned oats
1 teaspoon baking powder
1/2 cup dandelion (yellow petals only)
pinch of salt
Sprinkle of cinnamon
1/4 cup unsweetened shredded coconut
1/4 cup chopped pecans
3-5 drops Tangerine essential oil (food grade only) or other citrus oil of choice (optional)
What to do:
First, soften the coconut oil and mix with the slightly warmed honey (don't make it too hot or you'll cook your eggs!) Mix in your eggs and vanilla stirring well.
In a second bowl, mix flour, oats, baking powder, salt and cinnamon together. Pour this mixture into the wet mixture and stir. Mix in the essential oils if you're using them (they add a lovely taste).
Next add the coconut and pecans.
Drop them by spoonful onto a cookie sheet. (These cookies don't get much bigger than the dollop of dough you place on the cookie sheet). Bake for 10-12 minutes, or until browned on the bottom and golden on top. Move to a cooling rack. Eat these cookies warm or cold (or warm AND cold if you're like me!) I made a batch of these cookies and shared them with my neighbors. They thought they made a great breakfast cookie. I agree. (But they're also good any other time as well!)
If you keep them in the tablespoon-ish size, you'll get a couple dozen cookies. If you make them bigger, you'll get less.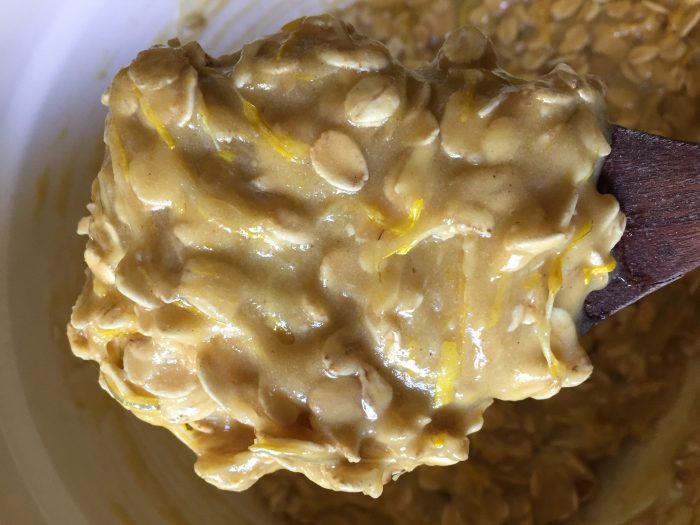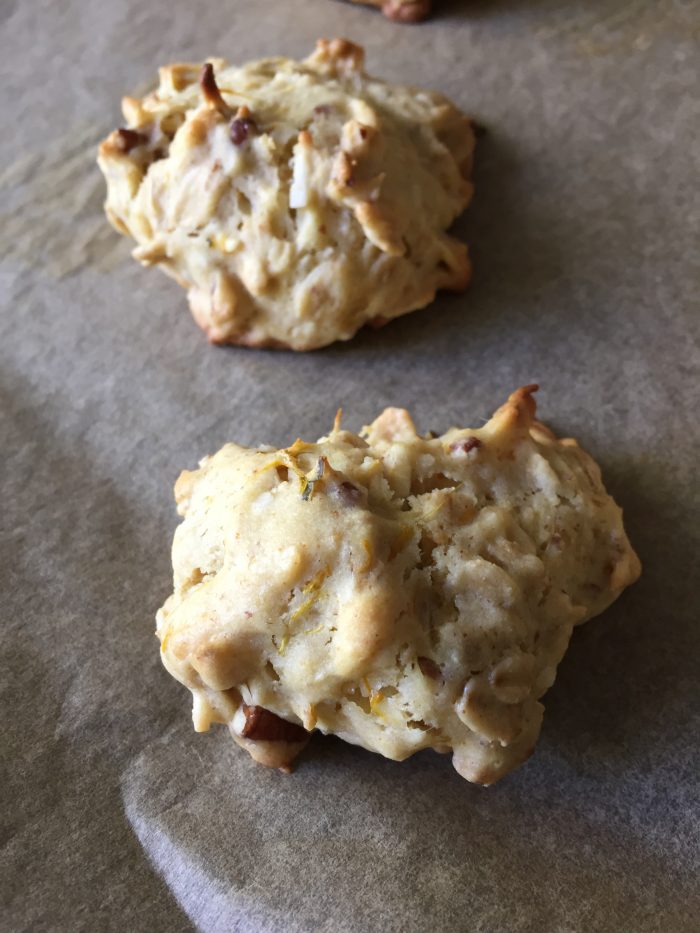 Ingesting Essential Oils
If you're going to use essential oils in your cooking be VERY VERY VERY sure that the oils that you're using are safe to ingest. I bring this up because MOST of the oils on the market aren't safe to take internally (and should say so on the bottle). Also check on the bottle to see if there's a nutrition label (like any other food we consume). If it doesn't have that, steer clear.
If you're interested in pure therapeutic grade oils, let me know. I'd love to help you get started. Or, you can also start here.
Tangerine (and other citrus oils)
Why I chose to add tangerine oil to my cookies is because it tasted great!  Tangerine oil supports healthy digestion and metabolism, cleans and purifies the body, supports healthy immunity. It also smells terrific.
Other citrus oils have similar properties and would taste fantastic as well. Try Lemon, Lime or Wild Orange.
Mmmm. Mmmm. Enjoy!