Although water bath canning isn't difficult, great care should be taken with the process. Follow directions fully, don't cut corners, ingredients or processing. Following cooking, canning and processing procedures not only allows you to make sure your creations turn out and taste great, they also (more importantly) help protect you from creating food that is potential fatal.
This isn't meant to scare you out of canning, but to scare you into good canning practices! Obviously thousands of people over the years have canned their foods with great success. You can be one of them.
Pre-Canning Prep (for Water Bath Method):
When using the boiling water canning method, before you begin, fill the canner (or large sauce pan) about half way with hot water. Add the lid and simmer. (This will save you a LOT of time later, waiting for that amount of water to heat up).
Next, prepare your jars by cleaning and sterilizing them (this is necessary no matter if your jars are already clean or not–you don't want some unknown and unseen thing growing in them). My preferred method of cleaning and sterilizing is to place them in the dishwasher and wash them. I usually put in more jars than the recipe requires (better over prepared than under) and I keep them warm in the dishwasher until I'm ready to pull them out to fill them.
Another method is to boil them in water in a big pot. When I've canned in places that didn't have a dishwasher, I've used this method, but it's not as simple as the dishwasher method.
A third method is to wash and dry your jars, then place them in an oven set to 225 degrees. Let them 'bake' for 20 minutes to sterilize them. Keep them in the oven (I turn my oven temp down to warm after the 20 minutes) to keep them warm and ready to use. Pull them one at a time out of the oven as you use them (it helps to use a jar puller or a hot pad because the jars can get kind of toasty.
You'll want to put your jar lids in a shallow pan of hot water (don't boil them, though) until you're ready to use them. (Jar bands/rings don't need to be sterilized).
Pull out all the other supplies you'll need for the project and follow the recipe precisely.
Post-Canning Processing (for Water Bath Method):
When your recipe is ready to put in jars, pull the jars out one and a time and fill them using either a ladle or a measuring cup. Make sure to leave 1/4 inch headspace at the top of the jar.
Clean the rim and sides of the jar carefully. (I usually run my finger over the rim after the cleaning to feel for anything that might still be there). Place a hot jar lid on top of the jar. Add the lid ring/band and screw down tightly.
Carefully place the jars in the canner filled with hot water, making sure you have a canning rack or homemade rack in place so that jar bottoms don't rest on the bottom of the canner/sauce pan.
After you jars are in the canner, add more hot water (if necessary) to bring the water level at least 2 inches above the tops of your jars. Bring water to boil (steady but not rolling) and process according to the recipe directions (usually at least 10 minutes or more, depending on altitude and what you're making). See the altitude chart below for a quick guideline.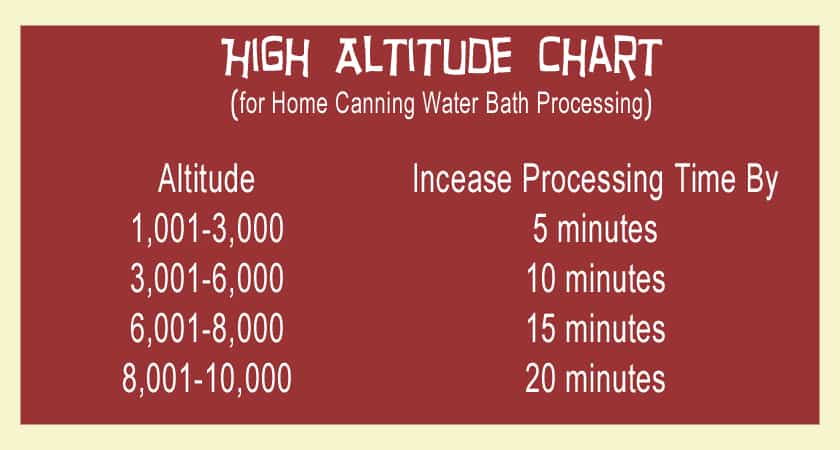 Once the jars are done processing, remove them from the canner and place on a counter covered with a towel. Let them sit without touching them for at least 12 hours. Make sure the jars are upright and not touching one another (or anything else).
After jar contents have cooled, check the jar lids to see if they've sealed. You'll know by the fact that the jar lid won't bounce up and down when you try to flex it. You may also see a tiny indention in the lid. (You will hear the lids popping as they cool. This is NOT something to be alarmed about, but rather, something you're looking for. The popping noise tells you a jar has just sealed!)
If you find that a jar did not seal properly, refrigerate immediately and eat, or, using a new lid, reprocess the jar in exactly the same process as before.
Finished cooled jars can be stored with or without the jar bands on them. They should be placed in a cool, dry, dark place and used within a year for best results and taste.