Spicy peach salsa is a perfect peach season recipe. It's a spicy yet sweet take on traditional salsa that's super easy to make and devoured just as quickly. It's a great chip and salsa combo to switch things up a little. But it's also great as an accompaniment to fish, chicken or other meats. You can adjust the peppers to accommodate your heat levels. 
Salsa might not be your first thought when you think of peaches, but these two things together are wonderful. You get the spicy, typical flavors of salsa you expect, with little bursts of sweet peach. Add some salty tortilla chips and it's a flavor sensation mixing spicy, sweet and salty all together. How can you go wrong?
To make spicy peach salsa, you need your typical salsa ingredients and a couple peaches. Chop everything up, toss it together and you're ready to go. It's as simple as that.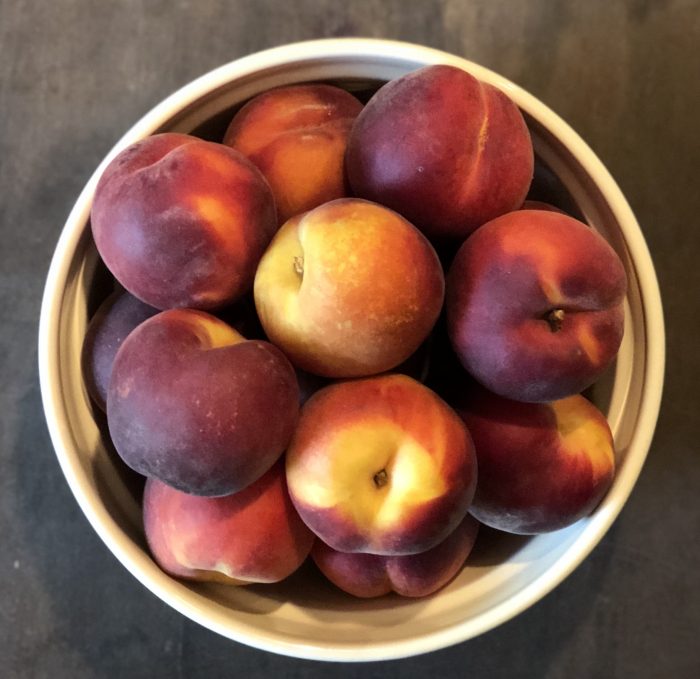 Spicy Peach Salsa Ingredients:
2-3 cups fresh peaches
5-6 cups fresh tomatoes
1 small yellow onion
2-3 cloves of garlic
1-3 fresh jalapeno peppers
1 fresh green or red bell pepper
1/2 cup (or more) fresh cilantro
1/2 cup lime juice (fresh or bottled)
Salt to taste
Directions:
Coarsely chop tomatoes, onion, and bell pepper and add to medium mixing bowl.
Peel and chop peaches*
Peel and mince garlic
Slice open the jalapenos (wear rubber gloves–the oil can burn you–for real), and remove all the seeds (if you want it mild), or leave some or all the seeds, depending on how hot you like it
Chop up the cilantro and add all ingredients to the bowl. Stir and enjoy.
I think it tastes great immediately, but even better if you let it sit and mingle together for at least a half hour or longer.
*You can do this by blanching the peaches and submerging them in an ice bath to easily remove skins–or just peel them off with a knife. I use the knife method with this salsa because so few peaches are involved in the recipe it doesn't make it worthwhile to mess with the whole boiling and ice bath mess, in my humble opinion.)