This Asian zoodle salad is my go-to all summer while the zucchinis are plentiful. It will make you sad when the flood of zucchini season is over. It's that good.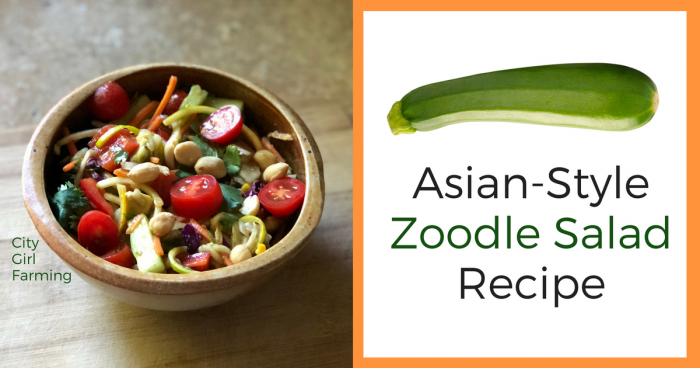 Anyone who grows zucchini (or is friends with someone who does) is always looking for things to do with that prolific zucchini. This Asian zoodle salad is one of my favorite ways to use zucchini. It's super versatile (you can use whatever you have in the garden or the fridge) and it whips together in just a few minutes.
Asian Salad Ingredients:
1-2 smallish zucchinis, spiralized
1 cup shredded Napa cabbage (or other cabbage)
1/2 cup grated carrots
1/2 cup chopped cucumbers
A handful of cherry tomatoes, cut in half
OR any other or different fresh veggies you'd like to throw in…I sometimes add Romaine lettuce, sugar snap peas, spinach, broccoli or anything else I have around that sounds good
A sprinkle of dry roasted peanuts and cilantro for the top
Dressing Ingredients:
The nice thing about this dressing is that you can easily make whatever quantity you need (or, like me, make a bigger batch and eat it all week).
2 parts sesame oil
3 parts olive oil
2 parts low sodium soy sauce or coconut aminos
2 parts wine vinegar
1 part hot chili paste
2 parts any of these: Hoisin, Ponzu, Teriyaki glaze or, what I use is my Asian plum sauce recipe.
Pinch of salt and fresh cilantro to taste.
(If you use 1/4 cup to measure the parts, you'll end up with almost a pint of dressing. For lesser amounts, try a tablespoon.)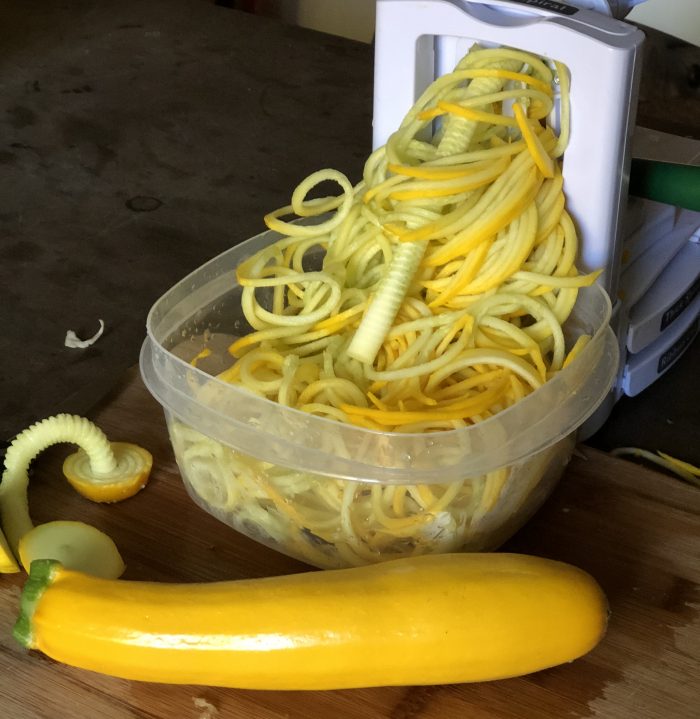 Directions:
Spiralize your zucchini and cut up all your other veggies. I find it's nice to shred, grate, and coarsely chop different veggies to create a variety of textures.  Toss the veggies together and place in a bowl. (If you don't have a spiralizer yet, this is the one I currently own and I really like it…it's my third attempt at one.)
Pour all the dressing ingredients into a bowl and whisk together. Pour desired amount over salad and toss together. Sprinkle peanuts and cilantro on top.
Tips:
I'm a big fan of leftovers, so when I make this Asian zoodle recipe, I like to prepare a pile of veggies and a pint jar of dressing. I keep them in separate containers until I'm ready to use them and dish it up as individual servings when I'm ready to eat it. That way it stays fresh and doesn't get soggy.
Would you like other zucchini ideas? Here is one for zucchini ravioli (also a favorite of mine),  zucchini latkes, and two round-up lists full of recipes and ideas: Here and here.
This post may contain affiliate links. This means if you click on the link and make a purchase, I will receive a few pennies in return. This doesn't cost you anything and it helps support my backyard chicken habit. Thanks in advance!