When life gives you fresh cherries and it's hot out, what do I do? Make cold, refreshing fresh cherry recipes. Move over hot cherry anything. Hello cherry ice cream, smoothies and sorbet. Mmmm.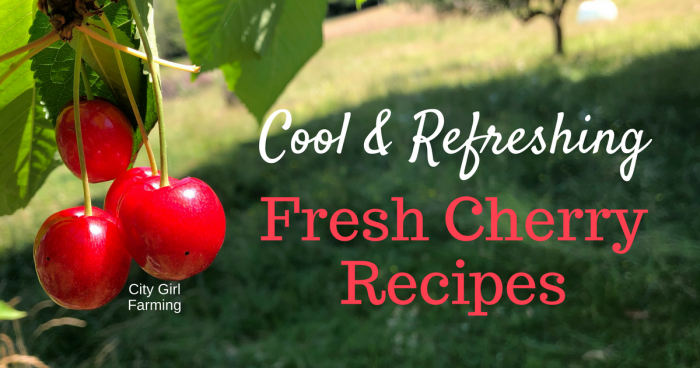 I love fresh cherries. Love. Love. So when the Northwest Cherry Growers asked if I'd like some of their amazing Bing cherries, I didn't even have to think about it. YES PLEASE!
Admittedly, my favorite way to eat cherries is in the raw. They come to us so perfect…bite sized, sweet and slightly tart, crispy yet a bit soft…it's hard to improve on them. However, with a case of cherries to play with (even with all my gorging on them), I fell in love with some new cool and refreshing fresh cherry recipes. So, let me share them with you!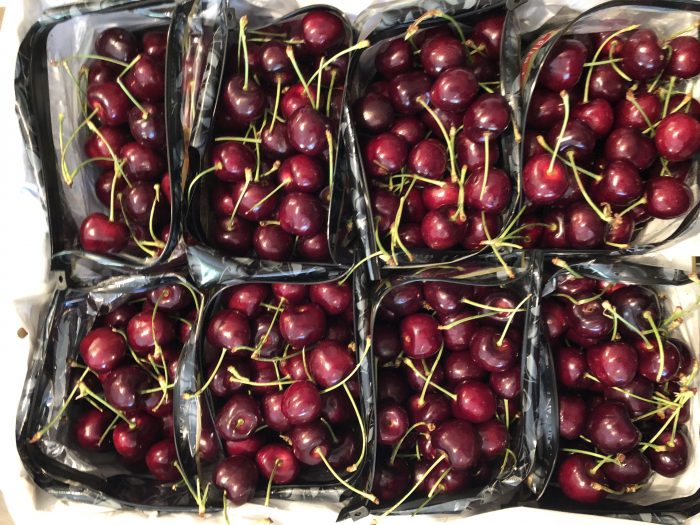 First, my very favorite way to eat COOL cherries, was in a blended frozen cherry concoction of deliciousness. YUM!! And super easy to make (with no added sugar or any other bad thing).  I'm not sure what to call it, so I'll just say Frozen Cherry Healthier-Than-Sorbet. It tastes sort of like sorbet, but so much better and more fresh tasting. I don't know how to describe it, so I guess you'll just have to try it.
Frozen Cherry Healthier-Than Sorbet
This recipe is easy to adjust depending on the amount you'd like to make and the amount of cherries you have. Just keep the ratios below fairly even and you should be good to go.
Ingredients:
2 cups fresh cherries, pitted (you don't need fancy pitting equipment. I just use the cheap little one-at-a-time pitter like this or go fancier for one that pits them faster like this.)
2 cups unsweetened vanilla coconut milk yogurt (you can use any kind of yogurt you want, really. I just chose the dairy free option.)*
1/8 cup coconut cream (use milk or other milk alternatives if you don't like the coconut taste or add a bit more yogurt)
1-2 drops lime essential oil (this is optional, but tasty…and remember, don't add essential oils to your food unless they're food grade quality and can be safely ingested) Lemon or other citrus oils would also be tasty, too.
*If you use thicker Greek style yogurt, you might also need to add a couple of tablespoons of milk/water/liquid to make it easier to blend together, depending on the kind of blender you have.
Directions:
Pit the cherries and spread them out on a plate or cookie sheet (lined with parchment or plastic wrap so they can easily be removed) and place them in the freezer for 2 (or so) hours. They don't need to be frozen like a rock, but they should be pretty frosty. (Alternatively, and if fresh cherries aren't in season, you can use frozen cherries from the store).
Once the cherries are a bit frozen, dump them and the other ingredients into a high-powered blender (I use my Vitamix). And blend. If it's too thick to blend in your blender, add a bit of water/milk/juice.
It should have the consistency of soft serve ice cream or gelato at this point. And it's ready to devour. I don't know what it is, but the slightly coconut taste mixed with the cherries and a touch of lime…well, it's the best cherry thing I've ever tasted in my life.
If you don't have a high-powered blender (or don't want to bother freezing cherries first):
If you don't want to mess with freezing your cherries or you don't have a high-powered blender that can handle the cherries, you can also blend non-frozen cherries with everything and place in a covered container in freezer until desired consistency. It's also a terrific mixture to make frozen fruit pops with, in which case you would easily skip the freezing cherries part and just pour them into fruit pop molds and freeze,
Basically, there's no way to go wrong with this recipe. It's so good!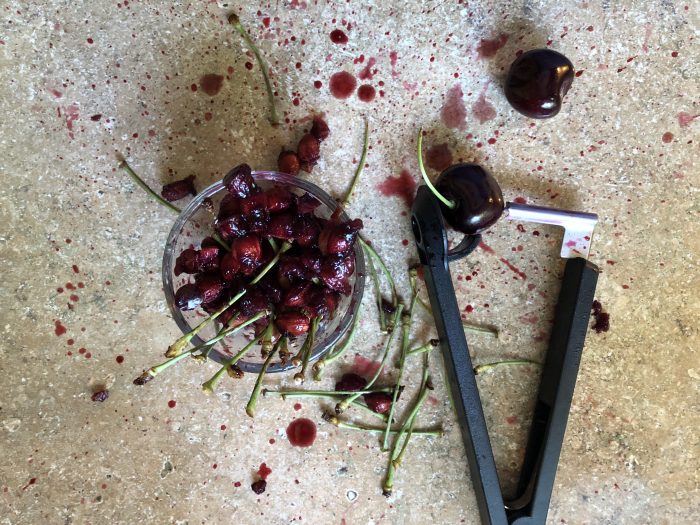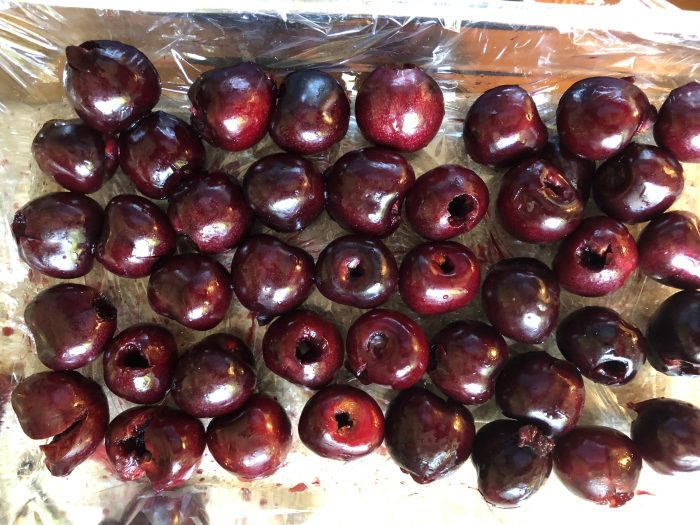 Fresh Cherry (and Chocolate) Ice Cream
This is another winner! This summer I've been experimenting with homemade ice cream. (I've had the ice cream maker attachment for my Kitchen Aid forever and never used it…so decided I either needed to use it or get rid of it…but how can I get rid of it before trying it out to see if I like it? Yea. I like it. So, ice cream has become a staple this summer!)
Anyway. I most often make ice cream with coconut cream as I (most often) try to avoid dairy. This recipe can be made with dairy or non-dairy options.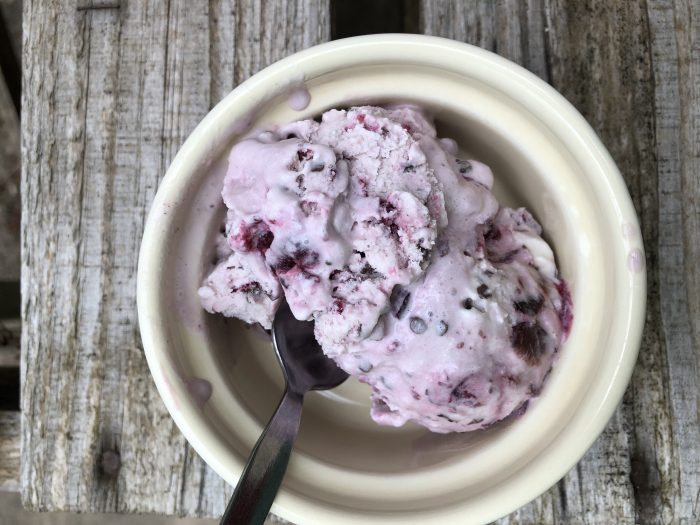 Ingredients:
2 cups heavy whipping cream or coconut cream
1 cup milk or milk alternative
1/2 cup sugar or sugar alternative (adjust to taste…you don't want it super sweet because the cherries will add sweetness to the mix)
1-2 cups cherries, pitted and chopped
1/2 cup mini chocolate chip or shaved chocolate (optional)
Directions:
Mix the cream, milk and sugar together and follow your ice cream maker directions. Add the cherries and chocolate at the very end. Eat immediately or place in freezer to firm up for 1-3 hours or even overnight. (If I let it freeze hard, I like to take it out 10-20 minutes before I eat it (depending on how hot it is that day and how fast it melts) to make it softer. (Yes, I was that kid that stirred their ice cream into soup before eating!)
Yum. Yum.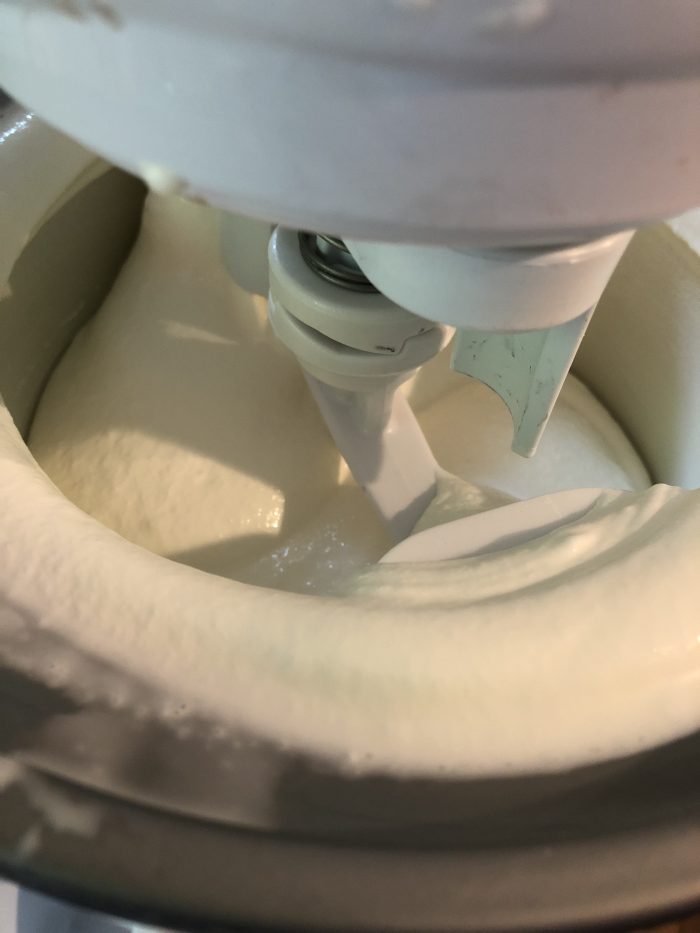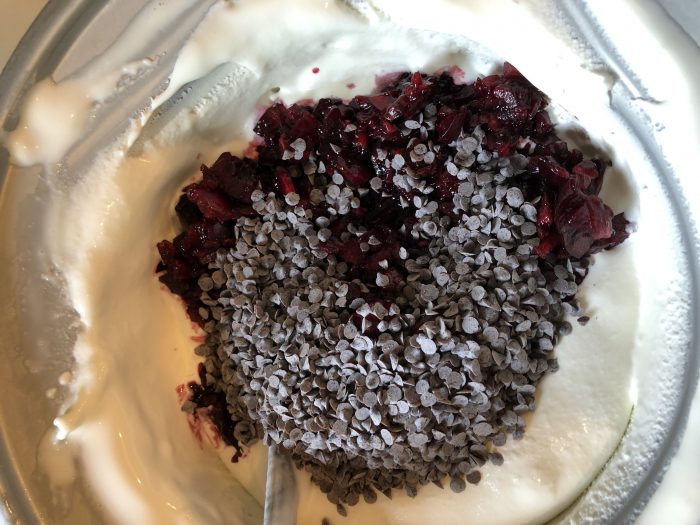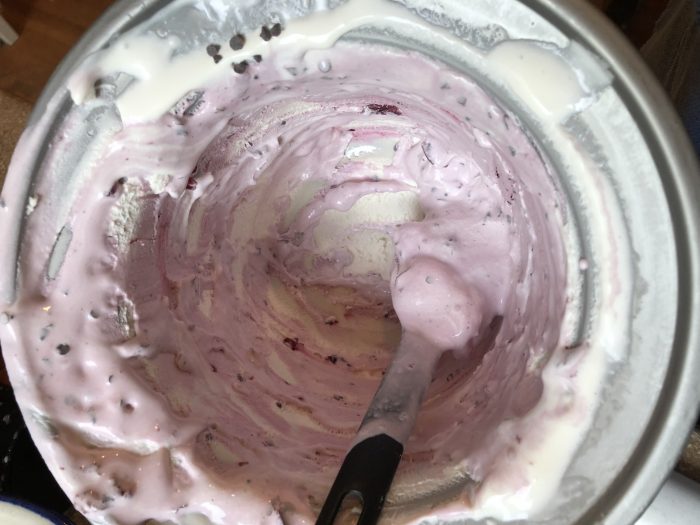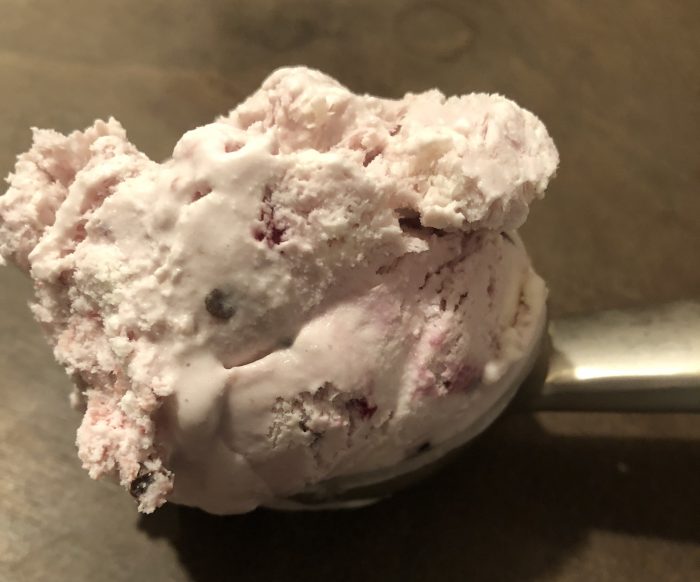 Healthy Chocolate Cherry Smoothie
I am a smoothie girl. Especially when the weather is nice. So, it made sense to throw some cherries into a smoothie and see how it would come out. I give it two thumbs up.
Ingredients:
1 cup pitted cherries
1 cup liquid (milk, water, coconut water, coconut milk, etc.)
1-2 cups fresh spinach (or other greens)
1 scoop protein powder (I use V-Shake vegan powder)
1 tablespoon raw cacao powder (you can also use cocoa powder–add less if you like the milk chocolate flavor or a bit more if you like dark chocolate)
Splash of vanilla
1-2 drops lime essential oil
Ice*
1/2 sliced frozen banana**
Directions:
Dump it all into a blender, blend and enjoy.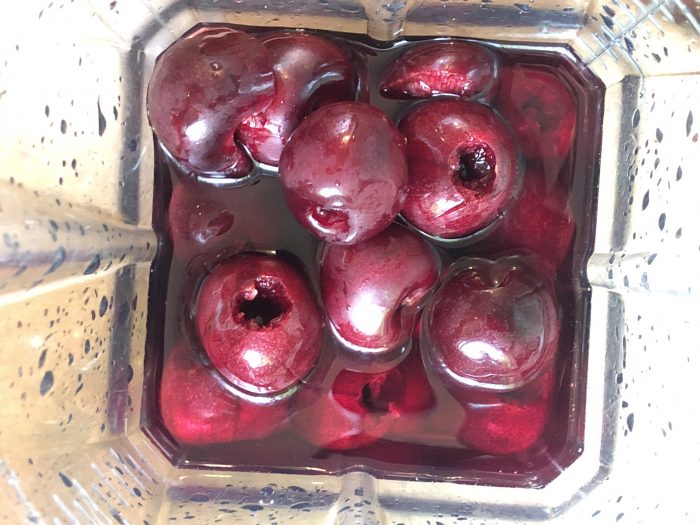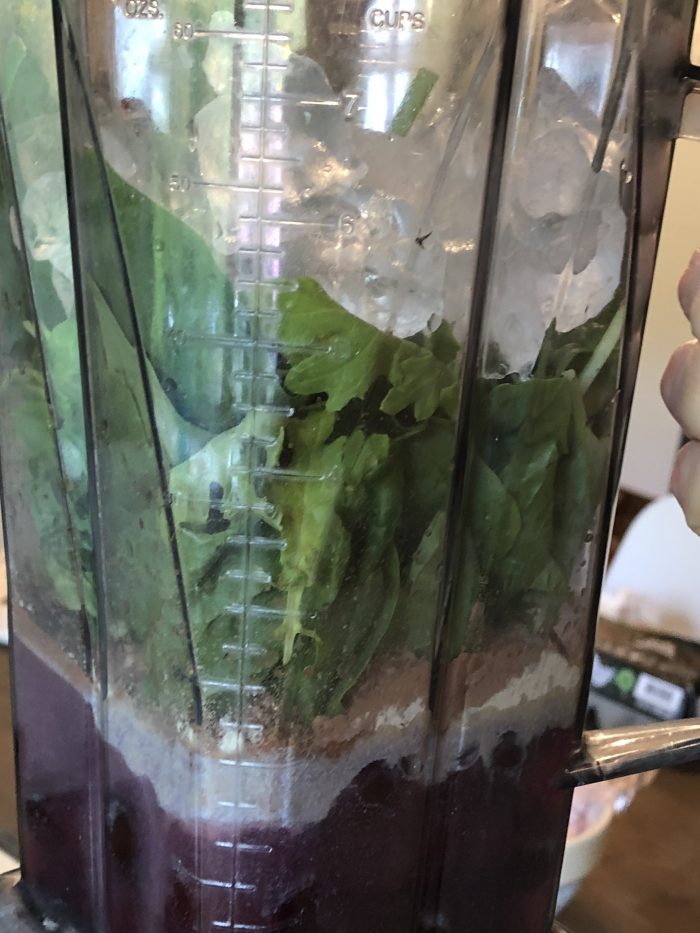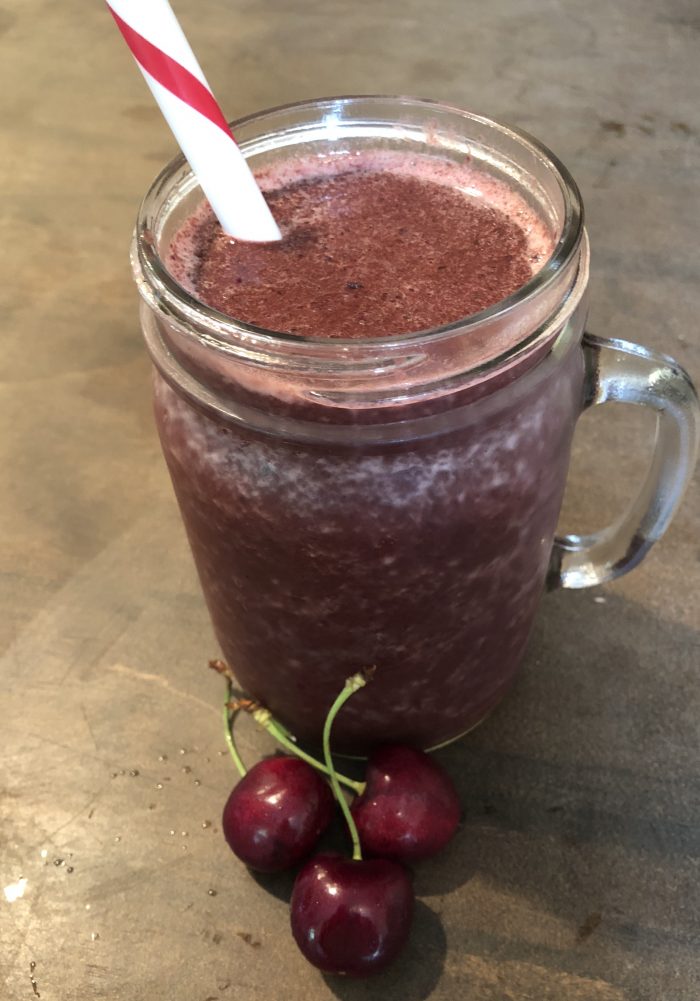 *so, about ice. I usually don't add ice to my smoothies, preferring instead to add frozen fruit. But sometimes life doesn't have time to pit and freeze fresh cherries. So, ice is great.
**Additionally, if you want a sweeter smoothie add some banana. If you have frozen banana, you can also skip the ice.
There you go. Cool fresh cherry recipes. Perfect for a refreshing summer treat (without the guilt!)…
If you want to try out some more promising looking fresh cherry treats, here's a few links of things I'd like to try (SOON!) that you might like as well.
Frozen Cherry Daiquiris or Floats
Dark Chocolate Cherry Custard Ice Cream
Enjoy cherry season! It's too short. Make the most of it.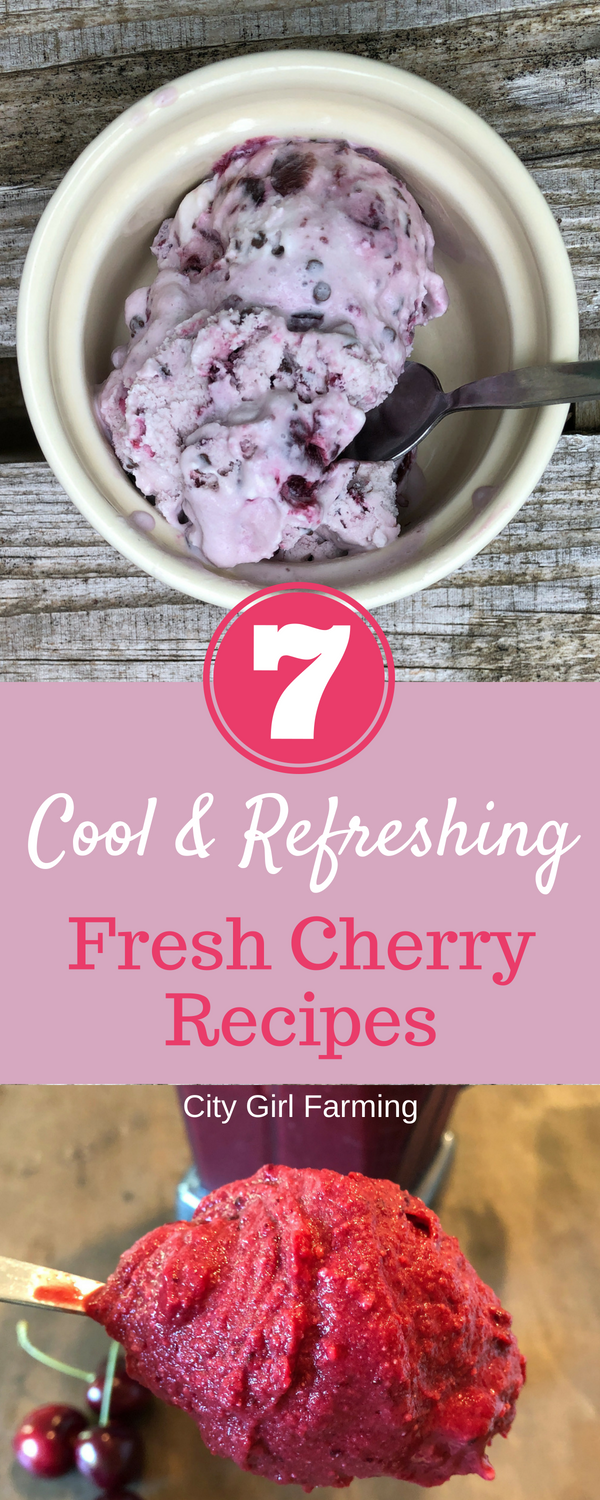 This post contains affiliate links. If you click on the link and make a purchase, I receive a few pennies to help me feed the chickens. It doesn't cost you anything. Thanks for your support.