A garden sounds like a great way to save money, right? Maybe until you start buying everything you need to grow your own food….then you might start wondering how much you really save by gardening? I wondered the same thing last year so I decided to keep track and find out just how much I was saving. The results were pretty amazing. 
I've been gardening a long time. Partly because I love fresh produce and I like knowing exactly what goes into (and stays out of) the food I'm eating. I also love the feeling of being at least a little self-sufficient. And, honestly, it feels so satisfying to start with a tiny seed and watch it grow and turn into something that nurtures both me and those I love.  I've never really questioned the profit margin in gardening. I do it for so many other reasons besides saving money (kinda like having chickens).
But last year when I was adding a new garden space and building a new fence and hauling in 4-way soil, I started wondering if I actually save any money in this venture. Being an artist, I'm so focused on how it feels (totally right) and what I gain (wonderful, homemade food) and less on the whole math-y part of the equation.  I've always been like that and it's so who I am. But I'm also curious. How much money do you really save by gardening? Do you save any at all? I decided to find out.
How to Track Expenses
The basics of tracking expenses is probably something you're better at than me. However, these are the expenses I tracked:
All seeds and plants I bought
The new additional fence (100 feet of fencing) and two gates
Two yards of 4-way dirt (because I live on clay that isn't super friendly for gardening)
New tomato cages and new bean trellises
A new pair of garden gloves
A new hose
I thought it might not be quite fair to add in the fence and gates as that's a one time expense and not really related to the overall cost of actually growing food, but I added it in anyway.
If you're tracking for yourself, think of anything related to the garden. One thing I didn't track that you might have to take into consideration is WATER. I live on a farm with a well so water isn't an issue. But that might be a major expense for you and something to factor into the equation.
How to Track Profits
My plan for tracking how much I was 'making' from my garden included two things:
Weighing everything I harvested
Comparing the prices at my closest grocery store for the organic produce I was growing (or the closest thing to it, if I was growing something not available)
Now, this plan was a great plan. But, honestly, it was hard to follow. I mean, how often did I expect myself to weigh those lovely golden cherry tomatoes before popping them into my mouth while still warm from the sun? Or, late in the season when the vines hung so heavy and I couldn't keep up with it all and the chickens, on the other side of the fence, begged for snacks. I lobbed countless juicy orbs over to them. So, yea. It was a bit more difficult than I thought.
Here's what I ended up NOT weighing:
Produce eaten fresh from the garden
Or handed over the garden fence to the neighbors
And given to the begging chickens
The stuff the birds (wild) and other animals (like the family of gray squirrels that took up residence under the front deck) ate or demolished
My beautiful late summer rows of peas that the chickens destroyed (they broke into the garden while I was gone)
Bunches of beans that got stuck in the 'in-between'–too big to cook and eat fresh, not big enough to dry and shell before bad weather hit
All of the endless bounty of fresh herbs (they're so feathery light, but I harvested lots of it)
The rhubarb. Why? I don't know. I just didn't think about it
The bucketfuls of plums, apples and pears that I didn't think about adding to the list since they weren't 'technically' my garden but in the orchard
Same with the gallons of blackberries that I picked from the property…not my garden (so it shouldn't count, I guess), but still growing on the farm and still feeding me organically
As you can see, I didn't fully think through this plan. A garden scale would be helpful in getting a better total. That would have added the fresh eaten, given to neighbors, fed to chickens pounds of food that are unaccounted for. But, even with so much missing produce, I still weighed a lot of it. And the totals were still surprising.
So, how much do you really save by gardening?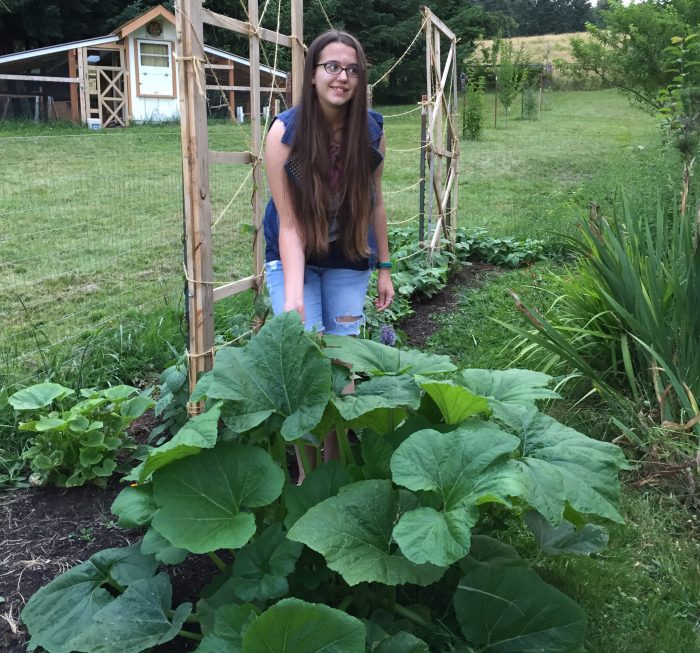 Garden Profits
For me, even with the above oversights and omissions, I spent $350 for my garden last year and netted over $1500 worth of produce in a fairly small (square foot wise) growing space.  This information was extremely exciting! Investing $350 in a garden (and remember, that's counting a fence!) to grow over $1500 in produce (and actually WELL over that mark since so much of it went unaccounted for), is a great investment in my eyes.
That's also not counting the satisfaction element. Nor the fact that you get increased Vitamin D and good old fresh air. Or that it helps you further appreciate food because you've cared for it yourself. And what can compare to the taste of a vegetable that you planted, tended to and harvested yourself? Just the SMELL alone of those fresh veggies is incomparable to the store variety.
This current growing season I'm enlarging the garden again. This time, by a 40 x 50 space. It means another fence (a much bigger one) and another couple of gates. And a whole lot more 4-way as well as many more bean trellises (I've kinda got an heirloom bean addiction). On and on the list will go…but I'm excited because now I know that these investments and my tending to the garden is more than just a feel good (and eat great) exercise. I actually SAVE MONEY!
How to Increase Profits
If you're new to gardening or even have been doing it for awhile, there are some ways to help save more money in the gardening venture (and saving money means larger profits).
Grow expensive to buy produce.
Some people I know figure out what the most expensive-to-buy vegetables are (that their family likes to eat) and they grow those. And that makes a lot of sense. If you can buy a 10 pound bag of potatoes for less than $10, but it's $12.99 a pound for Christmas Lima beans (dried heirloom beans) then, sure, it makes a lot more sense to grow the beans and buy the potatoes (if you don't have enough space to do both).
Make your own dirt.
If you make and use your own compost, you don't have to buy extra compost or soil (while I do compost, I don't make enough of it for the needs of my ever-expanding garden).
Save your own seeds.
If you save your own seeds, you get FREE seeds (instead of $2 or higher for a tiny packet of seeds). While you can't save every kind of seed, you can save many (while some say you can't save hybrid seeds or cross pollinated seeds, you CAN, you just won't be assured of the produce you'll be growing from those seeds–it's possible that they will be a bit different from the original plant you saved them from).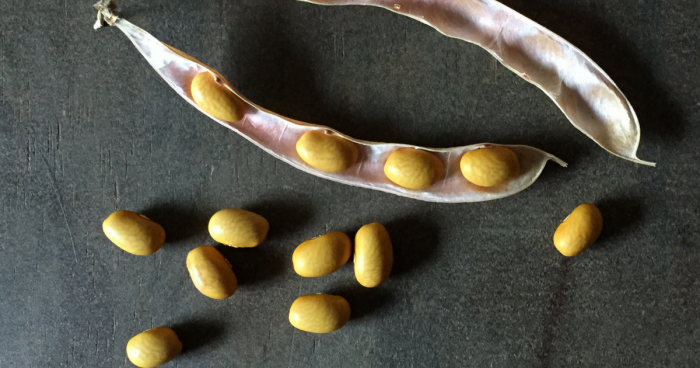 Start your own plants.
If you have the time and space to start your own plants early (under a grow light or in the garden) you can save a TON.  A saved tomato seed from last year costs you zero. And if you plant it yourself early, it's nearly zero. To buy the same plant is upwards of $5.00. That adds up fast if you want to plant more than a tomato or two.
Grow prolific vegetables. 
I know it's kind of a joke out there about how one zucchini plant can grow enough for a neighborhood, but I embrace that! I don't mind zucchini coming out my ears. That means I can pick them small and still have lots to eat. (Being gluten-free I'm especially appreciative of owning a spiralizer). There are so many things you can do with zucchini (like these delicious stuffed zucchini 'ravioli'). My chickens also love it (if one 'gets away' and turns into the school bus sized version).
Another winner I grow is Purple Peacock heirloom beans. They're super prolific and can be eaten both fresh or dried and shelled.  They out produce my other beans at least four to one. Maybe better. Plus the hummingbirds and bees love the purple blooms.
If you're not sure what kinds of veggies grow well in your area, ask around (your local nursery, on a FB group, etc.)
On the flip side, something like CORN (while I actually love to grow some) takes up a TON of space for what you get in return, plus it is a heavy feeder and depletes your soil.
Of course I'm not saying grow lots of zucchini and skip the corn and potatoes. Do what makes sense for your family. Just think about these things when you're deciding what to grow and what to buy instead.
Watch the Water.
If you have to pay for your water source, watching that water usage will also help with your profits. Set a timer when you water so you remember to turn off the water (or water by hand, which will conserve even more). Adding mulch to your garden helps with the need for water because it keeps everything more moist and traps the water in.
So, next time someone says to you, "how much do you really save by gardening?", you can tell them with confidence: A BUNDLE!
I love gardening so much I didn't think I really needed to know just how much I could save by doing it. However, now that I know, I feel so empowered by the fact that I'm able to grow wholesome, organic, wonderful food AND save myself a ton of cash in the process. I love win/win situations. This for sure is one of them!
Happy Gardening!