If you have heirloom vegetable plants that mean the world to you and your family, it's time to consider seed saving if you haven't already. It's a skill that thrifty gardeners have been using for generations, and it's FULL of benefits. Here are a few reasons why seed saving is important.
The Benefits of Seed Saving
You'll save money.
If you spend the time now to save seeds, you'll be ready for next year's garden. No need to purchase seeds again. In fact, many seeds last for several years before becoming unviable.
You'll become more self-reliant.
Through the years, I've seen seed companies cancel seed orders for certain varieties due to a bad crop the previous year. (I remember one year when some mischievous, and I assume, hungry deer took care of one crop.) So it's always wise to not rely on anyone else for the plants you want and love. Plus, you'll feel the satisfaction of doing the task yourself.
You'll preserve valuable varieties for your family.
This might be the most important reason of why you should be saving your seeds. Just like other traditions we pass onto our children, gardening can be the same. Ever had a favorite type of food?  It can stir up wonderful memories, bring you back to your childhood, and give you a sense of longing to return to that tradition. Saving seeds is like preserving the past for the future. Family stories live on.
A local gardener in our area once told me about how she wished she learned seed saving earlier in life. She had been on the search for her grandmother's long-lost lettuce and had searched through just about every seed catalog looking for that lettuce. Her grandmother had been a diligent seed saver, but by the time this local gardener found her grandmother's seeds, they were too old to pollinate. Sure, there were plenty of other varieties of lettuce she could have chosen instead, but none of them were Grandma's.
Moral of the story? Save yourself some regret and preserve your plants now.
How to save your own seeds
Now that you know why you should save your seeds, you're probably wondering how to save seeds. Like any skill, it takes practice, and knowing where to begin is key. Not all plants are the same and certain types are easier to save than others (open-pollinated versus hybrid). Here are my recommendations for beginners, along with my top seed saving tips.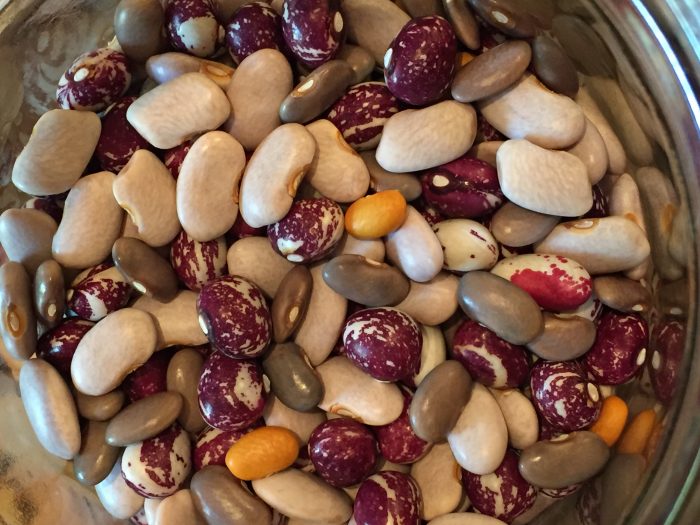 Start with open-pollinated seeds.
Open-pollinated seeds will give you the best results because they will give you a plant that is similar to the parent plant. They're predictable, which ultimately means to you, they're much easier to save. The good news? Heirloom seeds are open-pollinated! (But keep in mind, not all open-pollinated seeds are heirloom.)
Here are some easy seeds to start saving:
Beans
Herbs: Cilantro, Dill, Parsley and Basil
Lettuce
Peas
Tomatoes
Hybrid seeds, on the other hand, are much trickier. They come from two varieties of a crop that cross using specific techniques and require more work for successful seed saving. So to make it simpler on yourself, steer clear of these more difficult crops, like cabbage, corn and squash, at least until you get your feet wet.
Plan for the space you have.
Planting distance and other isolation requirements depend on what type of seeds you're saving and if you're saving more than one variety. Self-pollinating plants can cross-pollinate with other varieties (you can thank the bees for this), so giving them plenty of space is important and should be part of your planning process.
This will also help you determine how many types of seeds you're going to save this season. Remember, if you're just beginning, don't bite off more than you can chew. Start small. The great thing about seeding saving is that you don't have to save the same variety each year because your saved seeds can last for several years if properly stored.
Find a resource you can rely on.
The more you know, the more you "grow." Find a good resource before you even begin. Because many of the techniques used in seed saving vary depending on the crop, you need to be informed. A good guide or book will help you find the information you need for your specific plants.
Another great resource is finding a seasoned seed saver, someone who has saved seeds him or herself.  Often, I seek out advice from a local organic gardener for all my gardening questions. After all, experience is a great teacher, so find someone who has been in your shoes.
Good luck and happy gardening!
ABOUT THE AUTHOR:
Glenda Lehman Ervin is the daughter of the founder of Lehman's, a retailer in Kidron, OH, where she serves as VP of Marketing. Lehman's mission is to supply goods for living a simpler life. Step by step, we are all on the path to a meaningful, satisfying life, and Glenda is thrilled that Lehman's can be a part of that journey. She lives in the woods just a few miles north of the family store with her husband and two children, along with their two cats and a guinea pig named Winston Churchill. You can find more seed saving supplies and resources on Lehmans.com.