This ultimate guide to designing your chicken coop will walk you through how to design the perfect chicken coop; from building materials through to ventilation guidance. This great resource is brought to you by Claire Smith, a homesteader, chicken keeper and a blogger about all things chickens over at The Happy Chicken Coop. Claire has got your coop building experience covered! 
Spring is just around the corner and if you're a chicken enthusiast it's likely you'll be getting more chicks. So you're going to need a chicken coop. Whilst it's much easier to buy a chicken coop, you can save a lot of money by building your own.
In this guide I'll walk you through how to design the perfect chicken coop; from building materials through to ventilation guidance I've got it all covered.
How Many Chickens Are You Getting?
The very first stage of designing your chicken coop is figuring out exactly how many chickens you're getting. You'll need to know this beforehand so you can build a suitable sized coop.
A handy rule to follow is 3 square foot of coop space per chicken. For example: if you're planning to get 10 chickens you will need a coop that is around 30 square foot. It's important you stick to this space allocation. If you don't, it can cause some nasty behavior with your hens that includes feather picking and bullying.
Start With an Existing Plan
Now you've figured out roughly how big your coop needs to be, it's time to start looking at other coops for design inspiration. Visit local chicken keepers and ask them about their coop and what they like and don't like. If you don't know anyone local you can always start with these free chicken coop plans and go from there.
Pick your favorite plan and build that, or a similar version to it! I've built several coops and found it much easier starting with someone else's design and then altering it?
Why?
First of all I'm not very good at imaging coop layouts! And second of all, you can learn from other people's mistakes. For instance if their coop layout doesn't work, you can alter the roosting location in your coop. You can learn from other people's mistakes and make an even better coop!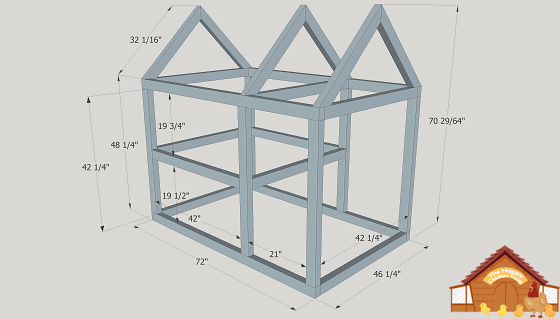 Picking the Correct Location
By now you should have figured out the size of the coop and also have a good idea about the style/type of coop you're going to build. The next step is picking the correct location. Once you've picked out the location, physically walk over your plot of land and imagine your coop there, can you foresee any problems with your coop design?
The most common problems you will find are exposure to the elements. For example in hot climates this means making sure your coop has shade (i.e. trees). And in cold climates this means placing the coop on high ground to prevent flooding.
At this stage it's still very easy to make changes to your design, you don't want to make changes once you've started building; this is very expensive and time consuming. Luckily many potential location problems can be resolved through good design. For example, in cold climates you should design your coop with south facing windows to provide natural warm in your coop.
Getting the Right Materials
When designing your own chicken coop it can be very tempting to try and save money on build materials. A common example of this is people using chicken wire instead of hardware cloth. Using cheaper materials can actually cost you a lot of money in the long run!
When designing your coop make sure to choose the appropriate materials for both you and the chickens! The 'right' materials will depend on your location. For example if you live in an area with lots of predators you'll want to use hardware cloth instead of chicken wire. If you live in a damp area you'll want to build with plastic instead of wood.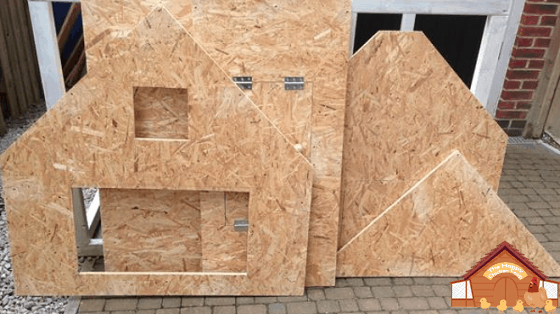 Ventilation
The last design element we're going to look at is ventilation; this is often an overlooked aspect of building your own coop. Without ventilation your chickens' health can be impacted by excessive humidity, dampness and ammonia. All of which can cause problems with their respiratory system.
To avoid such problems you should generally aim for around one square foot of ventilation for every ten square feet of coop space; this will provide fresh clean air for your hens. You should make sure the ventilation holes aren't near your roosting bars though.
I hope you've found this guide helpful. If you follow this guide and design your chicken coop properly you're already halfway there to a successful chicken coop build! Remember it's much easier, and cheaper, to change your coop design before you start building. Don't rush the design stage, make sure you take your time and plan the perfect coop!
Claire Smith, born and raised in rural England, is a fourth generation chicken keeper and has a love for all things chicken! Claire is a homesteader, chicken keeper and a blogger at The Happy Chicken Coop. Please go visit her site! She has a lots of good stuff over there.