The 2017 City Girl Farming Holiday Gift Guide for Homesteaders and Chicken Lovers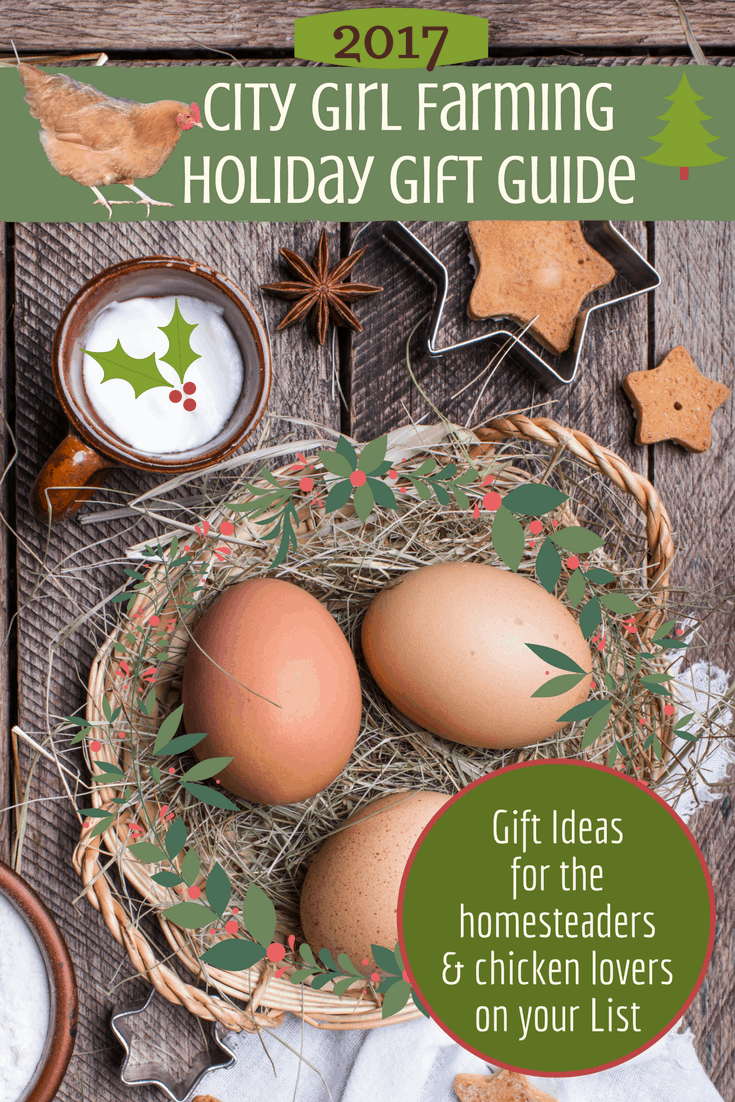 It's that time of year again when we all scratch our heads to figure out what to give to to those we love. I've put together a few things to help you out this year. Gifts focused on the chicken lovers, the gardeners and the general homesteaders (and folks who long to be homesteaders but aren't there yet) in your life.  Here I present to you the 2017 Holiday Guide for homesteaders and chicken lovers on your list. May it get your holiday creative juices flowing!
Holiday Gift Ideas for Chicken Lovers
Because I am one of those chicken lovers, let's start with them first. There is tons of stuff on the market these days that targets chicken fanatics (because our ranks are growing). However, not every chicken-themed object is a good gift.  Here are some I've  come across that I think are fun, cool, or somehow unique. Some of them I've used as gifts for the chicken lovers in MY life and they've been a hit.
Chicken Wine Cork: Okay, this isn't just another chicken-themed thing. Well, actually, it IS, but it's hysterical! I've bought them for people who have LOVED them. Remember the rubber chicken from childhood? This is that, in miniature form, crafted to fit inside an open bottle of wine. (Bonus: It's a great conversation starter at parties!) Get it here.
Funny Metal Signs for the Coop or Gates: Here are two of my favs (yes, they are on MY list!) Keep the Gate Closed (No matter what the chickens say) and Slow Chickens at Play.
Chicken Stickers or Stamp for Egg Cartons: This is something I'd LOVE, but would feel guilty buying for myself. There's lots of options out there from stickers to stamps. You can even get them at the City Girl Farming Zazzle store here.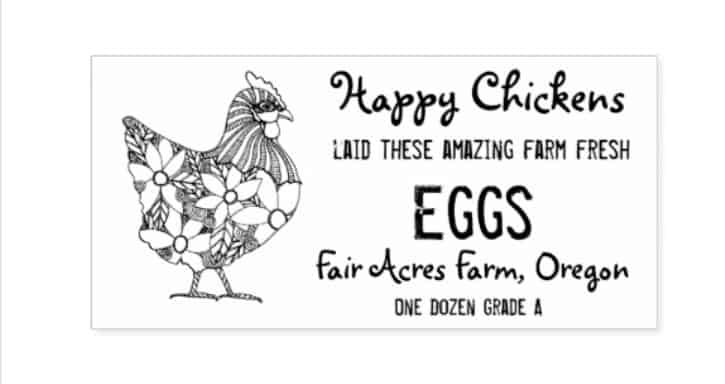 Other Customizable Chicken Items: As a matter of fact, there's all sorts of customizable chicken related gifts over at the City Girl Farming Store. Mugs, T-shirts. Pillows. Tote Bags. And more. Check out the whole selection here.

Chicken Forage Seeds: I love these for my girls. It's a variety pack of seeds (Annual Ryegrass, Perennial Ryegrass, Buckwheat, Flax, Millet, Forage Peas, Red Clover, Alfalfa ) specially blended for chickens. They also make for a great bee garden with a variety of cute blooming flowers creating an easy to grow, blooming garden to make everyone happy. My girls LOVE it. Here's proof (if you look close you can see several hens enjoying the garden:
Chicken Coloring Book: Creative Chickens Coloring Book was a project I modeled after my own flock, combining my quirky personality with their whacky behavior. There are 20 original, hand drawn whimsical chicken drawings to color.  Great for children and adults. You can get it here.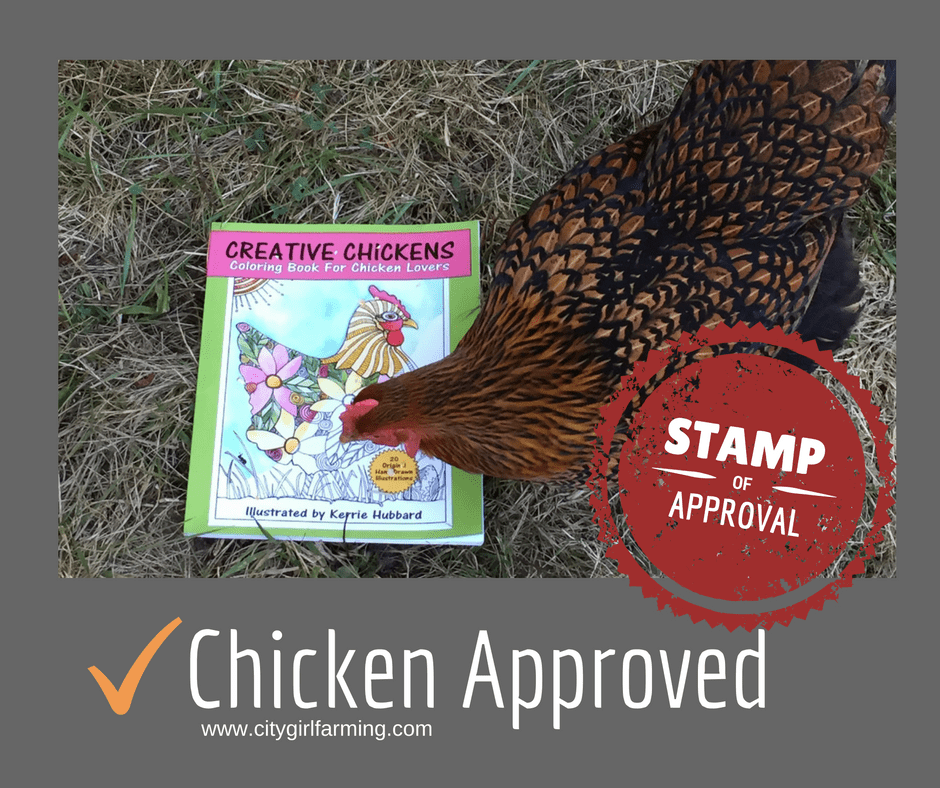 Gifts for the Garden Geeks
Permaculture Cards: This deck of playing cards was thought up by a guy passionate about permaculture. He took his idea to Kickstarter and got it funded and now they're available. Each card is full of fun facts and great photos to help educate the players of the card game.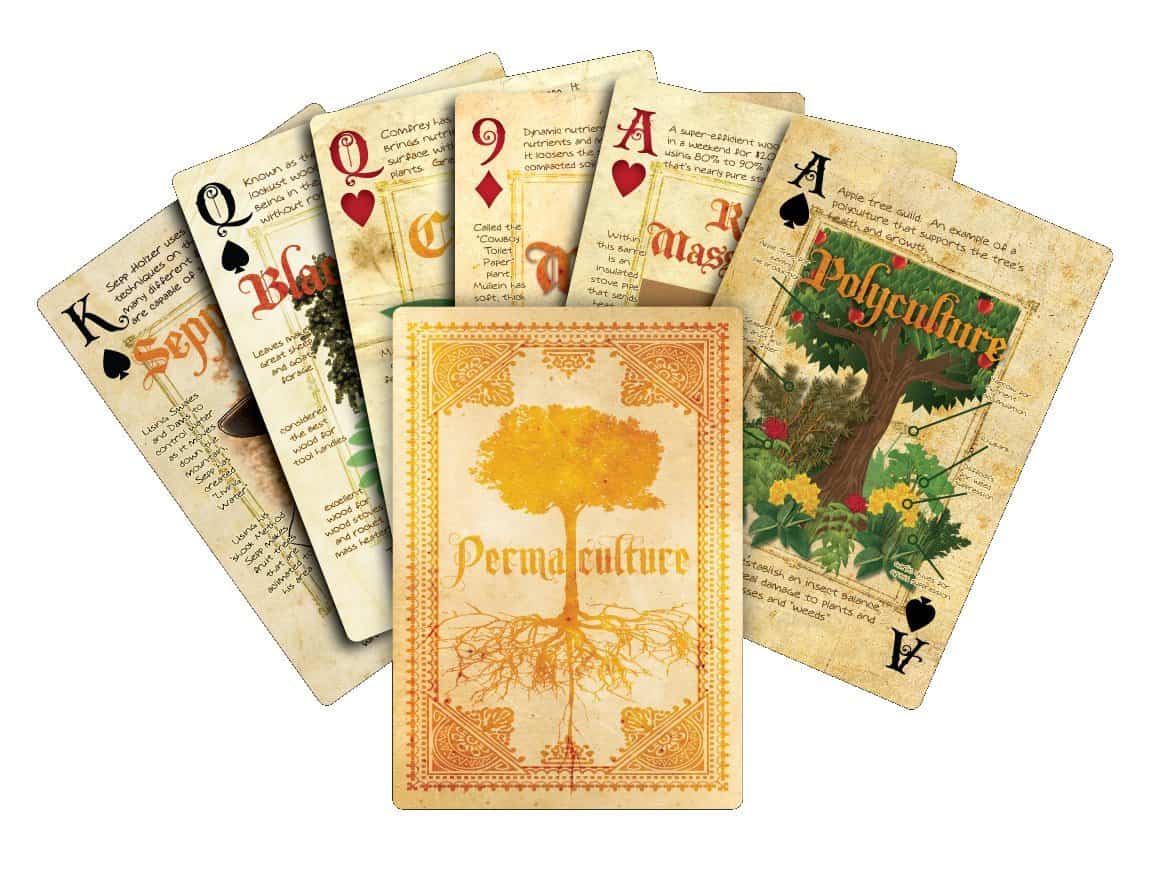 Gardening Apron: This isn't just any gardening apron! The Roo Joey Apron is the ultimate gardening apron with a huge pouch to fill and a chute to empty the pouch without any mess (or residue left behind).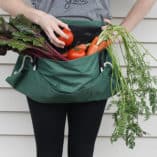 Seeds: Okay this might seem kinda  boring to you, but think about a gardener! SEEDS are everything (and they're somewhat addictive). There are some great ideas out there. For example, how about an Heirloom Survival Seed Kit?  If you're worried about being to specific on your selection, what about a gift certificate from a good seed company like Baker Creek Heirloom Seeds or Territorial Seed Company and then they can pick out what they want. (Trust me: a gardener never tires of seeds…of trying new seeds…of stocking up on old favorites…a Seed Catalog is like the toy catalog for kids. Bright, shiny, and oh so alluring.)
Heirloom Beans: This is dinner and seeds all at the same time! Rancho Gordo sells a wide variety of heirloom beans (for eating). Your garden lover can sample savory meals all winter long featuring hard to find heirloom varieties of beans. If they save some along the way, they'll be able to plant their favorites in the garden next spring. Eat now. Eat Later. What's not to love about that? (Not to mention that Heirloom beans are WONDERFUL. If you want to know more about them, check out my blog post on the subject–I'm an heirloom bean addict!)
Kid Gardeners: Cute seed kits (that come in egg cartons) and are a variety of themes (pizza, salsa, etc.) but my favorite is the Summer Fun seed kit that contains seeds to grow Birdhouse Gourds, Luffa Sponges, Sensitive Plant, Spaghetti Squash, Big Orange Pumpkins and Mammoth Sunflowers.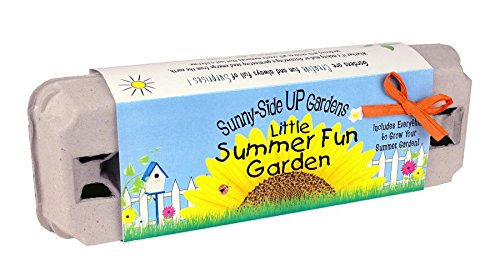 Holiday Gift Ideas for Homesteaders (and Homesteader-wannabes):
InstaPot: I LOVE LOVE mine! I've been wanting one for over a year and finally got one. I'm not disappointed. If you're not familiar with the Instapot, it basically does everything: Pressure cooking, slow cooking, sauteing, baking, a warmer, a rice cooker and some models have a yogurt maker. Pretty much everything you need in a kitchen appliance (except for still needing a good blender!) There's different models, sizes and options all designed to make life easier! Here's one to look at.
There's also great InstaPot cookbooks and ideas galore as well as much inspiration on Pinterest for what to cook and how to use this amazing all-in-one machine.
Fermenting Kit: Give the gift of good gut health with a fermenting kit.
Sprouting Kit: Another great gift for good health is a sprouting kit.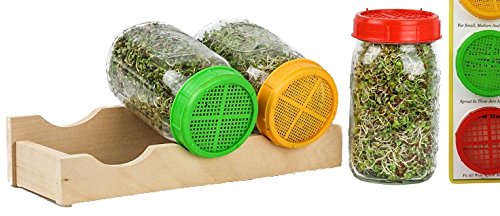 A Big Basket of Organic Fruits and Nuts: Even better if you can buy it local.
Local Handmade Gifts: Think soaps, local honey, hand knit items, etc.
Fatwood: I've heard people talking about Fatwood, but only recently experienced it. Fat wood is wood kindling that has been made from the base of the tree, where the resin is more highly concentrated. You can light a fire WITHOUT paper or kindling just with 2 tiny pieces of Fatwood. It's amazing! Plus, added bonus is that it's all natural. No added chemicals or anything else. And they're sustainable. They take the stumps from trees that have already been cut and put them to good use.  I LOVE LOVE LOVE Fatwood. I'm hooked!
Essential Oils: Give the gift of health (and all sorts of DIY homesteading solutions). I use essential oils daily, both inside and outside the house. I use them on the chickens, too, when they're sick or wounded. It makes so many things much more simple. And healthy. And non-toxic. If you're interested in the kind I use, check this out. Or message me. I'd be happy to help you out.
For Homesteading Kids:
Don't Throw it, Grow it: 68 Windowsill Plants from Kitchen Scraps: This book ROCKS! And it opens the curiosity for kids (and adults!) to see what will grow from the kitchen. (Think: the spices in the cupboard that are still in seed form (not ground), the end of the celery you chop off, etc.) Great book for curious children to open them up to a world of gardening.
Educational (and fun!) Board Game: Wildcraft Herbal Adventure Game. This is a cooperative board game that actually teaches about edible herbs and their uses, focusing on medicinal and first aid situations.
DIY Projects and Time
Lastly, it's not all about what you can BUY. Sometimes the gift of TIME is the best gift of all and there's hundreds of ways to do it. For example:
Who wouldn't love free babysitting so they could go out one night?
Or help painting/fixing/cleaning something around the house/homestead?
What about 'gift certificate' for an afternoon of weeding or helping muck out the coop (you might enjoy it more than you think).
I have a friend who just gave a YEAR OF SOUP to someone.  Once a month she makes a big pot of soup and delivers it to her recipient. Mmmm. That sounds wonderful.
Get creative. It doesn't have to cost anything but a little time.
Or, if you're into DIY projects, things that I make that are oft-requested items are these:
(All of the above recipes include canning instructions but don't let that put you off if you're not into canning–you can make it fresh and deliver it in a nice jar for refrigerator storage, or put it in cute packages and freeze it.)
Another fun idea I've done is make Snowmen in a Jar kits for kids. They were a big hit. (And I even include labels you can print!)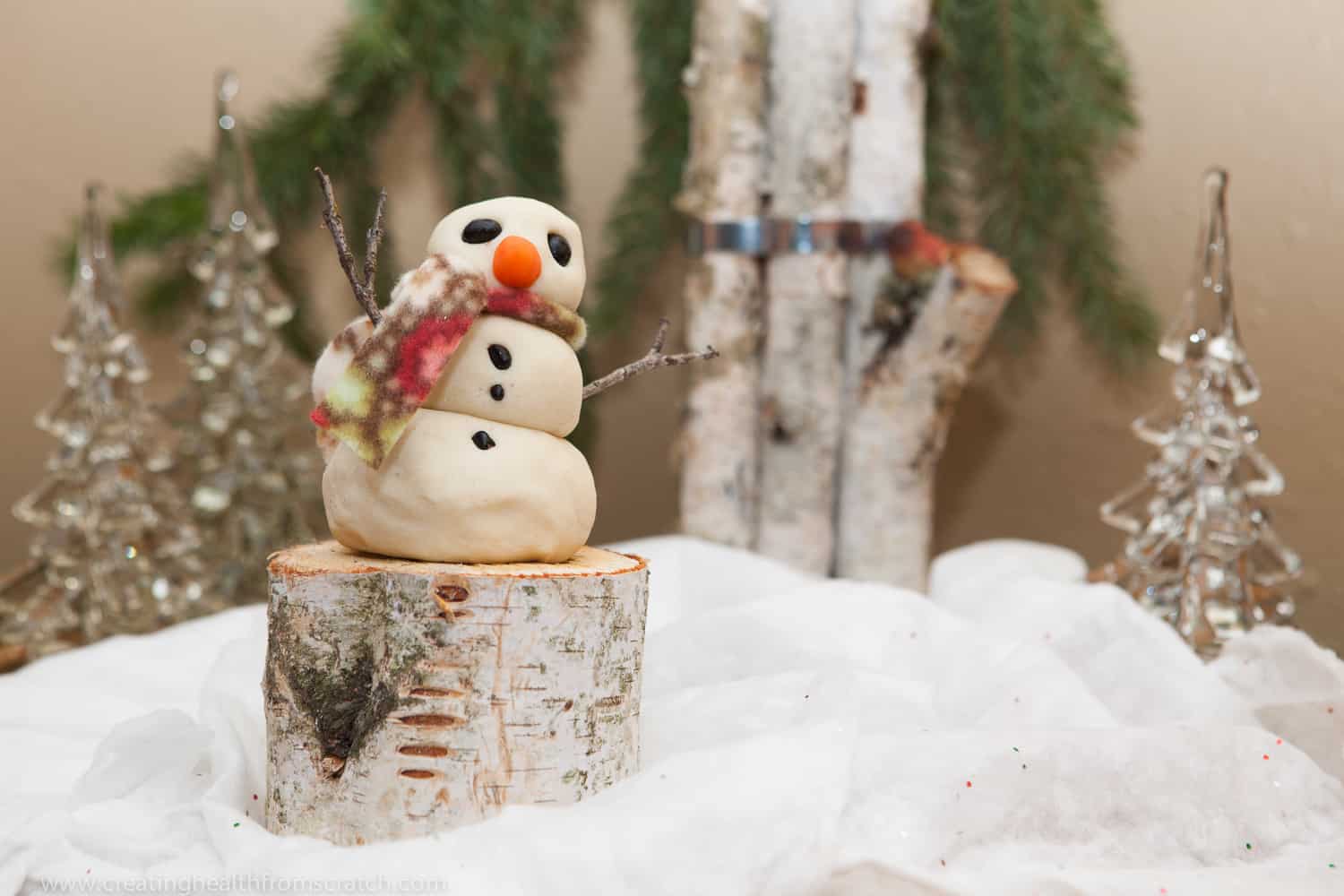 No matter what you do, nor what you celebrate, when it comes down to it, it's all about your relationship with people. Hopefully this holiday gift guide for homesteaders and chicken lovers will get your creative juices flowing and you'll think of even more perfect things than I've listed here. Have fun.  And happy holidays!
Some of the links in this post are affiliate links. This means if you click on them and purchase something, I get a few cents to help me feed my chickens. This doesn't cost you anything more and in some cases saves you money. Thanks in advance for your support.