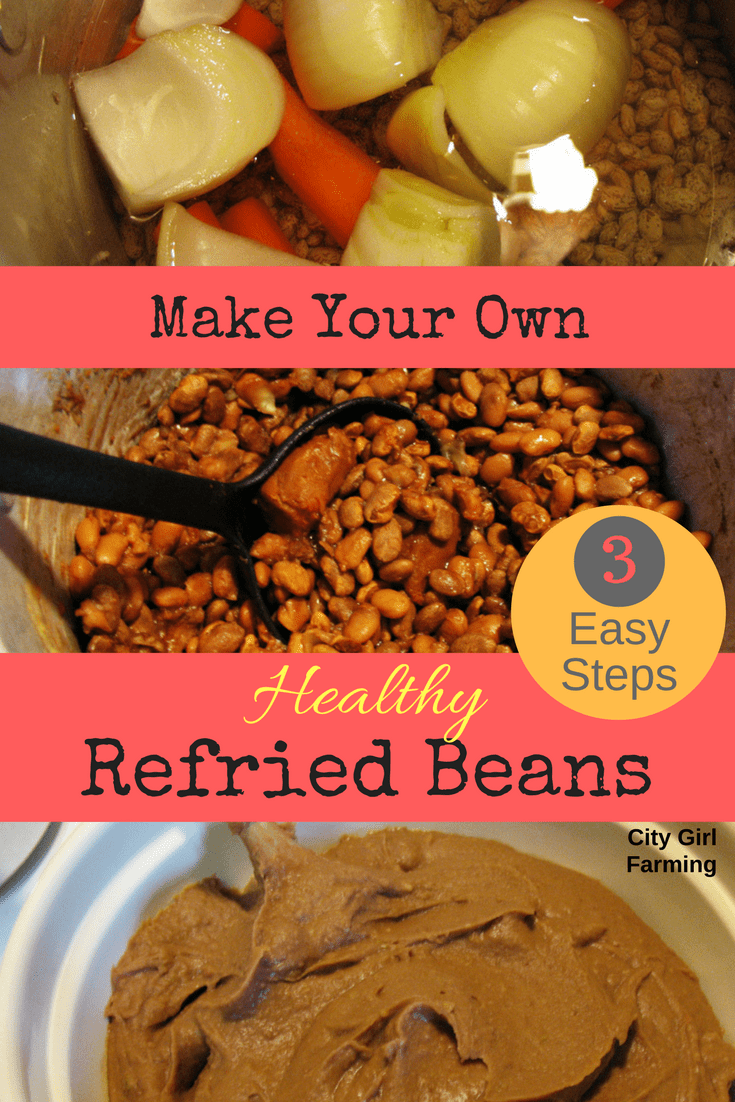 Have you ever made homemade refried beans? I hadn't until a few years ago. It seemed too complicated (dried beans used to intimidate me). Of course, I never tried. It's just what I THOUGHT. And, thankfully, I was wrong.
I love refried beans. I could eat them pretty much every day. And for many years, I bought them in a CAN! Until I discovered how very easy it is to make my own homemade refried beans. Easy Peasy.  With the help of my pressure cooker and Vitamix *, I'm making my own 'refried' beans in about 40 minutes. They beat the canned version in both flavor and cost hands down! Not to mention, I know EXACTLY what is in them, and there isn't anything nasty, fake or toxic. (Bonus points: They freeze well for later so you can make a big batch and be set for a while).
For this fast and easy way of making refried beans, you just need:
Dried beans of your choice (I'm an heirloom bean freak so I love using Orca beans or Mayocoba beans (because both are extra creamy)–but I also use Purple Peacock, Good Mother Stallard, and yes, sometimes just plain old pintos or black beans or any combo of any of the above!)
A carrot or two
A piece of celery
A clove or two of fresh garlic
An onion
Seasonings of choice (I usually add a bit of salt before cooking and then season to taste with cumin, pickled jalapeno, salt, chili pepper, sometimes salsa….this is pretty flexible and easy to customize to your tastes)
A pressure cooker (or InstaPot or other pressurized cooking pot). Don't worry, though, if you don't own one, you can still make these beans. It just requires more planning which I will explain in a moment.
A blender or Vitamix.
About an hour of time.

What to do:
First, rinse and sort your beans. Then dump them with your veggies (I roughly cut them or snap them into halves or thirds) into the pressure cooker. Add about 3 inches of water (3 inches above the top of your bean level) to the pot and some salt.
Because I only have a 6-quart pressure cooker, I generally only use about 2 lbs of beans at a time (the manufacturers directions when cooking beans say to only fill half way up because they foam when they cook…although I haven't tested this warning, and I haven't noticed foaming myself, I still adhere to the advice).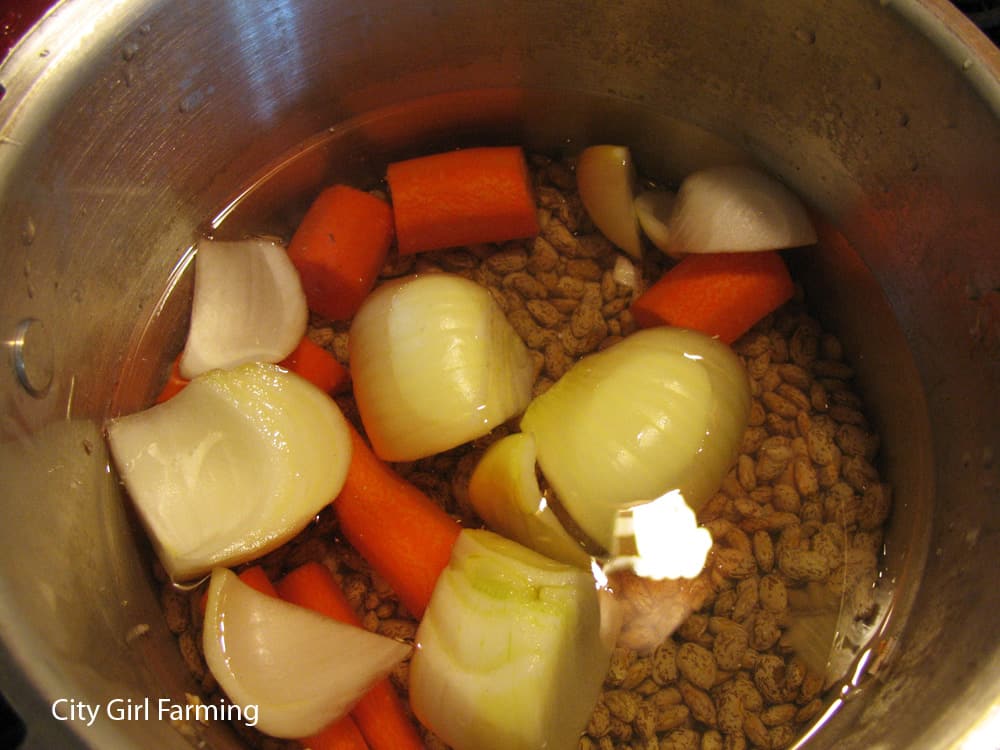 Attach the lid and the pressure gauge weight, set it on the burner (on high) and wait for the weight to start rocking. Once this happens, I set the timer for 30 minutes and let it cook, rocking along the whole time.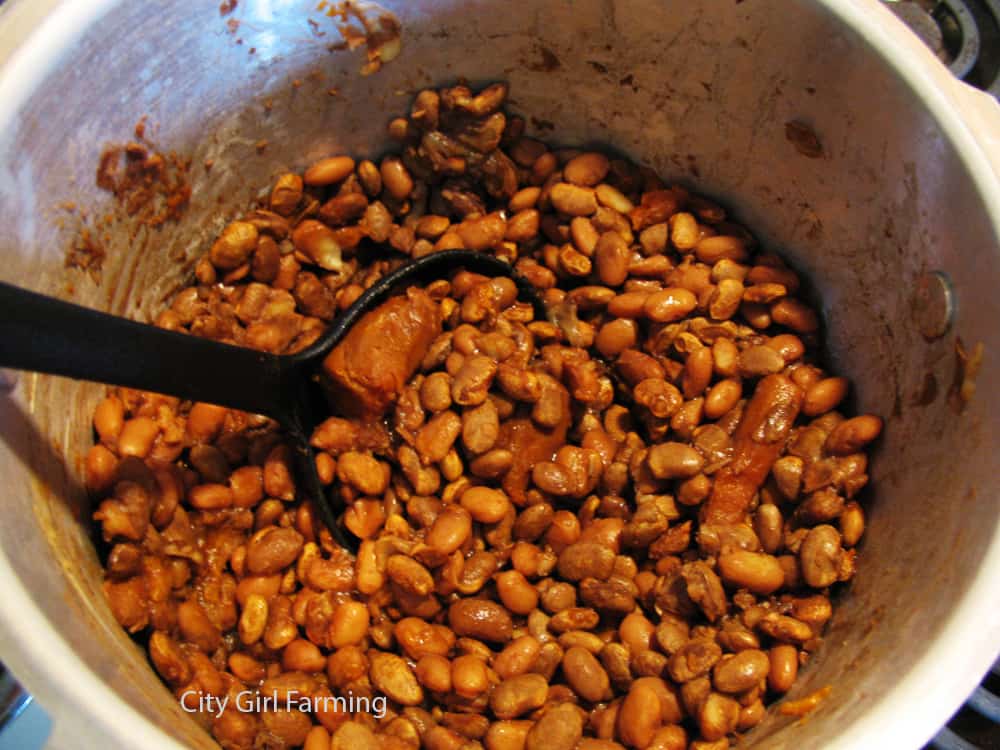 Once my timer goes off, I turn the heat off and let the beans sit for a while. It will take a bit of time for the pressure to lessen enough that you can unscrew the top. (You can also hasten this process by removing the weight, which I do eventually, but I let it sit for a bit first).
Once I get the lid off, I let them cool down a bit more (so I don't overheat the Vitamix with the hot, hot beans). Then, I process the beans (and the veggies I cooked with them) by dumping a couple scoops of the mix into my Vitamix. I also add garlic, cumin, salt, and any other spice or herb that strikes me fancy at the moment. Sometimes I add fresh cilantro or some salsa or tomatoes or jalapenos. It's all a matter of taste. I make them slightly different each time, depending on my mood and the supplies I have at hand. Oh, and I usually have to add a bit of water.
(A friend of mine, who turned me on to this simple process also adds a bit of lard during the blending process. This adds a more authentic taste, but I skip that addition unless I've made fresh lard myself so that I know it's not nasty non-food like you buy at the store.)
Since I just add a pinch of this and a shake or two of that, it's essential that I taste the beans as I go. But the bad thing about this is that I then get hungry for some of those warm, delicious beans. So, it's become a tradition to make a bean burrito at the end of the process. It's my reward. Mmmmmm. Good.
Even though I eat beans regularly, I still squirrel away a bit of each batch to the freezer so that I'm never without homemade refried beans at a moment's notice. Try them for yourself. It will ruin you, though. You'll never look at canned beans the same way afterwards.
Consider yourself warned.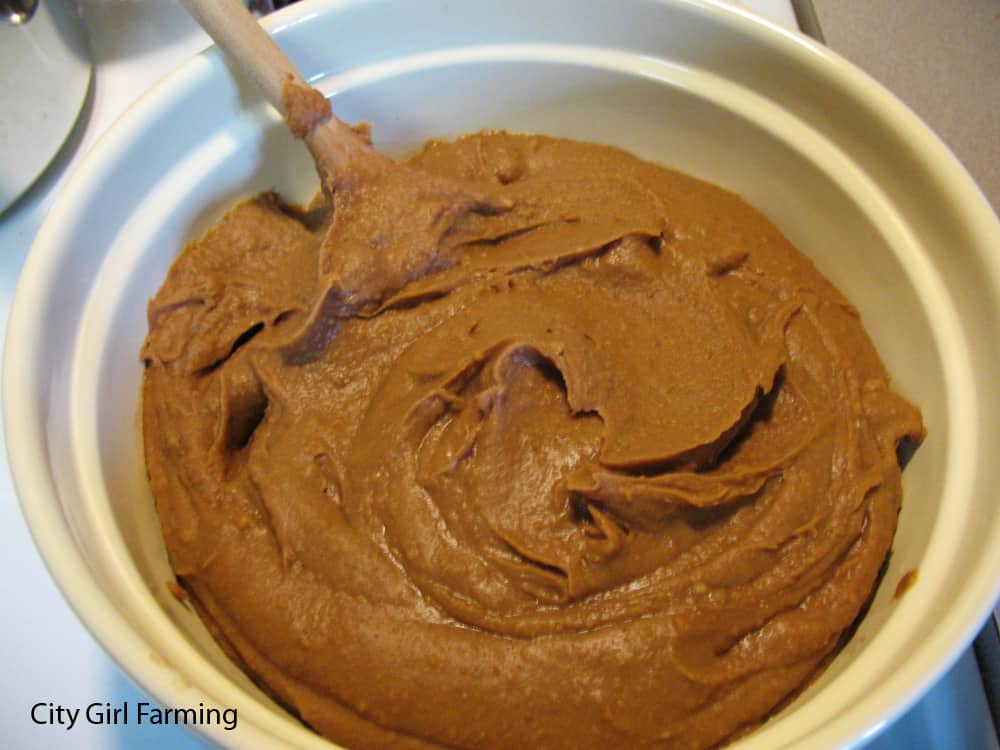 * Disclaimer: if you order a Vitamix from the link above, you'll get free shipping, and I'll get a small commission ( a win/win deal)…but I want you to know I've had my Vitamix for years and think it's the best kitchen appliance I own…so I'd be telling you of its great wonders anyway, just because it's a great product. I'm just sayin'.