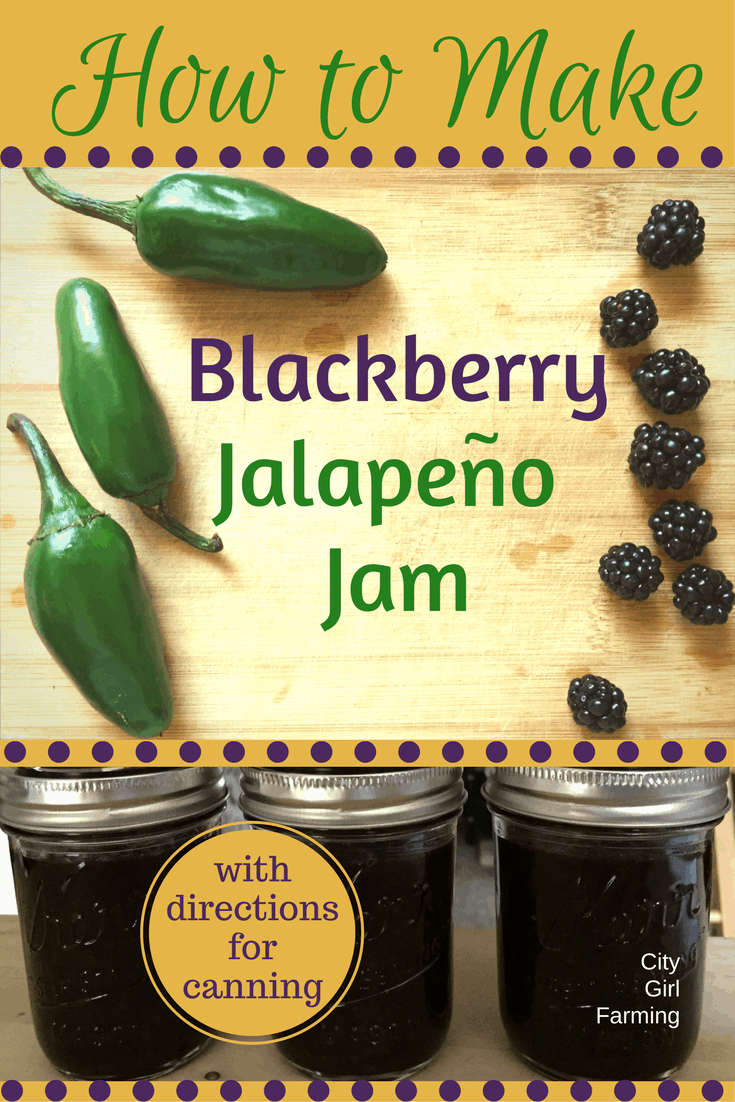 I love blackberries and I love jalapeno. Add the two together for blackberry jalapeno jam and I'm in heaven.
For those of you that need convincing, think of pepper jelly (sweet, a tiny bit spicy and great for a million things) mixed with traditional blackberry jam (great for a few things). The results are a slightly spicy, sweet jam that will take your PBJ up a notch or two. (You can control how HOT you make this jam so if you like the flavor of jalapeno without the heat, you can do that too.)
What would you use blackberry jalapeno jam for? Um, I've been using it for pretty much everything. It's great as a condiment for grilled brats. Lovely over cream cheese and served with crackers. I've even eaten it on top of my lemon custard. It's sweet jammy-ness lends itself to traditional jam jobs. It's pepper flavorings pairs well with meats and cheeses as well.
And it's super easy to make!
Blackberry Jalapeno Jam Ingredients
6 cups blackberries (fresh or frozen)
1-2 jalapeno peppers
4.5 cups of granulated sugar (or 7 cups if using regular sugar pectin)
1 box of reduced sugar powdered pectin (or regular powdered pectin if you want to add more sugar)
8 half pint mason jars (more if you're using the full sugar recipe)
Jar lids and canning rings (and canning equipment if you don't have it–see here)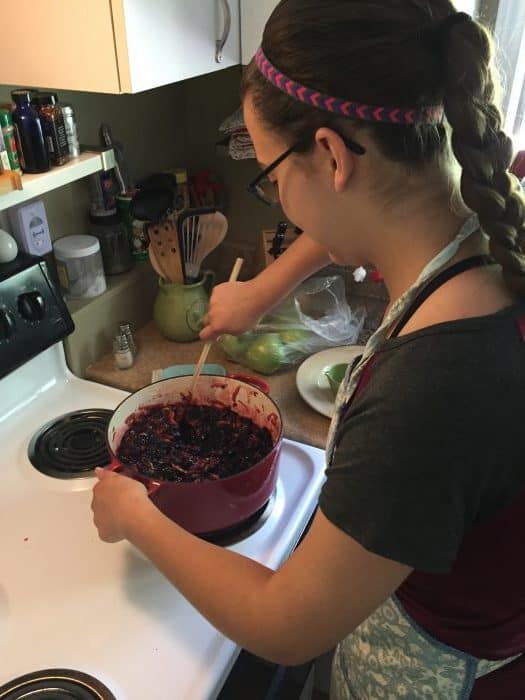 Instructions
This jam is simple to make. Jam in general is a great starter project for people tipping their toes into the canning scene for the first time.
Part One: Prepping for Canning
If you're going to can this recipe, first order of business is getting your jars cleaned and sterilized and getting your canning supplies set up. If you're a seasoned canner, you know the drill. However, if you're new at this whole thing, hop over to my canning processing page and it will walk you through the steps of water bath canning your jam (don't worry, it's not hard!)
Part Two: Making Jam
Once you're ready to roll, let's move on to the jam.
First, gently rinse your berries.
And prep your peppers. I first like to wash them in a bowl with water and a drop or two of lemon essential oil to remove any reside. Swish them around in the water and then run under the tap. (this also helps remove that nasty waxy coating if you're buying the peppers at the store).  Once washed, chop the peppers up in to small pieces (here's where you need to decide if you want it to just have the taste of peppers, or if you want to have a bit of spice as well. If you want it mellow, remove all the seeds. If you're up for the kick, keep them all in. If you're somewhere in between, keep some and throw some out.)
Measure out your sugar into a large bowl and set aside.
Grab yourself a large, non-reactive pot and add the berries and prepared peppers to it. Bring this mixture to a full boil.
Once boiling, slowly add the pectin, stirring constantly until the pectin has dissolved.
Pour in your pre-measured sugar, continuing to stir constantly, and bring mixture to a full boil. Boil for one minute.
Remove from hot burner, skim off foam from top of jam.
Part Three: Processing Jars
Process in hot water bath canner for 10 minutes (if under 1000 feet) or see chart below to figure out the length in your particular area.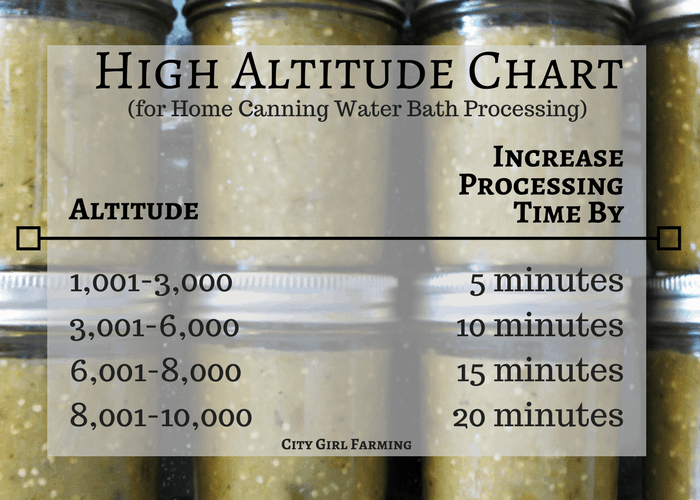 Additional Thoughts:
I used 2 jalapeno with all the seeds and didn't think it was hot at all. Some of this depends on the peppers you use (and the season you buy them in, or if you grow them yourself, etc.) It also depends on your ability to tolerate heat. I like is hot, but not scalding, so next time I'm going to add a pepper or two more.
If you want, you can substitute out some of the sugar for honey.  It's not good to substitute ALL of the sugar for honey, unless you don't mind a much more runny end product (you can also help correct this issue by adding 2 grated Granny Smith apples to the recipe).
This stuff would make a great gift. And if you wanted to add super cute labels to your canned gifts, check out these.
I first saw the recipe for Raspberry Jalapeno jam over at A Farm Girl in the Making and decided to swap out blackberries for raspberries since I live in the Pacific NW and it's full on blackberry season. I bet, however, that raspberry would be fabulous as well.