Oh no! Not another big, runaway zucchini that went unnoticed!?!? With this tasty, easy zucchini 'ravioli' recipe, you'll never fear another zucchini again! In fact, because big zucchinis work for this recipe, you'll find yourself letting them grow huge on purpose!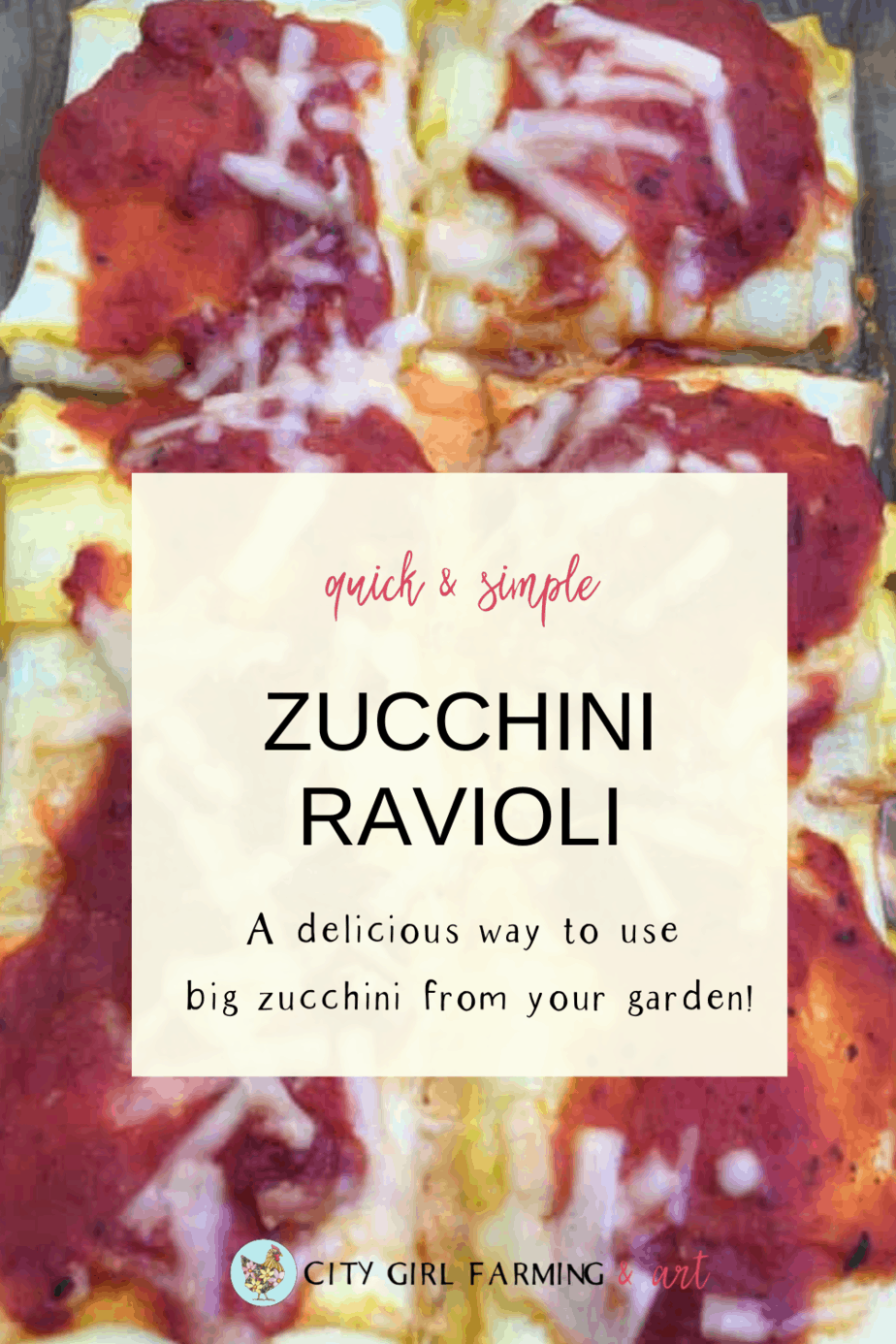 Zucchini is something a lot of us have a love-hate relationship with….but this zucchini ravioli will change your mind about everything you thought about zucchini. Mmmm. It's so good! And easy to make, too.
So next time you're wracking your brain about what to do with yet MORE zucchini from the garden, you've got an answer. One that will make you wish you would have planted MORE zucchini than you did!
Here's all you need to do….
Gather Your Ingredients:
2-3 zucchini. Pick long skinny ones. (Of the two varieties I have growing in the garden, I HIGHLY preferred the yellow for its long and slender nature). You can use a big (overgrown) zucchini if you want and it's a great way to use up those big ones you often don't want to cook with. They work perfectly for this (see video further down on how to slice up a big one).
Approximately 1.5 pounds of cheese. I used sheep ricotta and aged Asiago for this batch. Parmesan and other Italian cheeses would be great, but really, pick cheese you love.
A handful of fresh herbs. Basil and rosemary are great. That's what I used. You can substitute dried herbs for fresh, or even essential oils, if you want.
2-4 cloves of garlic
Homemade or prepared pasta sauce
1-2 eggs (this is especially true if you use hard cheese, less so if you use something soft that sticks together really well).
That's it.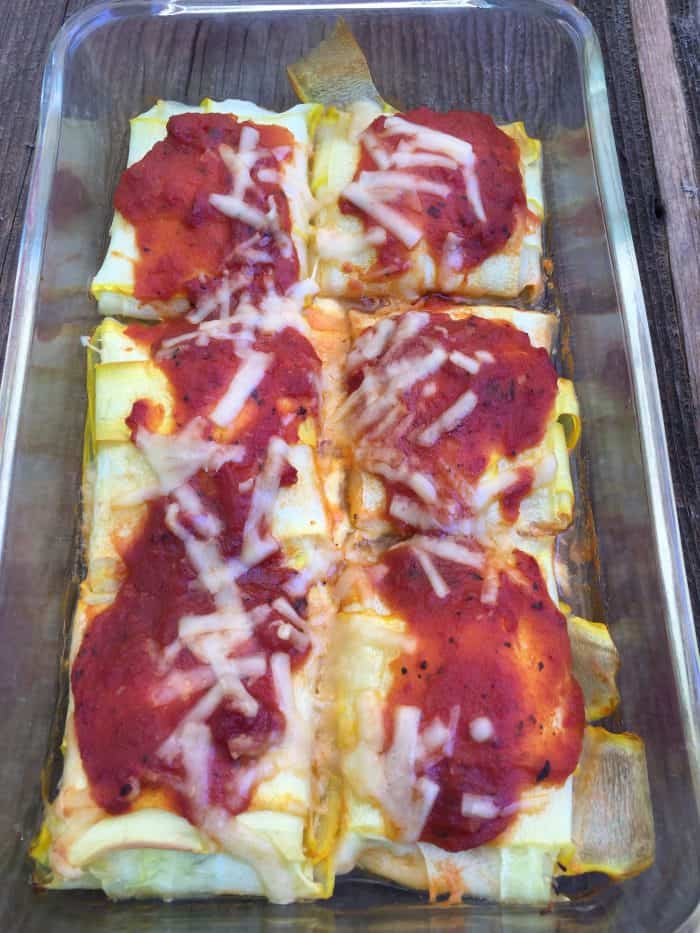 Prepare Your Ingredients:
First, make the cheese filling. Grate your cheese, chop the herbs and mince the garlic. Toss it all together (add salt and pepper if you think it needs it). If it's super crumbly, add an egg or two to help it all stick together. Set this mixture aside.
Next, take your veggie peeler and slice long, thin ribbons of zucchini. This is actually easier than you might think. The peeler keeps the ribbons even thickness. (Again, if you need to, cut the sides off the zucchini so that the peeler is longer than the zucchini is wide. You can use those cut off pieces to make more ribbons if you want.) These will be your 'noodle' in which to wrap your cheese filling around.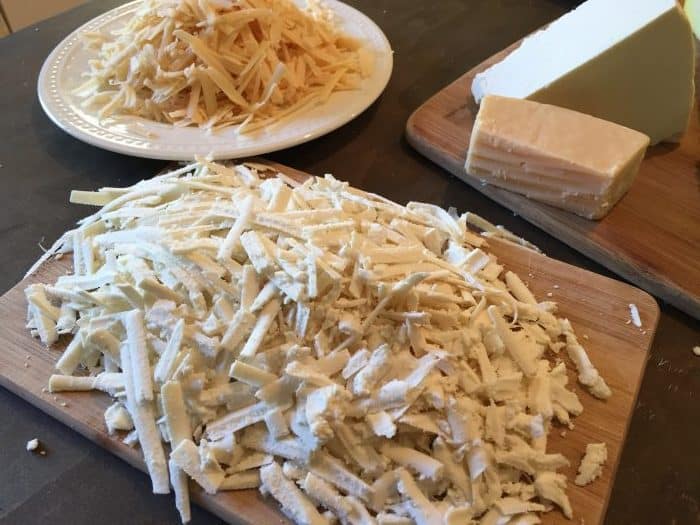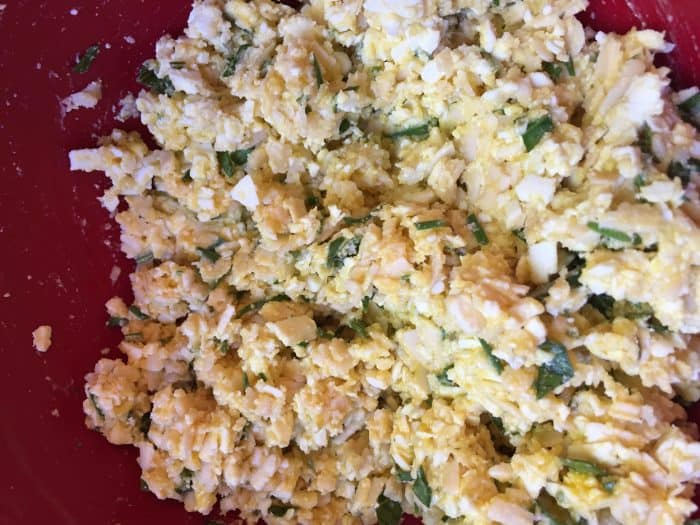 Make the Ravioli:
To make the ravioli, lay out 2-4 ribbons of zucchini, overlapping each other a bit. The number you use will depend on how big your slices are and how large you want your finished product.
Make another layer just like that, and crisscross it over the top.
In the center of this crisscross, where both layers of ribbons meet, add a spoonful of cheese filling. Then, fold over the bottom ribbons to cover the filling and then the top ribbons on top of that to create a little pouch, or 'ravioli' if you will.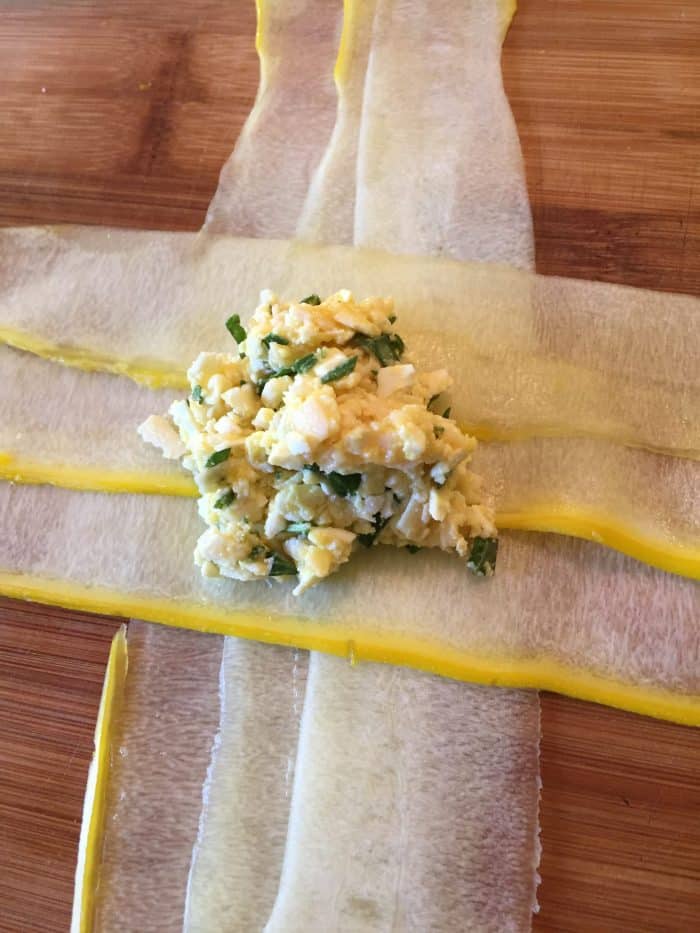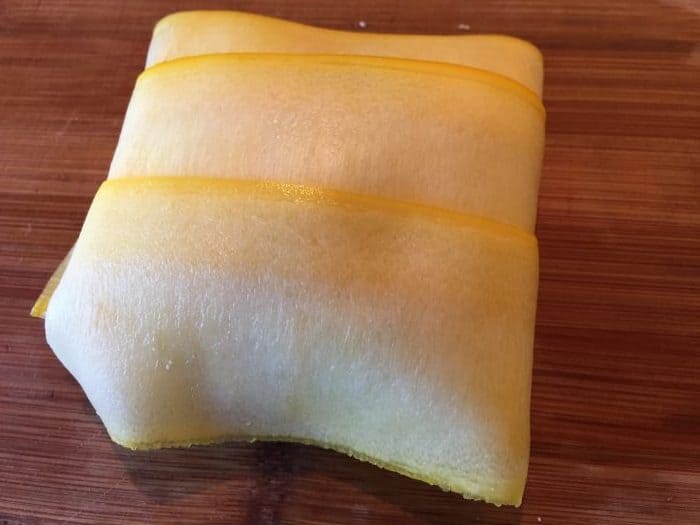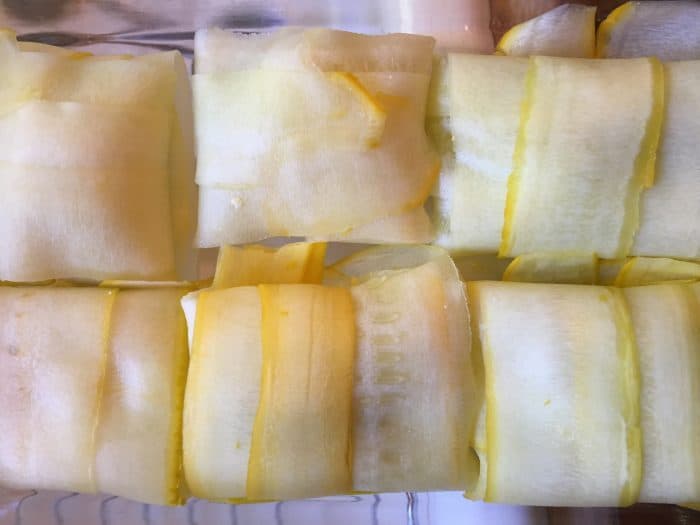 Place them with the folded over part on the bottom and line them up in a pan. Continue to make zucchini ravioli this way until you have a pan full, are done with your ingredients, or just can't take waiting any longer to pop them into the oven and eat them already.
Once you have a full pan of zucchini ravioli, spoon a bit of pasta sauce over the top and sprinkle with a little cheese. Place them in an oven pre-heated to 350 and cook them for 20 minutes or until warm inside.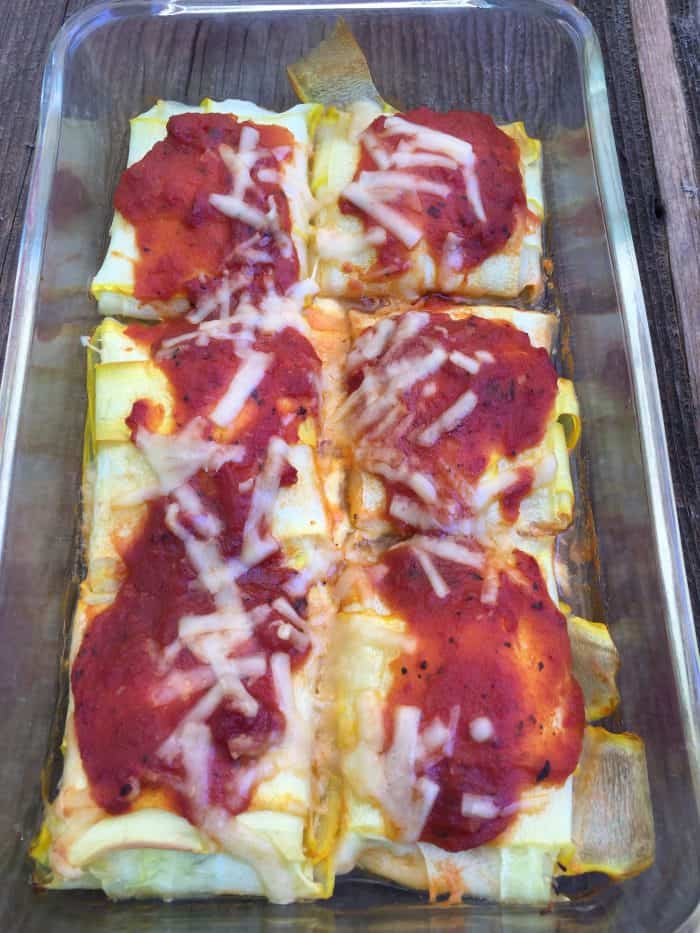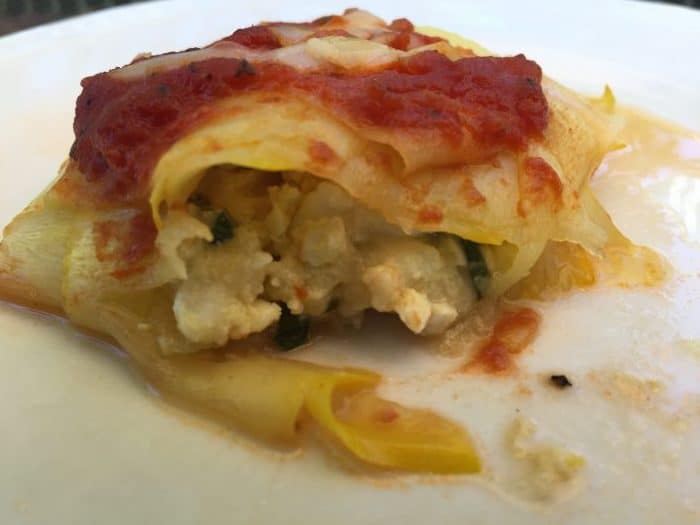 In the video below, you can see how I cut up an overgrown zucchini (and I feed the seedy core to the chickens). In this video, I made pumpkin sage filling (add pumpkin puree to sauteed onions, garlic and fresh sage).
Zucchini ravioli is a great way to use up that ever abundant summer squash in a new and tasty way. It does taste similar to ravioli, but with a much lighter feel. It's great as a meal when you add a fresh tossed salad to it. And Wah. La. Done. Mmmm.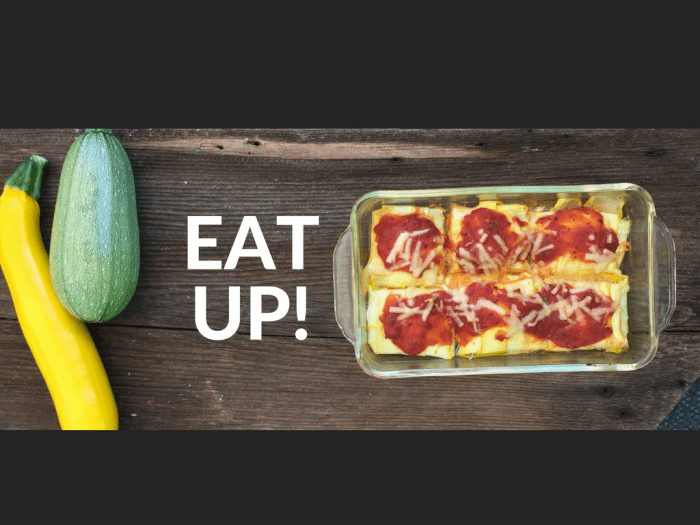 Would you like more ideas for zucchini? Here's 10 more ideas….and another 10 more on top of that. You should be SET now!