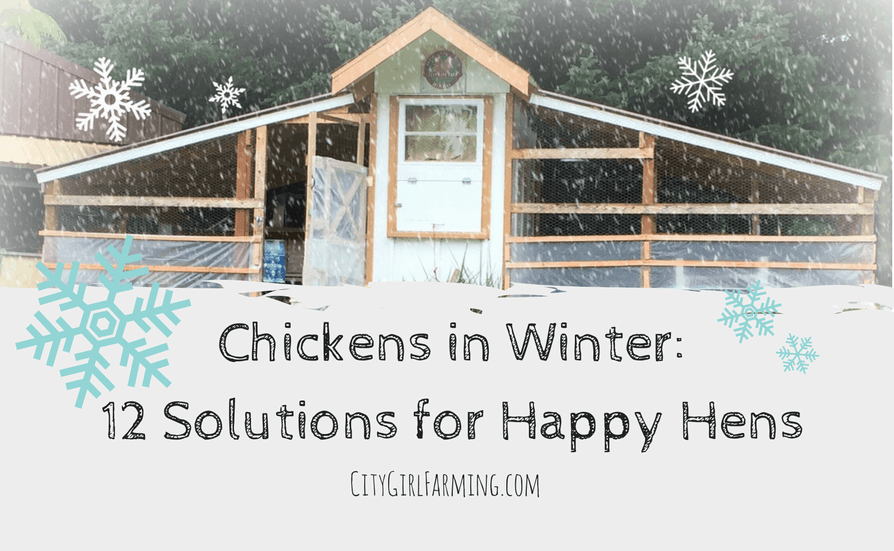 Brrrr. Winter is on the way and people are asking: What do we do with our chickens in winter?
It's a very common question. But the simple answer is: Chickens (usually) do better with cold than with hot temperatures.  Yet, there are some simple things you can do to help your hens navigate through winter, happier and stress free.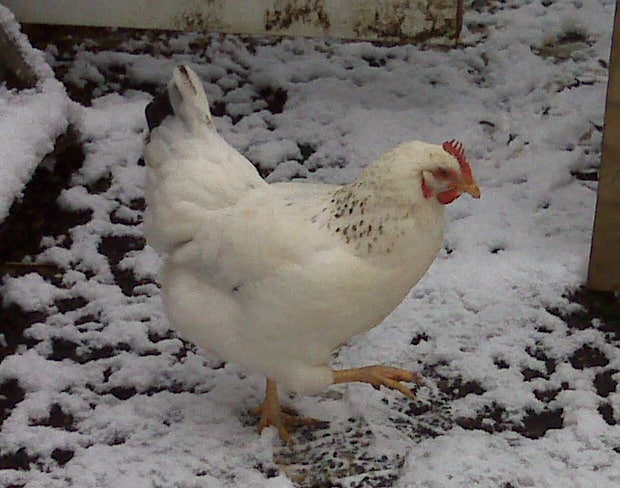 Here are 12 ideas to help your chickens in winter:
Staple thick, clear plastic over the chicken run.
At least part way up the sides, to give them a wind-free place to be. Most likely this plastic will also need to have 1×3 pieces of wood screwed over the top of it to keep it from being ripped off by the wind.  (I learned this one the hard way, in the middle of a storm as I tried to wrangle large sheets of plastic in the wind and rain). I like only put plastic up on the side that the wind most frequently blows during the winter season. And only part way up the wire. Chickens need fresh air. And they also like to see what's going on outside. The plastic is just to break the worst of the wind and keep them from being blown away.
Patch up the drafts.
Now, this does NOT mean keep any air from getting inside your coop. Even in the winter, your flock will need ventilation inside the coop. Just make sure the wind is not blowing ON top of the flock. Chickens don't like wind. And it's hard for them to keep warm when the wind gets up under their feathers.
Add an extra layer of bedding on the coop floor as this will help create some insulation.
Extra bedding can be in the form of straw (which is a great insulator as the hollow shafts hold air) or pine shavings. I use pine shaves and stall pellets (compressed sawdust that expands in liquid to help keep things drier).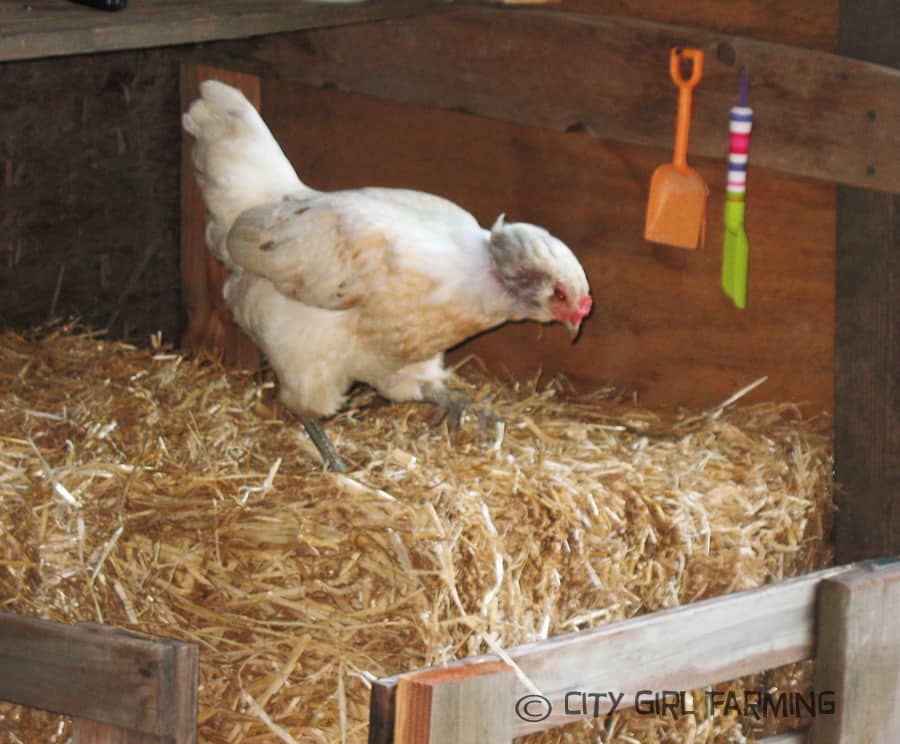 Add insulation to the walls.
If you live in really cold areas, you might also want to add insulation to the coop walls. (However this idea is better done when its summer and you don't have to be out in a freezing coop when temperatures drop).
Keep the coop clean in the winter.
Coop cleaning, unfortunately, is not just for the summer. The fumes from the chicken poo create gases that aren't the best for chicken lungs (go hang out in the coop for a while and you'll understand).  Keeping it clean in the winter is as important, maybe even more so than in the summer. (You don't have to dig it out, though, you can use the deep litter method and continue to add layers of clean bedding, which also helps with insulation).
Give the hens a bit more protein from time to time.
This is especially true if they're still molting. It takes extra energy to stay warm as well as to grow feathers. Protein helps both.
You can also feed them warm food (small amounts of oatmeal or scrambled eggs, for example). This should NOT replace your layer feed, and don't go overboard. Treats are not meals. And too much of even a healthy (non-feed) food for your hens isn't good for them.
Feed them cracked corn (in even smaller amounts) in the late afternoon before they go to bed. Corn raises their body temperature and will help keep them warmer through the night. And it also ensures they go to  bed with a full crop which will help body temperature as well.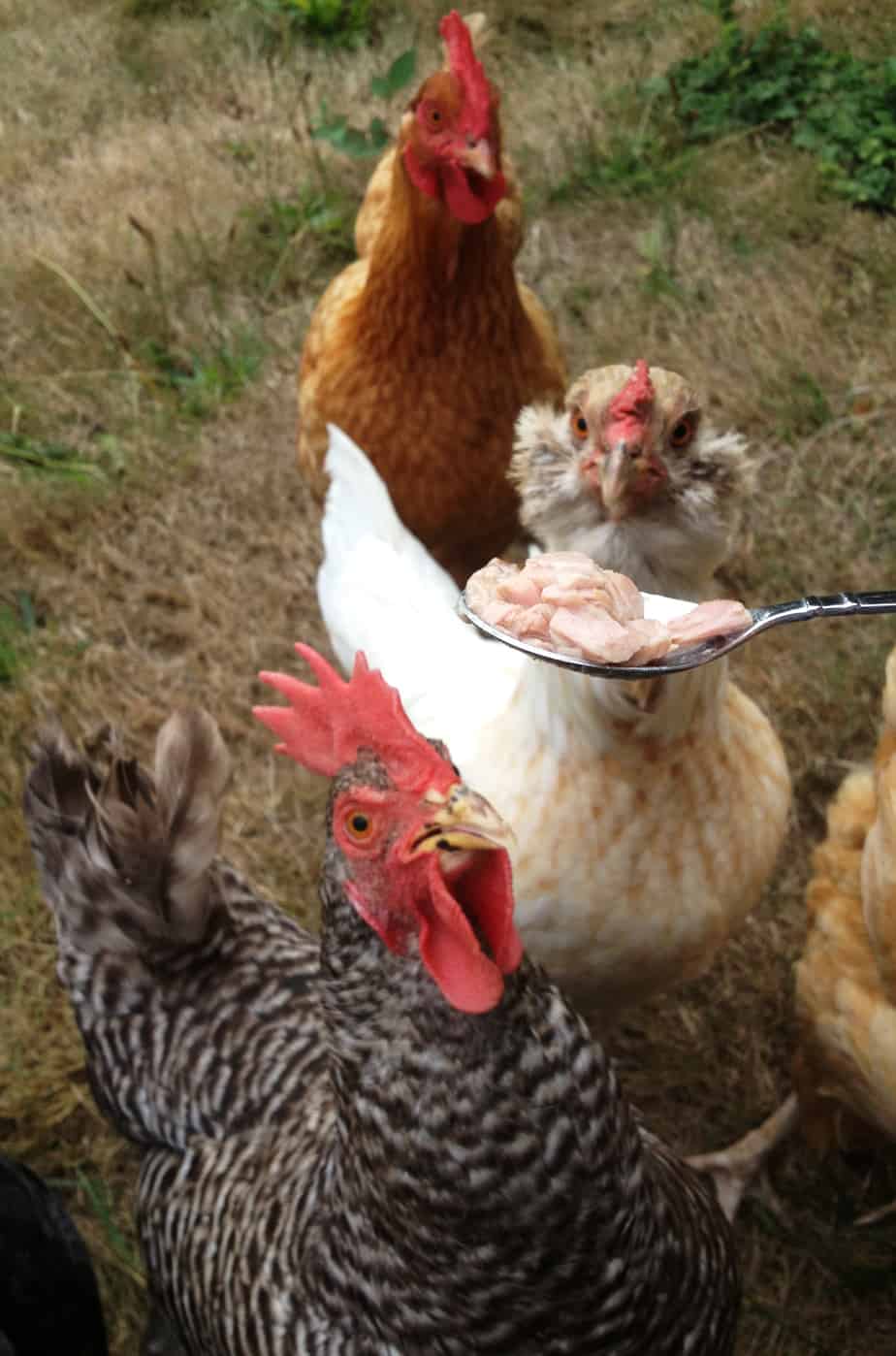 Add heat lamps to the coop. 
I've never done this because chickens, with proper care and housing, will navigate through winter without heat. (I grew up in Montana and it was COLD there and our hens lived just fine without a heat source all winter). If you choose this option, though, be very careful because it could be a potential fire hazard.  (One year, when two local coops in one weekend burned down from heat lamps, a fire official suggested that if you put a bulb in your coop, don't make it larger than 100 watts, and use a regular bulb, not a heat lamp bulb as it will generate enough heat in a small space to help warm the temperature). Don't forget, too, that hens have a higher body temperature than humans and they will generate more heat all on their own.
Keep their water thawed.
Chickens need water to help them eat. It's important to keep a water source for them to drink from so they don't get compacted crops. (That's no fun for anyone.) There are lots of options to help keep the water from freezing, including making your own heater for just a couple dollars. I also successfully use a heater made to submerge in a bird bath to keep it from freezing (like this). I wrap the unit in an old dish towel and place it under the waterer (my chicken waterers are plastic and this does NOT melt them–the heat given off is minimal, but enough to keep water from freezing).
Add logs or other wooden structures to the run.
I've added roost poles in the chicken run as well as logs. It gives them something besides the freezing cold ground to stand on. Plus, it gives them something DRY to stand on in event of flooding (like last winter!) since I live in the Pacific NW 'rain belt'. My girls use them even when it's not cold so I leave them in the run year round. (Chickens just like to be up on things.)
Give them ways to escape the weather.
Where I live, that means places to find shelter from the rain. Thankfully, my  chicken run is covered, and it's situated by some tall, thick Doug Fir trees, so they've got lots of places to find shelter. But if you don't have any areas in or around your  chicken run, adding something (even like a dog house) that will allow them a way to escape is a great idea.
Along those same lines, if it snows, shovel walkways for them.  They'll be more willing to walk around outside if there's a path. (An interesting side note to my flock that live in the rain: They're usually fine out running around getting drenched. But if a single flake of snow hits the ground (which is a rare occurrence) nothing will coax them out unless I shovel a walkway for them.)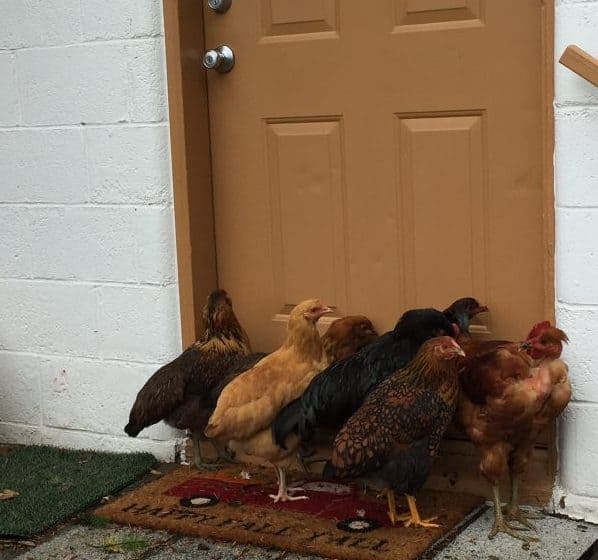 (The exception to the 'loving the rainy weather' is the 'Littles'–my new girls born in June. They haven't fully experienced the endless rain of winter and like to cluster together at my door for shelter.) Sigh.
Give them something to do.
I often make my girls a hanging cabbage to play with (simple directions here). There are also treat balls you can buy to hang snacks in that allow the flock some relief from the boredom of winter. Another nice thing to add to the run is a Flock Block to give your birds something to do (plus it's got protein in it to help keep them warm). You can buy it or make your own. The boredom factor is especially high for free range hens that are used to roaming and are less likely to do so in the bad weather.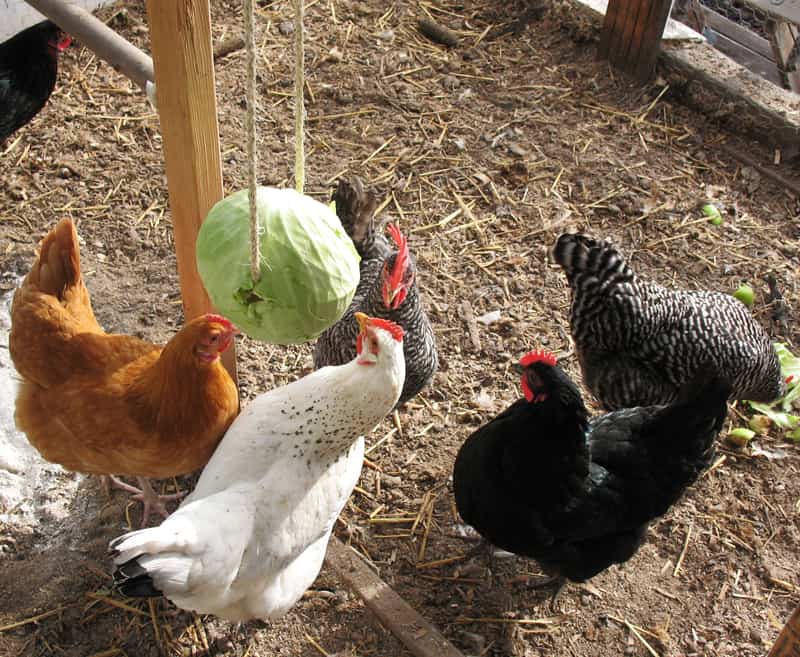 Keep the Vaseline handy.
If you live in cold, cold areas another thing to consider (when the temps dip low for extended periods of time) is to put Vaseline on your hen's combs and wattles. This will help keep them from getting frost bite.  Also, if you happen to have metal roosting poles, change them to wood!
Are your girls cold? 
I often get asked how you can tell if your hens are cold. One way is if they've puffed their feathers up so they look extra fluffy and are also standing on one leg. Sure sign they're cold. But being cold isn't necessarily the same as being dangerous or unsafe. Chickens can endure a lot more cold than we give them credit for sometimes (they are, after all, wearing down jackets).
What about sweaters for hens?
Another question I am often asked is if I make sweaters for my hens. I only did that once, for one of my hens when she molted hard and late. She was visibly shaking from the cold. I brought her in the house and it took over an hour in front of the heater to warm her up (and stop her shaking).
So, yes, this one time, I made a hen a fleece pull over that she wore for a couple weeks while her feathers grew back in (or at least grew in enough to help her survive without the fleece). But as a general rule, hens don't usually need coats, sweaters or clothing. They are used to living outside. They wear feathers that help trap in warm air and keep them warmer. They're usually doing just fine in the winter. It's US having the heart attack and worrying.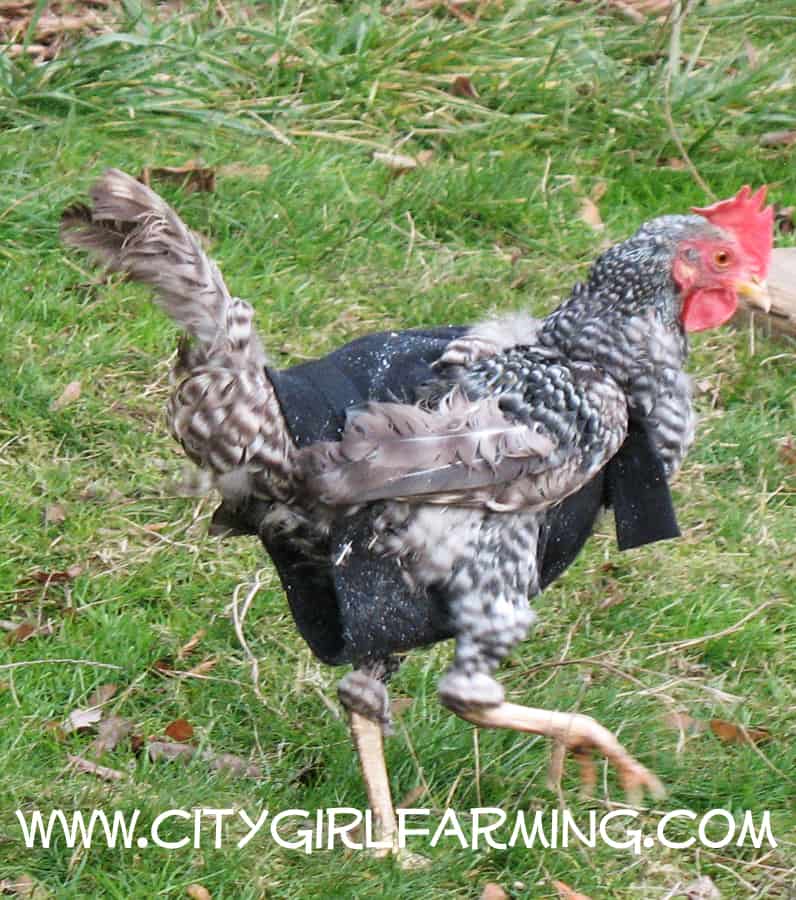 There are exceptions to everything, most of the time. My best advice is that and you know your girls best of all, so definitely do what you think is right in extreme situations.  But generally, if you feed them, water them and give them dry, wind free housing they're usually just fine.
This post contains some affiliate links. This means that if you click on them and make a purchase, you're helping to support this website. Thanks. But don't worry. It won't cost you anything extra. Yay for that.