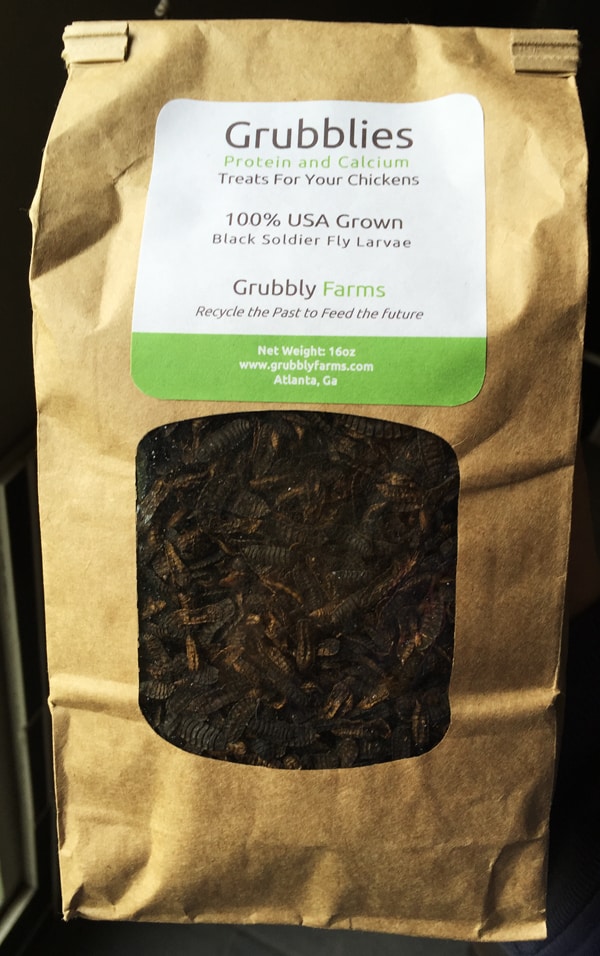 I admit it. Black Soldier Fly larvae doesn't sound very appetizing. But that's because I'm not a chicken.  And it was with my chickens happiness in mind that I said YES to letting the girls have a taste test of dehydrated larvae to see what they thought.
Well, let me back up a bit. I don't just say YES to anything that comes along (even if it means a free sample). So, I went over to the Grubbly Farms website and looked around.
I liked what I saw. Grubbly Farms, a new, innovative new start-up business and is growing black fly larvae in organic food waste. These guys are coming up with new ways to recycle organic food waste (which clogs up landfill and emits harmful gases into the environment) into helpful products (protein for hens and fish as well as nutrient rich compost from what's leftover) on a plant that struggles with  both waste and food solutions. It's like a win/win/win. Grubby Farms combines the two issues into several solutions.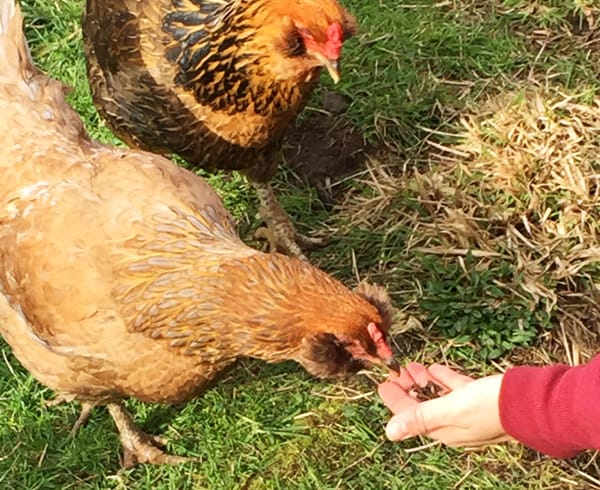 Weird fact I learned on their site: The Black Soldier Fly Larvae eats 200% its body weight daily (an equivalent of a man eating 45 chickens (bones and all) per day–so growing these insects is a great way to use up a LOT of food waste.
Their idea for this project has won them an award as one of the 50 most innovative start-ups from around the world.  That's pretty cool for a pair of recent Georgia Tech grads, yes?
(Can you tell I'm a fan already? I love this kind of stuff!)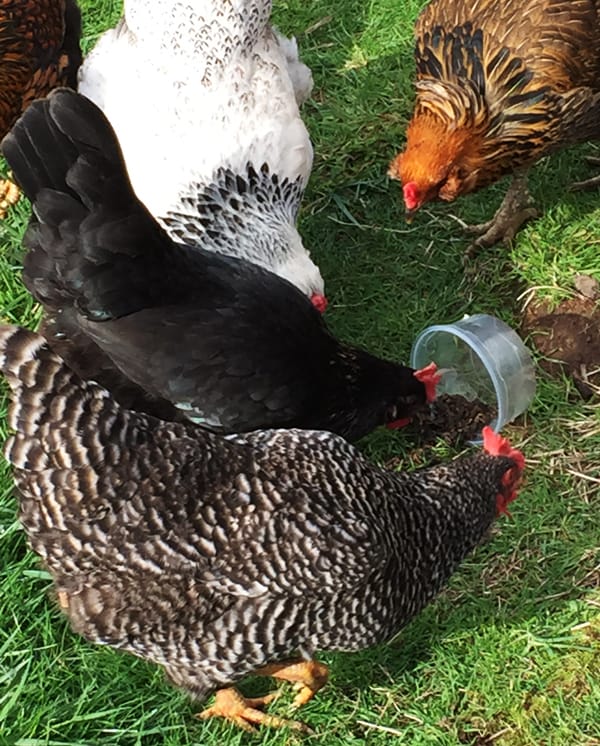 After looking at their website, I sent them an enthusiastic YES to their request for me to try out their new larvae. Mmmm. Mmmm. And got them in the mail this past week. I was already sold on the company, but my hens gave an enthusiastic 10 feathers up. They LOVED them.
See video below for slooooooow motion gobbling:
And here's some real-time gobbling (the sound of all this cracks me up!):
As a matter of fact, they loved them soooooo much, that I finally won over the bantam roo that I inherited when I moved onto this property in September. Kookoocachoo, a frizzled bantam, and his sort-of-friend, Cecil, another bantam rooster lived together in a small garden coop. They were supposed to both  be hens, but surprise! They tolerated each other but that all changed when I moved my flock of girls onto the property. Both Kookoo and Cecil vied for my hens love and affection. Kookoo won the battle and snuck into my coop one night at bedtime (I didn't see him until the next morning when I when to let the hens out). And he's been with my girls ever since.
While Kookoo was smitten with my hens, he is not a big people person. No matter what I've tried, I've never been able to get too close to him. No matter what I offer him to eat, he won't come close enough to eat it out of my hand. I have to throw it out to him. So, imagine my surprise when he gobbled up dehydrated fly larvae from my hand. And, now whenever I go outside, he's right there. He follows me around like a puppy dog. I've won him over with a little scoop of dried bugs! This is a great, unexpected benefit!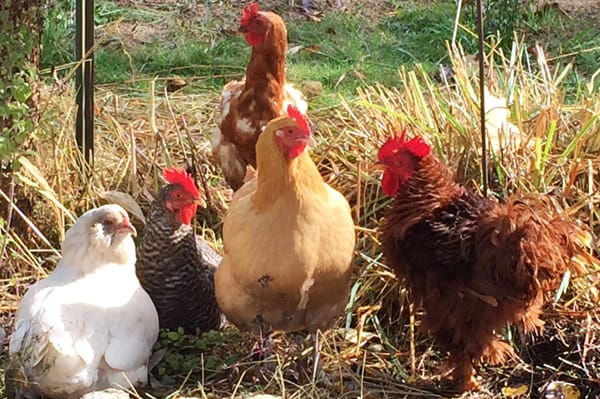 Okay, now if you guys haven't heard of Grubbly Farms, go check them out and send them some love, okay? They did sent me a free bag of grubbies, but they didn't pay me nor sway me for this opinion. Their site, philosophy and out-of -the-box solutions had me from the start. My swooning hens (and ROO!), pushed me over the top. And there you have it. It's true love from all of us here on my mini farmstead!