Jessica, my star of the backyard, top dog in the chicken pile, never a sick day in her 4+ year old life, sweet Black Sex Link hen, threw me a curve ball last week. I thought I might lose her.
At first, I wasn't sure what was wrong with her. She was sluggish, droopy, and definitely not her normal curious, chatty self. Having lost a hen only six days previous (from something mysterious), I panicked. What if some viral thing was running through my flock? What if I lose them all?
I immediately stuck Jessica in the 'chicken hospital' (a converted rabbit hutch) and set out to scour the coop, hoping to keep the others from catching whatever might be going around.
Jessica wasn't interested in eating or drinking or even moving. She seemed sad, even, depressed somehow. She sat like a statue for 2 days, not moving. When I finally coaxed some minced cucumber down her, I noticed she was jerking her neck around when she ate, like something was stuck in her throat. A quick examination of her throat uncovered nothing. It all felt normal. But by the time I got down to her crop, I knew something was wrong. It felt like a water balloon about to burst under the surface of her skin.
Shoot! A sour crop happens most generally when a hen eats something she shouldn't and it plugs up her crop so things can't pass normally and then, on top of it all, with all that gross rotting stuff simmering inside, it develops a fungal infection. I leaned in and could smell the nasty stuff on her breath. The worst case of halitosis you might ever smell.
(If  you look close you can see her doing the neck shaking thing in this  video. She only does it once at the beginning, but you get the idea:
Often the offending 'food' that causes the blockage is long grass. Especially long in the spring. Especially long grass along the chicken fence in the back that I haven't cut down yet because I can't get it with the lawnmower and the weed whacker is broken. It's horrible when something goes wrong with one of hens, but when it's my fault, it's even worse (yes I have since gone out and cut that long grass down with a knife).
I apologized to Jessica as I carefully lifted her out of the chicken hospital, wrapped her body in a towel and tipped her over (face forward toward the ground). I massaged her crop upward (toward the direction of her face) and induced vomiting. A volcano of sickly brown sludge poured out from her. Poor girl. She was miserable.
From there, I removed all the chicken feed from the pen she was staying in, and came in and mixed her up plain yogurt. I didn't want anything to make the blockage worse, plus I figured the active cultures in the yogurt could help her infection.
I'd read that it's often impossible to get rid of a sour crop once it happens. And that an anti-fungal prescription from a vet is really the best way to go. I, however, didn't go to the vet, and I try hard NOT to give my hens (or myself for that matter) synthetic anything unless absolutely necessary.
In the meantime, though, Jessica's crop had re-filled to overflowing. I knew I needed to do something. So, I decided to try an experiment.
I opened a bottle of nice (i.e. more than $5!) merlot that I'd been given for my birthday (and was saving for a special occasion. This was NOT what I had in mind!), sucked up a bit of it into a syringe and forced it down Jessica throat. I'd heard before that red wine can help sour crop. I had no idea how much to give her and I didn't want to make it worse, so I was pretty conservative with my dosage (and I didn't want to bring new meaning to the term Drunken Chicken). Jessica isn't a fan of red wine. But she tolerated me.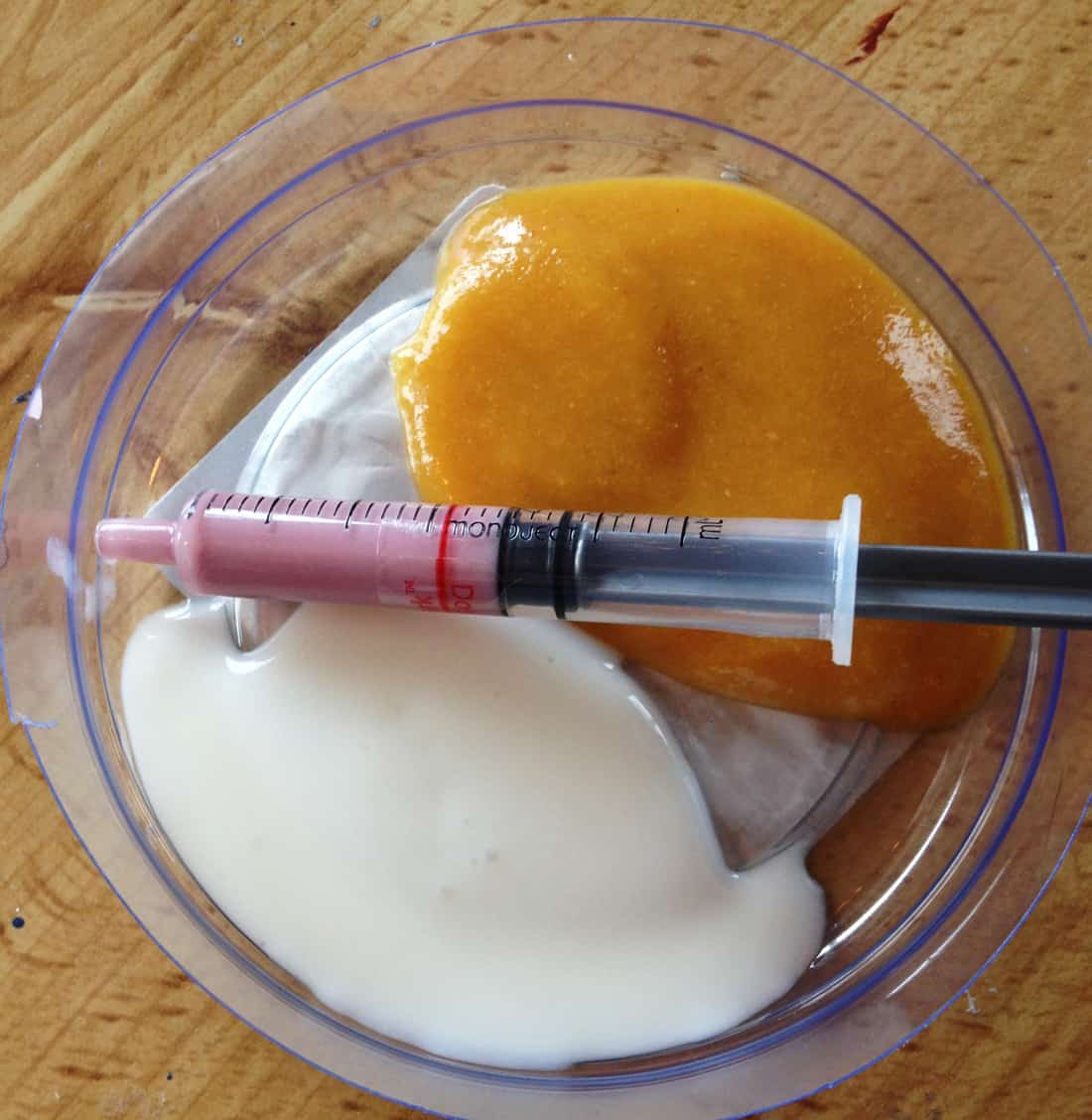 About an hour or so later, all that nasty stuff in her crop came shooting out her backside. (I can't even begin to describe the stench.) I felt hopeful.
The next line of defense was setting up a diffuser in the pen with her. I filled it up with water and dropped in 2 drops each of Oregano oil and an oil blend of several different oils good for strengthening the immune system).
In between all this doctoring, every hour or two, I would gently massage her crop (downward this time—I wasn't trying to induce vomiting any longer, I was trying to help unclog the blockage).
The next morning, I shot some more wine down her, re-filled the diffuser with water and essential oil, and gave her some keifer and baby food. (I always kept lots of fresh water in the cage too.)
That night she seemed better. Not well, but improving. I re-filled the diffuser and let it run for another night.
The following morning, she seemed to have made a complete recovery. She was perky, chatty, and anxious to get out. I gave her breakfast and she gobbled it down. Her crop was empty as well. To be on the safe side, I mixed some keifer with the red wine to get another dose of good stuff down her, and then I let her out with the rest of the girls. She was happy. A bit skinnier than she was earlier in the week (why can't I lose weight that fast?), but doing well. One of the first things she did was head over for a lovely dust bath.
An added bonus is that Jessica is the boss of the hen house. Nobody dared question her spot in the pecking order. Not a single ruffled feather, even though she was in the chicken hospital for nearly a week. Jessica is completely recovered and back to herself. Except, of course, for eating that long grass out by the chicken fence. That stuff is gone. And I learned my lesson.
(I suppose this is a good place to remind you that I am NOT a vet. I don't diagnose and treat animals for a living. I was just going with my gut. Follow yours too. This may or may not work for you and your hens and would probably NOT be what a trained vet would advise.)