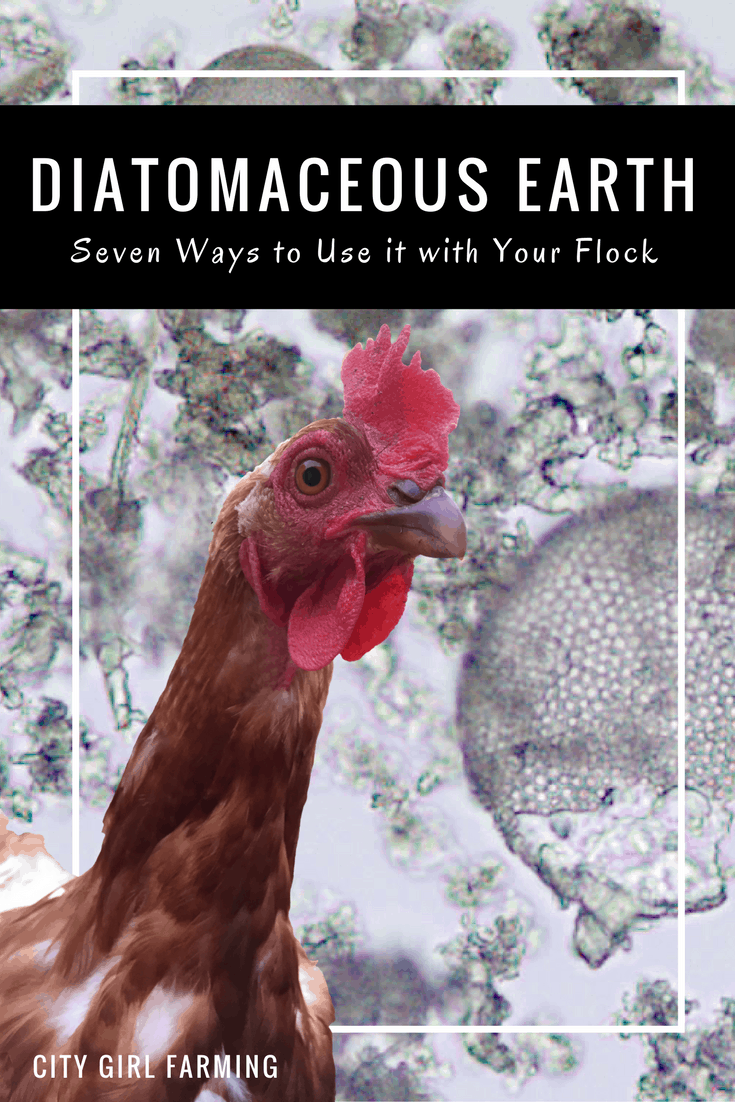 (that really cool background in the above photo a super enlarged image of
Diatomaceous Earth Copyright by Curtis Clark, licensed as noted
(Photography by Curtis Clark) [CC BY-SA 2.5], via Wikimedia Commons used with permission.)
Diatomaceous Earth, often referred to simply as D.E., is not much more than a bunch of ground up, fossilized marine phytoplankton (to the tune of about 400,000 shells per cubic inch). Its white-ish, silky powder reminds me of baby talc powder, or fine baking flour.  The neighbor kids like to run their fingers through it, enamored by the soft, powdery texture.
The first pile of these tangled tiny skeletons was discovered around 1836 and was thought to be limestone.  It was eventually incorporated into a variety of  different products, many that you probably use today. (Things such as toothpaste and face scrub, kitty litter, swimming pool filters, filler in plastics, and absorbent materials to clean up messes like oil spills.)
But what's the big deal about a bunch of crunchy bug parts? And why should you care? Well, for starters, D.E. is a great non-toxic solution for many urban farming woes.
Here are a few reasons why FOOD GRADE Diatomaceous Earth*** might become one of your best friends:
It kills bugs in the garden. Dust the plants with D.E. to help protect them. There are two theories why this works: one is that the sharp shells that make up the powder cut insects up. The other is that D.E. absorbs the waxy coat off insects, dehydrating them and causing them to die. Either way, it's a win/win for a gardener looking for a non-toxic solution to save their plants.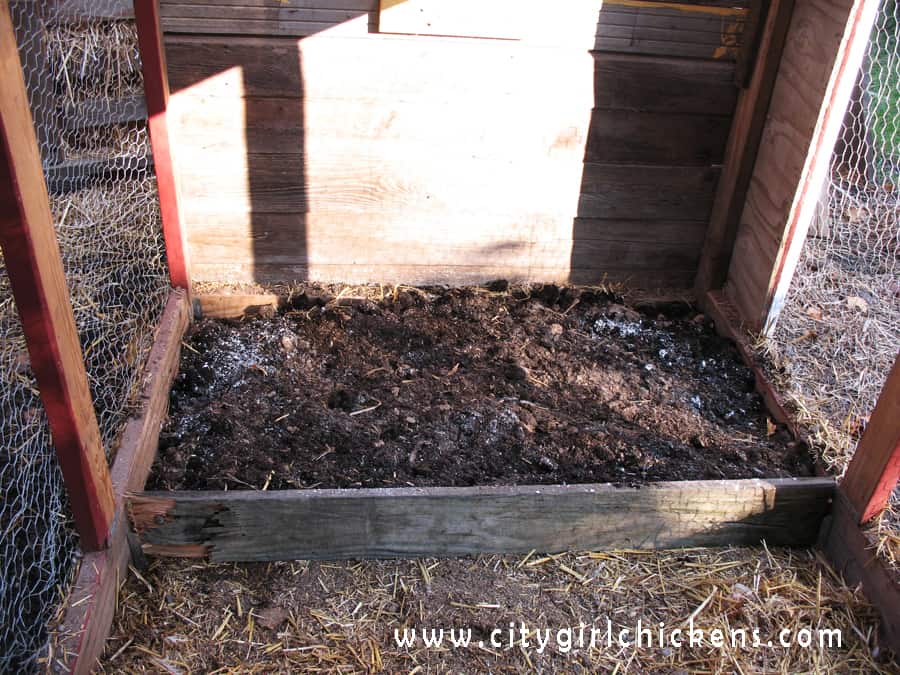 (I stick my D.E. in a shaky cheese container and use it that way. I've also heard of people dumping it into a nylon stocking and shaking it out that way. If you have breathing problems, use a mask or cover face–the tiny particles won't hurt you if you swallow them, but they might irritate you some.)
D.E. only works when DRY, so reapply after it rains (or if it's still in place after the rain, allow it to dry back out and it will work again).
It kills slugs. Use same as above…but being in the rain belt like I am, I thought slugs needed their own category (another great slug solution is crushed egg shells for much of the same reason).
It kills bugs in the coop and chicken run. When I clean out the coop, I sprinkle a layer of D.E. in the coop before I add wood chips. I also sprinkle it into the dirt in the run, and in areas around the yard where the hens will dust bathe. And don't forget the nesting boxes!
It kills worms inside your hens (and other farm animals such as goats and cows). I sprinkle a bit of D.E. into the feed when I feed the chickens. When the hens eat the D.E., it will help kill any internal bugs.
(Just side note here, MEDICAL GRADE D.E. has been used on humans to de-worm them as well….plus, many companies mix D.E. in with their grain because it acts as an anti-caking agent while killing bugs, so you've probably eaten it in your bread. The guy at my local feed store says he drinks it in his coffee…I personally haven't been brave enough to try that!)
It kills ants and other bugs inside the house. Again, it's a toxic free alternative to ant, flea, bed bugs, dust mites and other household insects.
It's inexpensive and doesn't go bad (as long as you keep it dry). The best deal is to buy it by the 50 lb bag (a bag this size lasts me several years). The first time I bought it, I shared it with a friend, but now I just keep the bag and use it until it's gone.
It's safe to use and non-toxic. Although, one caution is to cover mouth/nose when using it to prevent irritation to the throat. You can apply to your plants and even pick them immediately. You can also use around other animals and people.
As with all things, pay attention to your gardens and flocks and other animals. Some people swear by D.E. as the only thing they've ever needed. Some say it's great, but it's only a deterrent and doesn't always 100% work.
I really like the stuff, but my philosophy is: don't stop checking for bugs, assuming they're gone. Err on the side of caution, and never assume you won't have a problem again. Nothing is ever certain. Worst case scenario, you'll cut your issues down to a minimum, best case, D.E. will be the only thing you will ever need. Expect the first, hope for the last.
And if there are things you use D.E. on, let us know. It's always great to share the wealth of information with everyone.
****IMPORTANT NOTE: Use FOOD GRADE ONLY. This is a D.E. solution that contains LESS THAN 1% silica. There are many grades of D.E., used for a variety of things. Paying attention to this important factor will save you and your animals from harm.****
If you'd like to really dive into this topic on a much more thorough level, check out the information on Diatomaceous Earth over at Pest Strategies. They cover pretty much everything and in a much more in depth manner than I have just now.
This blog may contain affiliate links. This means that if you click on the link and buy something, you help me feed my chickens. It won't cost you any more and in some cases will actually save you money. Thanks in advance for your support.