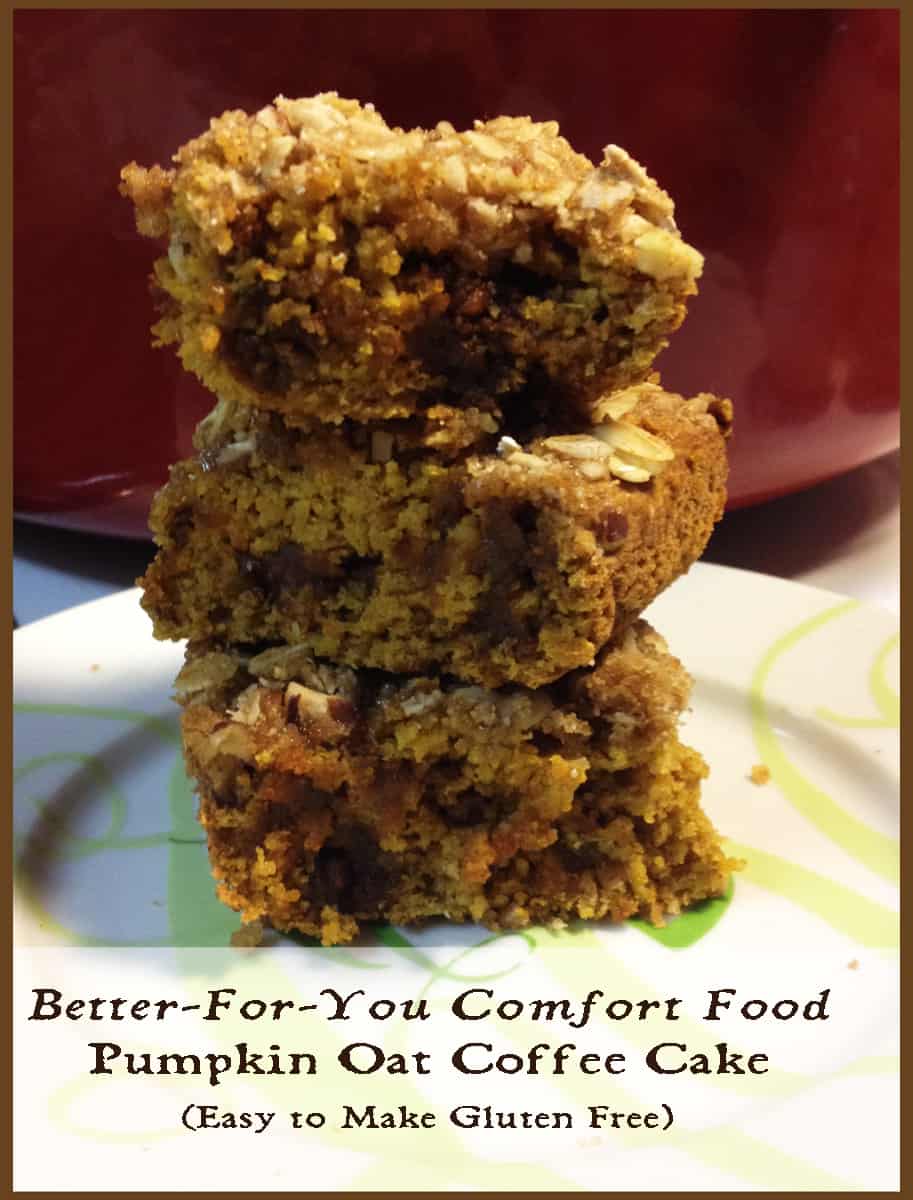 Today is a good day for something yummy. Something moist and satisfying, a little sweet (but not too much) and cinnamon-y. Something quick to make that isn't screaming BAD FOR YOU as it passes by your lips. Something that comforts you as you drink a steaming mug of hot cocoa, tea or coffee with it.
I've got the perfect thing for you: Pumpkin Oat Coffee Cake. (And good news: It contains no WHEAT flour so it's easy to make GF!) It's got healthier ingredients than your normal run of the mill coffee cake, so you can eat it without guilt.
This lovely coffee cake has become my latest addiction (yes, admittedly, in a long line of addictions). I'm a sucker for anything with pumpkin and cinnamon in it (although this doesn't TASTE pumpkin-y to me, but the pumpkin really adds moisture and density).
Cake:
1.5 cups rolled oats (turned into oat flour,  see below)
2 teaspoons baking powder
1/4 teaspoon baking soda
Pinch of salt
3/4 teaspoon cinnamon (or more if you're like me and can't get enough cinnamon)
1/4 teaspoon pumpkin pie spice
1/2 cup pumpkin puree
1.5 teaspoons vanilla
1/4 + 2 tablespoons pear (or apple) sauce
1/4 cup brown sugar
1/2 tablespoon coconut oil
1/8-1/4 cup cinnamon ( or chocolate) chips
Topping:
1/4 cup  rolled oats (left whole)
1/8 cup rolled oats (turned into oat flour–see below)
1/2 teaspoon cinnamon
2 tablespoons butter (or coconut oil)
3 tablespoons brown sugar
3 tablespoons chopped pecans (or other nut), optional
Directions:
Preheat oven to 350 degrees. Grease 8×8 pan.
Pour 1.5 cups of oats, plus 1/8 cup of oats in Vitamix or other blender and whiz into flour consistency. Measure out 1/8 cup of the blended flour and set aside. Pour the rest into a medium bowl.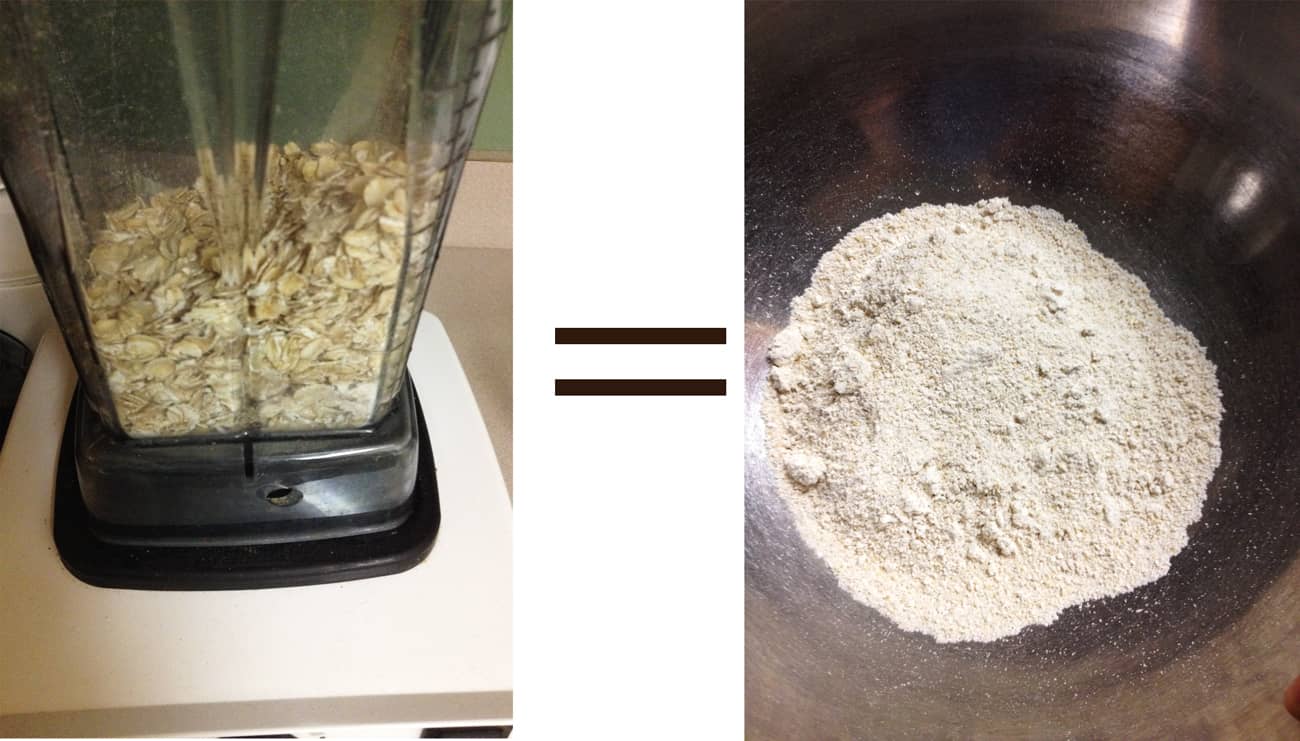 Mix all the dry ingredients for cake into the 1.5 cups oat flour. Add the wet ingredients and stir together. Add the cinnamon or chocolate chips.
NOTE: This mixture will be pretty stiff–more like cookie dough and less like cake batter. Don't despair! This is how it's supposed to be.
Pat the mixture into the  8×8 pan.
In small bowl, add reserved 1/8 cup oat flour and cinnamon and brown sugar. Stir together. Cut in butter. Stir in rolled oats and pecans. Sprinkle on top of cake.
Bake in 350 oven for 20-30 minutes. It's good straight out of the oven, gooey and hot as well as cooled down, so why not eat it both ways–now and later! 🙂 Let the drooling begin.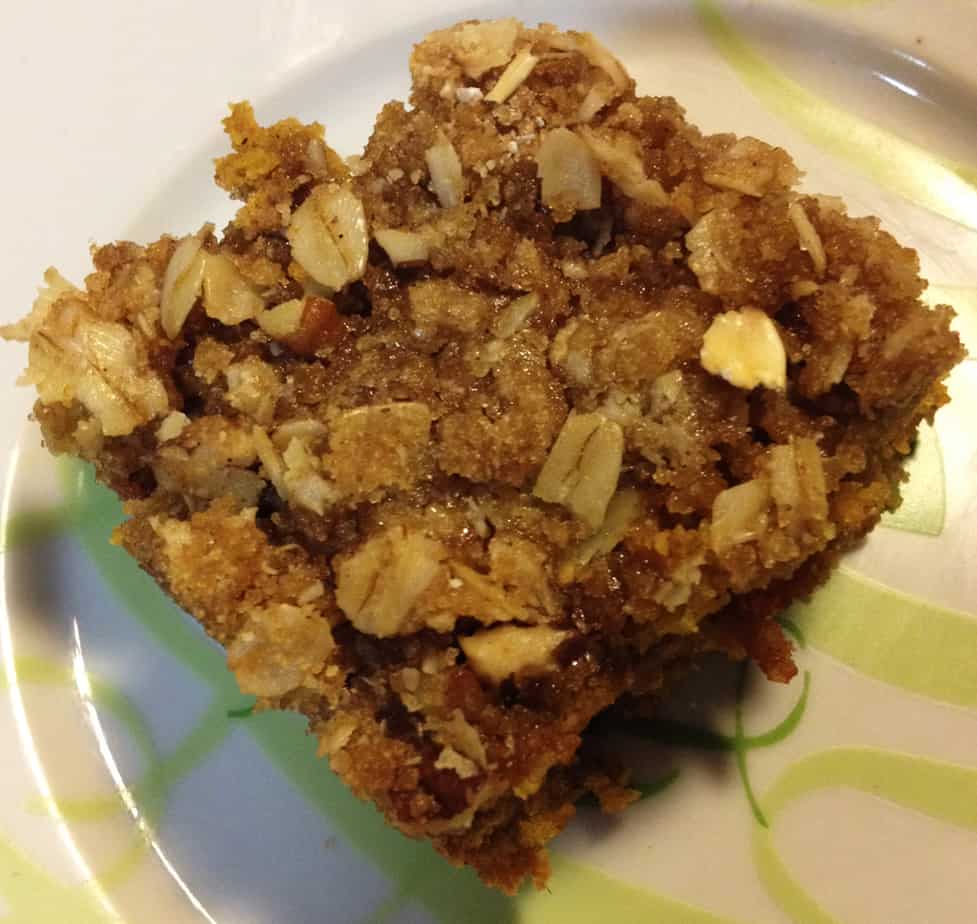 And don't forget your warm beverage to drink with it. The combo is a perfect antidote to a cold, dreary winter. Mmmm.
PS You can easily make this recipe gluten free with GF oats and vanilla. If you want to make your own GF vanilla, here's how.
Also, the inspiration for this coffee cake came from Ambitious Kitchen. I just tweaked it into coffee cake and made it a bit 'fluffier'…