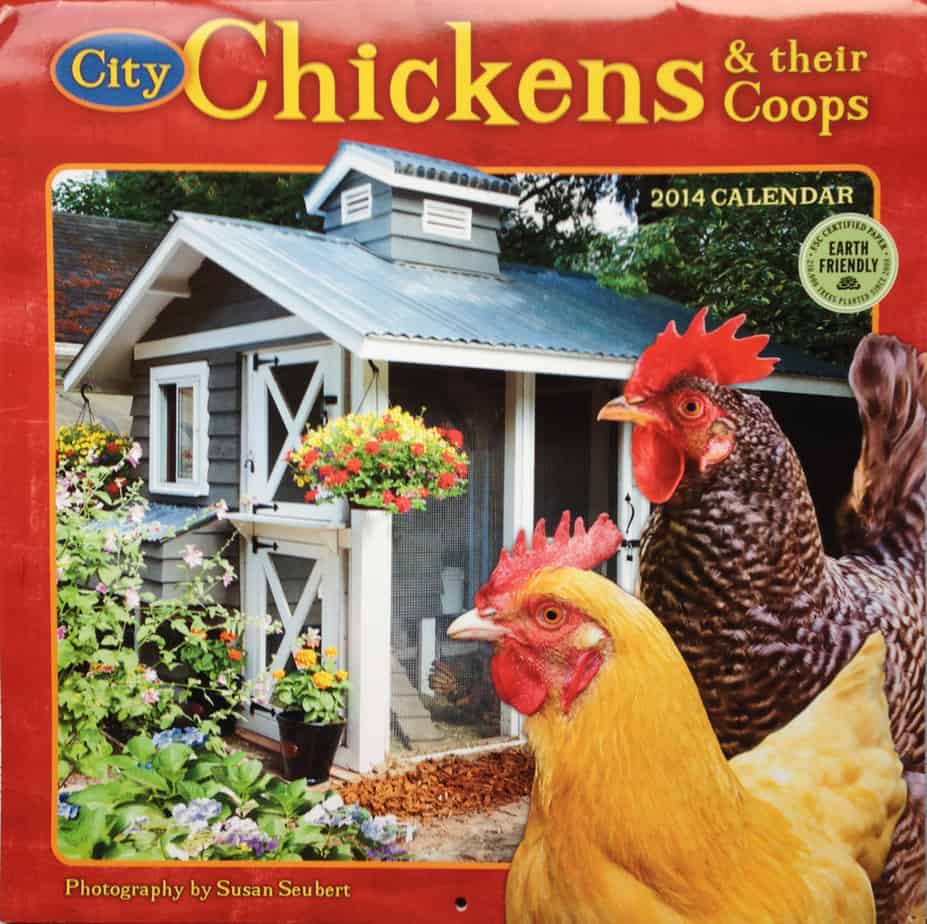 If you've been hanging out here for a while, you might remember the awesomeness of having my chicken coop selected to be part of a calendar put out by Amber Lotus Press called City Chickens and their Coops. (If you missed the story, you can read it here.)
It was great fun being part of a photo shoot. The crew that came over was above and beyond nice. The photographer, Susan Seubert, shoots for such places as National Geographic, so it was a bit humbling to have her sitting in the straw in my backyard, taking portraits of my hens. Humbling in a very cool way, of course.
All this happened way back in July of 2012. Since then, I've been impatiently patient in waiting and waiting for those calendars to roll off the press and end up in my mail box. And finally, they are here!
I ripped open the long-awaited package to see that my hen, Olivia (a California Gray) was featured on the front cover! Way to go, Livs! Apparently, Olivia was having a pin-up girl kind of day that day, as she also made it onto the month that features my coop (December), as well as a surprise portrait on another month (you'll have to get your own copy to find out the other location I spotted her–I can't give away all the secrets).
(Oh, I guess I should also mention Peep is the other close up portrait and Jessica is the black hen in the back and it's Goldie's and Harriet's rear ends sticking out…I don't want it to look like I'm playing favorites with Olivia's extra special attention!)
January also features a basket of eggs from my backyard (along with some from my friend Linda's coop).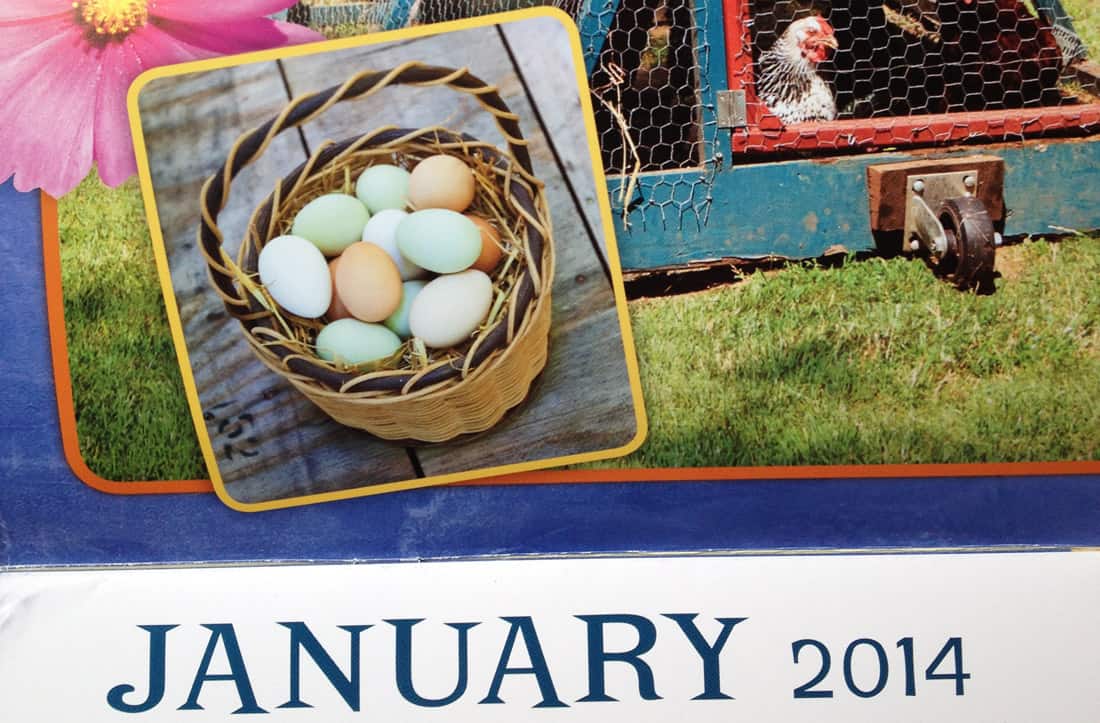 Aside from now owning my own personal Pin Up Girls in the backyard (I'm not going to tell them, I don't want them to get too demanding), the calendar itself is beautifully done with thick glossy photos and little interesting blurbs about each coop and/or its occupants on each month. It's great visual inspiration if you're thinking of building (or re-building) a coop. Plus, each month, you'll get to look at some stunning hens, too!
Because I'm so excited about my backyard flock's claim to fame, I'm going to give away one of the calendars to one of you. Simply reply below and tell me something about your own coop (or your dream coop, if you don't have a coop or wish you had a different coop). Or anything else you want to say.
You can get another name in the drawing if you post this blog post to Facebook or any other social media and then come back here and tell me you did it.
Easy Peasy.
The contest ends on next Saturday. But even if you lose, you can be the proud owner of a City Chickens calendar. Just head on over to Amber Lotus and buy a calendar of your own (while you're at it, you can also get a jump-start on your holiday shopping and get a few for the chicken lovers in your life).
Oh, and you can also feel good about yourself for helping the environment since Amber Lotus Press embraces socially and environmentally sustainable business practices.  It's just an all round feel good kind of day!
Have a great weekend!
PS: The above link to Amber Lotus press is not an affiliate link. If you buy from them, I won't receive anything except the thrill of knowing my girls are hanging on your wall somewhere in the world.  The calendar I'm giving away was given to me by Amber Lotus as part of my 'contributor's copies' and I wanted to pass long one of them to you. Enjoy!