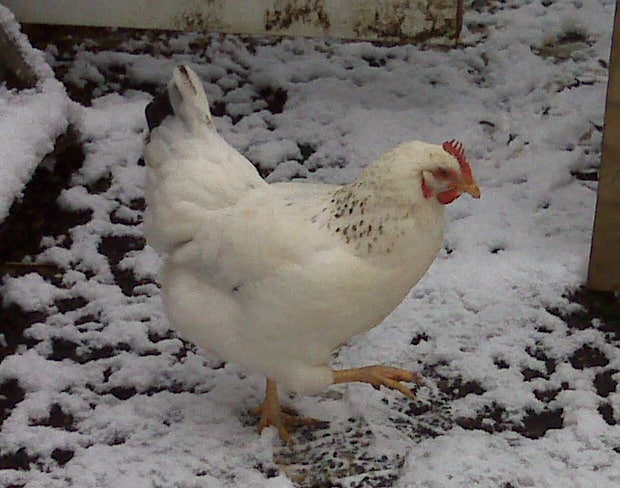 Winter is fast approaching—faster than normal for many of this year with snow storms and power outages in October! Many people have been asking me what do for their chickens this winter, so I thought I'd give you all a list of suggestions.
Most chickens have a harder time staying cool in the summer than warm in the winter. They do come with their own down coats, after all. Yet, we have some things in common with chickens when it comes to winter. We all have an increased chance of getting sick, getting frost bite or going stir crazy.
While most large scale farmers don't take the time and extra expense to keep their flock tucked in warm and cozy, and some might scoff at the notion, one thing to keep in mind is that a typical backyard flock is only 3-5 chickens and they don't generate nearly the collective body heat as a large commercial flock.
So even though, yes, most popular backyard chickens are pretty cold hardy, they do need a bit of extra TLC this time of year. So, here's a list of ideas to help navigate your flock through winter and come out healthy on the other side.
Add extra bedding to the bottom of the coop and nesting boxes, as this will serve as insulation and help keep things warmer inside the coop. If you live in a colder region, add extra straw, if you live in a warmer region, add extra wood shavings. (I use a combo of wood shavings and stall pellets since I live in a very wet climate in the Pacific NW.)
You could also add other forms of insulation to the walls, etc. if you wanted. Just make sure to cover what you add so the hens don't peck at it (I used foam board insulation from the cull bin at my local home improvement store and it cost me less than $25 to insulate the whole coop.)
Although poo keeps things a bit warmer,  don't let it stack up too high this winter. It's not good for the lungs of your chickens. Especially when they stay indoors more in the winter, so keep your coop clean.
Stop the drafts in the coop. Chickens don't like to live in the wind or rainy/soggy conditions. If your coop is drafty, patch up the holes (don't make the coop airtight, however, that's not what I'm talking about. They do need some air coming in from the outside. Just make sure they have a wind break.)
Stop drafts in the chicken run. An easy and cheap way to do this is cover part(s) of the run with plastic. You can get rolls of clear plastic (in a variety of thicknesses) for less than $10. I staple plastic to part of my chicken run that faces the east since we get strong, persistent, cold wind coming almost exclusively from the east all winter.  I leave the rest of the coop uncovered.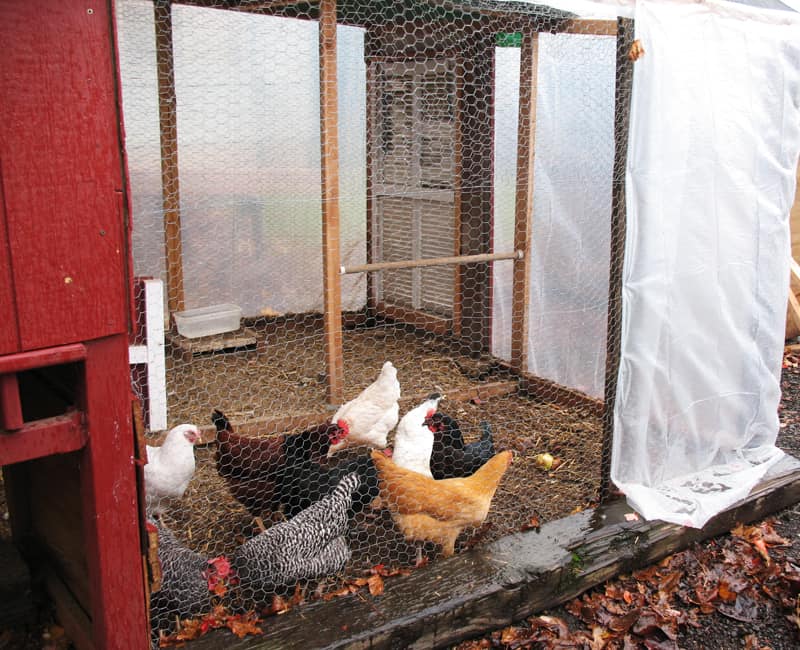 Add light. This is a suggestion that's debated amongst the chicken crowd. Some add light (to extend the laying of their hens through the winter), some don't. Some add light to help keep the coop warm. Whether you use light or not, do it in a safe manner and use a red tinted light. It's not uncommon for coops to catch fire from a light hanging inside. (One year here, during a cold streak, two coops caught on fire in the same week. The fire fighters suggested that if you use a light in your coop to use a regular watt bulb and not a heat lamp bulb. The smaller wattage will help warm the coop without the light fixture getting too hot.)
Keep them fed and watered. Chickens will eat more in the winter, which will be especially noticeable if they free ranged all summer. Feed helps keep them warm, so now is not a good time to put them on a diet. Additionally, a bit of cracked corn at bedtime is a great way to put them to bed cozy as corn raises their body temperature and on super brutal mornings, a bit of warm oatmeal will start their day off right. (Just don't go overboard on any of it.)
Make sure the water stays thawed. They make heaters for chicken water containers. Tuck it inside your water container, or sit the container on top (depending on the style you get) and it will keep your chicken's water from freezing. You can do something similar with a heated dog water dish (which is actually a cheaper option). Depending on the kind of heat source you use, you shouldn't use plastic water containers.  Check the specifications first.
Add 1 tablespoon (per gallon) of organic, unfiltered apple cider vinegar to their water a couple times per week to help build their immunity and keep them healthy. This also is a good de-bugger for their insides (don't use metal waterers for this, however, as it will cause the water container to rust!)
If you live in extremely cold temperatures, adding Vaseline to the combs and wattles of your hens will protect them from frostbite.
Chickens need exercise, even if they don't get out as much in the winter. Besides, they need something to do, so they don't start picking on each other from sheer boredom.   Because of that, from time to time, I  hang a head of cabbage from a rope, or get one of those flock blocks for them to peck on. Both of these solutions give them something different to do, and give them snacks at the same time.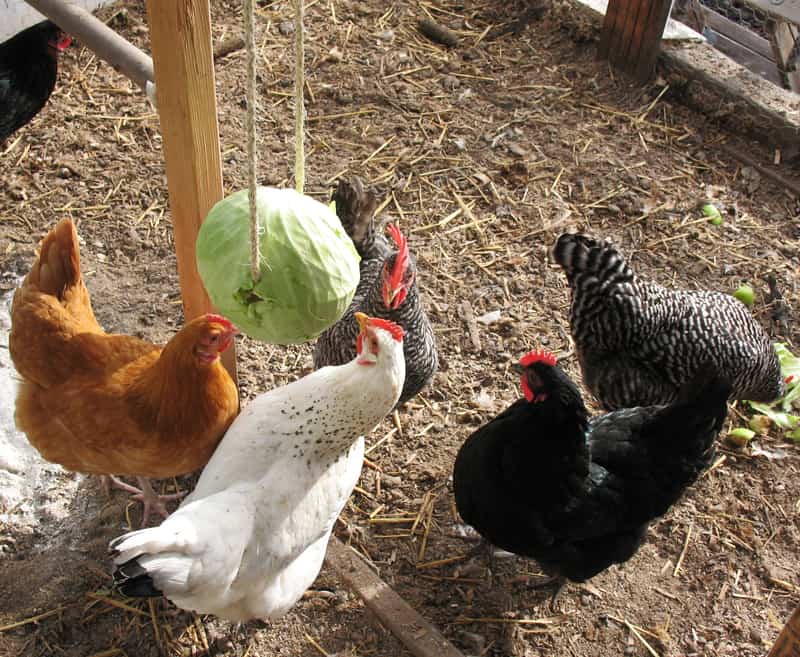 And, of course, if you live in an area where you can do it, let them out of the run for periods of leg stretching and exploring. Because I live in the Pacific NW and it rains almost non-stop, it sometimes gets tricky to allow the girls significant time outside (they're used to at least 10 hours a day of yard time in the summer). But, even here, there are breaks in the weather and the girls enjoy their daily recess. The rain doesn't bother them unless it's heavy (however, give them snow and they won't step foot outside the run…not even with bribing) and they're smart enough to get out of it if it gets too much for them.
Check in with your hens daily. Just like rest of us, winter is an increased time of sickness. Chickens are great at faking everyone out when it comes to not feeling well (because of the pecking order, it's a matter of survival for them to appear well even if they aren't), so look closely and monitor their behaviors. Separate them from the flock if they appear ill (to keep disease from spreading and to effectively treat the sick one).
The fortunate thing about being a small flock owner is that we know our girls by name and can more easily notice when something looks 'off'. With a few extra measures for the winter, the girls should be just fine.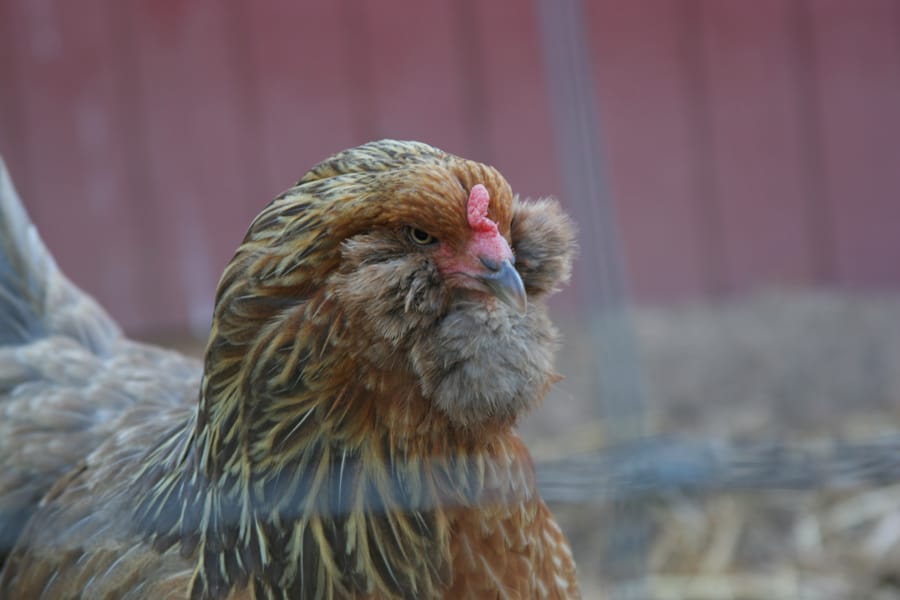 PS I almost forgot to tell you: Loraine H. is the winner for the Bee Happy Mug! Congrats!