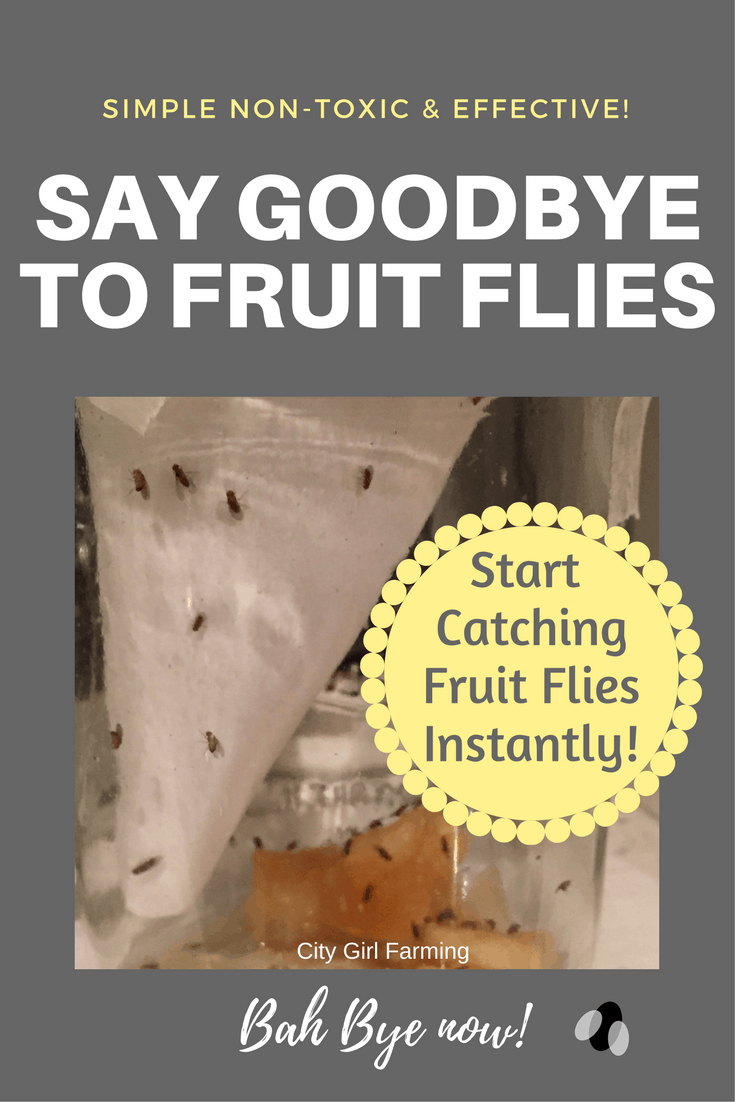 A Fruit Fly Trap? YES!
What is it about such a tiny, tiny insect that makes us all crazy? Fruit flies are the pesky plaque of the fall. They appear from seemingly nowhere with (it seems) the mission to make humankind a little nutty. They do a good job.
Are you ready for a fruit fly trap that is free (made with the stuff you have already at home), easy to put together (in a couple of minutes or less) and non-toxic (no chemicals needed)? I know. It SOUNDS too good to be true. But it's not.
You just need:
A jar (any kind, any size)
A piece of paper (you can dig it out of your recycling bin, nothing fancy needed)
A couple pieces of tape (masking tape works great, but use whatever you have)
a bit of fruit (really ripe works best)
Here's all you do:
To create your DIY amazing, will-start-working-instantly super duper fruit fly trap, simply create a funnel with the paper and tape it together. You'll want the size of the funnel to fit snuggly in the opening of the jar (you don't want any gaps or spaces). You'll also want the funnel to have about a nickel-sized hole in the bottom–the space where the flies will fly in.
Put a bit of fruit in the bottom of the jar, install the funnel and make sure there's space between the end of the funnel and the fruit (otherwise they might crawl back out).
Set this contraption in a place where fruit flies like to congregate. You'll  start capturing flies immediately. They'll be drawn to the fruit in the jar. Once they fly in, they stay put because they can't figure out how to fly back out. (Well, really, think of how very teeny tiny their brains must be so don't judge! haha.)
The picture below was taken just a couple minutes after construction, so you can see how quickly this trap works. Over the years I've personally had the most success with super ripe pears, but other fruits work well, too. The riper the fruit, the more appeal they have to the fruit flies.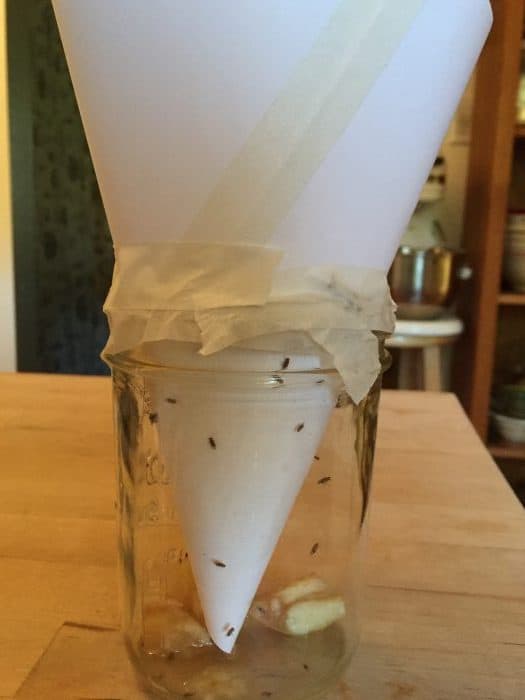 There you have it. A free, non-toxic, 2 minute solution to get rid of fruit flies. And it will save you a trip to the loony bin in the process.
Be gone fruit flies! Your days are numbered!