We got our first box from our Householding Share last week. 15 lbs of green beans! We set off to can them up. One favorite among everyone is Dilly Beans—green beans pickled in vinegar brine with dill and garlic. I also like to can regular green beans that become an awesome winter side dish or soup addition. Mmmm.
Although 15 lbs of green beans seems like a fair amount when they're in the box needing to be tended to, they really don't can up to a huge supply. Because of that, I decided to just stick with the dilled beans. There are lots of recipes out there for Dilly Beans. (If you're doing it yourself, just make sure they're safe and certified recipes. And remember canning is more science than cooking, although with pickled food, the risks are reduced, although not  completely removed. Always follow proper procedures.)
The recipe we used is from the book Put 'em Up: A Comprehensive Home Preserving Guide for he Creative Cook by Sherri Brooks Vinton. (BTW, I love this book and highly recommend it if you don't have a copy yourself.) The Dilly Bean recipe is a pretty standard one requiring garlic, dill weed and seed, peppercorns, vinegar, sugar and salt. With our 15 lbs of beans (minus the tons we ate raw while canning and minus 2.5 quarts for later), we ended up with 21 pints of Dilly Beans.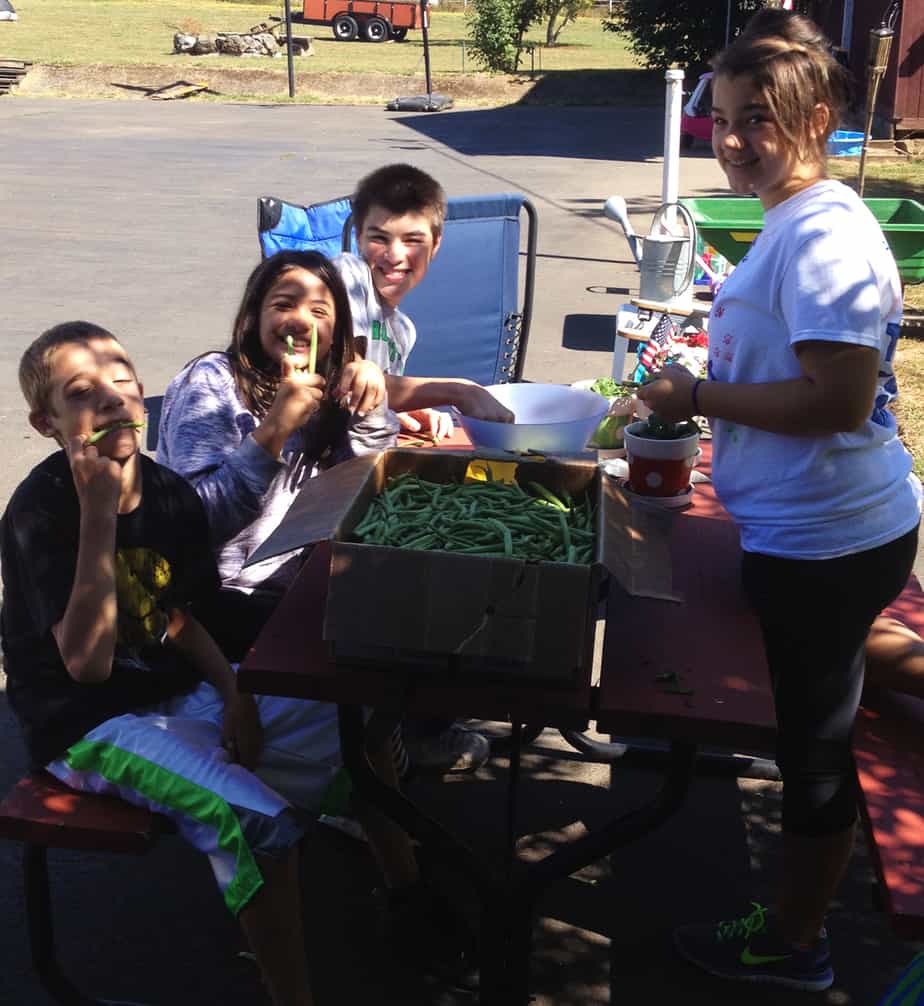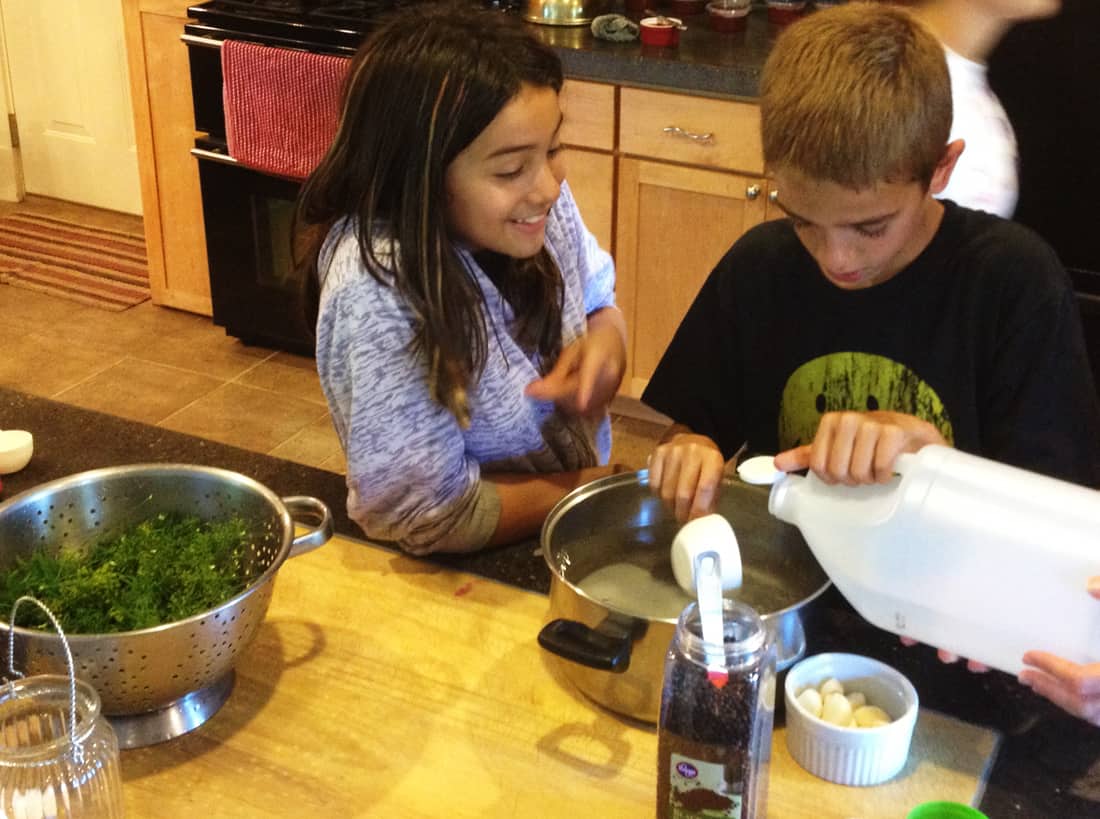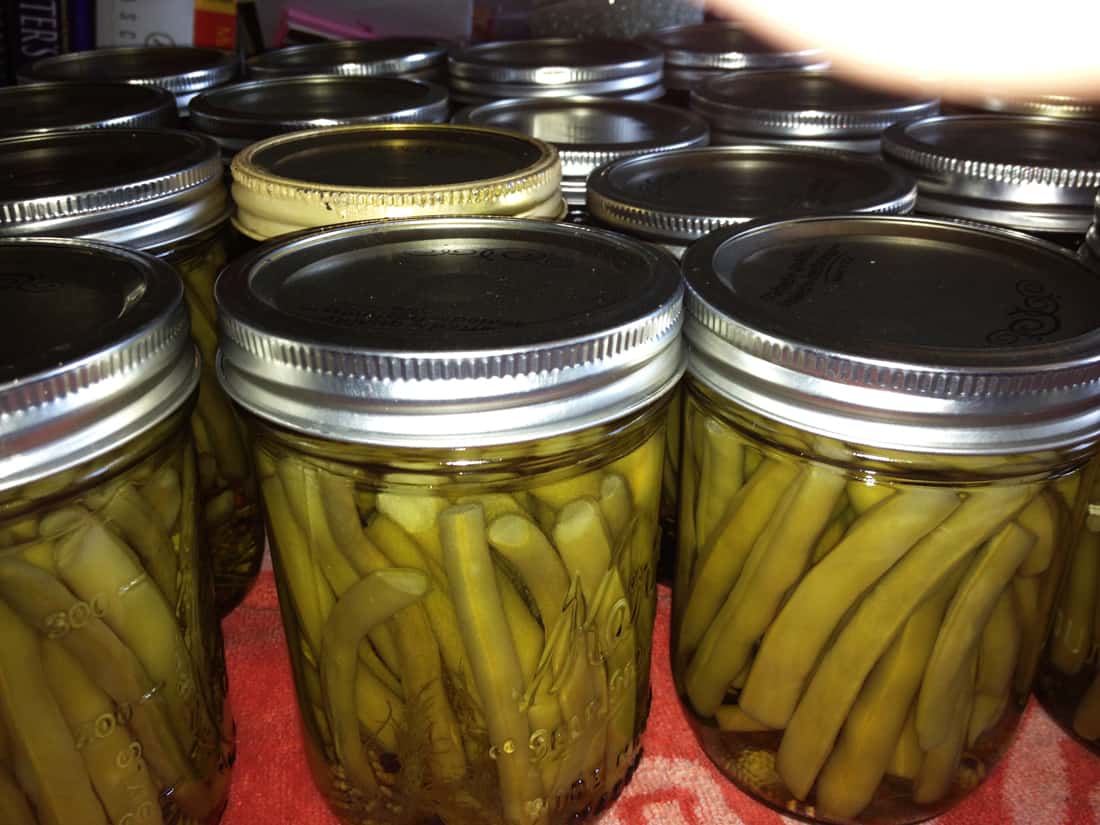 And now we wait for the brine to do it's magic so we can crack open a jar of fresh dilled summer.
But there was the surprise discovery this time around. The Dilly Beans recipe in Put 'em Up is right across from a recipe called Szechuan Beans…so every time I referred to the Dilly Bean recipe, my eyes wandered over to the Szechuan Beans…hmmm…I have most of  the ingredients…I haven't tried anything new this summer…hmmmm.
As we snapped and stuffed and water bathed jars of dilled beans, my thoughts wandered back to the Szechuan Beans. I. MUST. TRY. THEM.
You might want to try them too. You will fall in love, I think. I did. The 10ish or so adults around when we did the taste test, did. The 6 kids even liked them. Win. Win. Win. And, not only are they tasty, you don't have to wait for the brine to turn them into something yummy. They're ready to eat right away. (The only down side is that this recipe doesn't have canning instructions, so there's no stocking them up for winter. But they're super easy to make and that makes up for some of it.)
The recipe makes about 1 quart. We used all the 'leftover' beans for this project, 2.5 quarts. It wasn't enough. They're already gone (except for a few I secretly squirrelled away for just me). Next time I will seriously make more!
Ingredients:
1 pound green beans, washed, topped and tailed
1 cup apple cider vinegar
½ cup water
¼ cup soy sauce (I used Braggs Liquid Aminos instead)
¼ cup sugar
2 tablespoons dark sesame oil
1 tablespoon whole peppercorns
1 1-inch knob ginner, sliced into coins (I didn't have that, so I used doTERRA ginger essential oil)
1 tablespoon whole peppercorns, preferably Szechuan (I just had regular and they worked great)
2 garlic cloves, sliced
Instructions:
Line several baking sheets with dish towels and set aside. Prepare an ice-water bath in a large bowl or clean sink.
Bring a large pot of water to boil. Drop the beans into the water, no more than 1 pound at a time, and return to a boil. Blanch for one minute.
Scoop out beans with slotted spoon and plunge them into the ice bath. Continue blanching the beans in batches. Remove the beans from the ice bath with slotted spoon and spread on the towel-covered baking sheets. Blot dry.
To make pickles, pack the beans vertically in a quart jar (I didn't do this because the beans we were using were mostly ends and pieces, so I just dumped them all in together.)
Combine the vinegar, water, soy sauce, sugar, sesame oil, peppercorns, ginger, and garlic in medium non-reactive saucepan. Bring to boil and simmer for 1 minute. Pour the hot brine over the beans to cover by ½ inch. Leave ½ inch of headspace between the top of the liquid and the lid.
Okay, since I was using ginger essential oil in place of the real ginger, I added it at the very end so as not to kill any natural healthy properties it contains (If you use oil, too, make sure it's a good quality oil that's safe for internal consumption–not all essential oils are).
Also, since this wasn't an actual  canning project, I didn't care about things like ½ inch head space, etc. And, we ended up with more beans than brine, only allowing about half the beans to be covered (even though I tripled the recipe), but we shook the jars all up and somehow it worked. Even the uncovered beans were tasty and full of flavor.
The recipe says store in fridge for up to 1 month. Good luck on keeping them in there that long! They're tasty to just eat plain, but also awesome in oriental chop salads and, a friend I gave some to thickened the brine after they'd eaten the beans, and used it for a stir fry.
Since my beans are almost gone, I'm going to reuse the brine and stick another batch of beans inside. I figure I can get a little more use out of brine that way, before I do the same as  my friend and thicken it into a sauce.
For those of you just starting out canning, here are a couple of industry standards to invest in if you don't already have them: Ball's Blue Book Guide to Preserving and Ball Complete Book of Home preserving (400 delicious and creative recipes for today).  The Blue Book is considered the Bible among long time canners and the Book of Home Preserving has tons and tons of great recipes.
Although a relative newbie on the block (published in 2010) Put 'em Up: A Comprehensive Home Preserving Guide for the Creative Cook is a great book to add to your library as well. The recipes aren't just for canning, but also other kinds of preserving (freezing and drying) and there's some fun, out of the box recipes in it organized by vegetable type.
What are all of you canning this week, and what are your favorite books? And if you've never canned before but want to try it, what are you hoping to attempt this summer and fall?
PS In total disclaimer, if you buy the books above that I've linked to Amazon, I will get a few cents. Literally. A couple of pennies isn't enough to buy my opinion, just for the record. These are books I have and use, with food stains and water marks and tattered pages. I'm passing them on to you because I like them.