I love canning jars. They are my drink glasses, my craft organizers, my food storage containers and an excuse to collect way more of them then I'll ever can with. (Which is a lot, because I love to can.)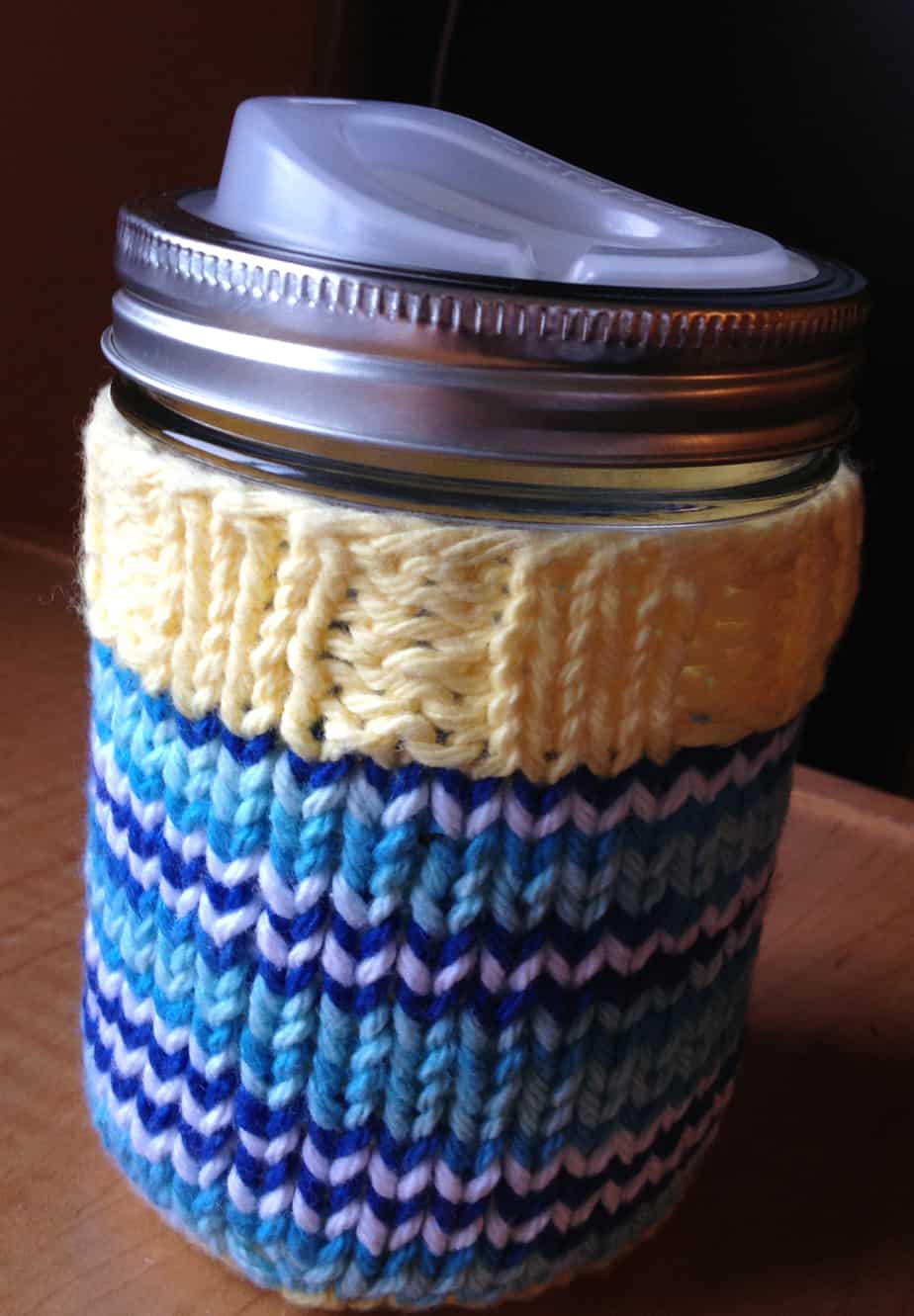 For Christmas this year, a friend gave me a canning jar with a Cuppow lid on it and a hand knit cozy. Since my (new!) travel mug had recently gone missing, this was a practical gift for me. But the biggest thrill was a travel mug made from a canning jar! I LOVE IT! And, surprisingly, my hot tea stays hot in it for a long time. Long enough that I drink from this jar even when I'm just sitting here at the computer working.
Cuppow lids are awesome. For those of you not familiar with them, they're a hard plastic (recycled and BPA free) disc that fits on a canning jar. You screw it into place with the standard metal canning jar ring. And wa-la, you've transformed a canning jar into a travel mug.
Since I'm talking about canning jar lid innovations, I thought I should mention the ReCap lids, in case you're not familiar with them.  I discovered them through Kickstarter , a place that helps creative ideas get funding through grassroots donations. I made a small donation and got some of the very first ReCaps on the market. These little gems have a pour spout and are leak proof so you can actually shake up your homemade salad dressing, and pour it out the hole without it going everywhere else.
Both the Cuppow and the ReCap lids are awesome and I highly recommend them, but I also wanted to share with you a couple of diy lids you can make, too.
After I was given the Cuppow travel mug and cozy, I got the canning jar travel mug bug. I started looking around and found some great directions for knitting your own jar cozy–for both the short (pint) and tall (pint and a half) jars. Simple. And cheap.
And in the process, I also found other people's solutions to making the lovely, amazing, beautiful canning jar more functional. So, I went to work at re-creating some of them.
The first one, making a pour spout from a recycled salt container,  I'd seen around for a while (and I don't remember where I originally saw it, so I can't give credit here–sorry!). I've been meaning to make one for some time, but I needed to wait until I had an empty salt container! It's super simple. The standard salt cylinder is the same exact size as a wide-mouth canning jar. Cut the top off and attach it with a canning ring. A functional pour spout for dry foods from your garbage. Free.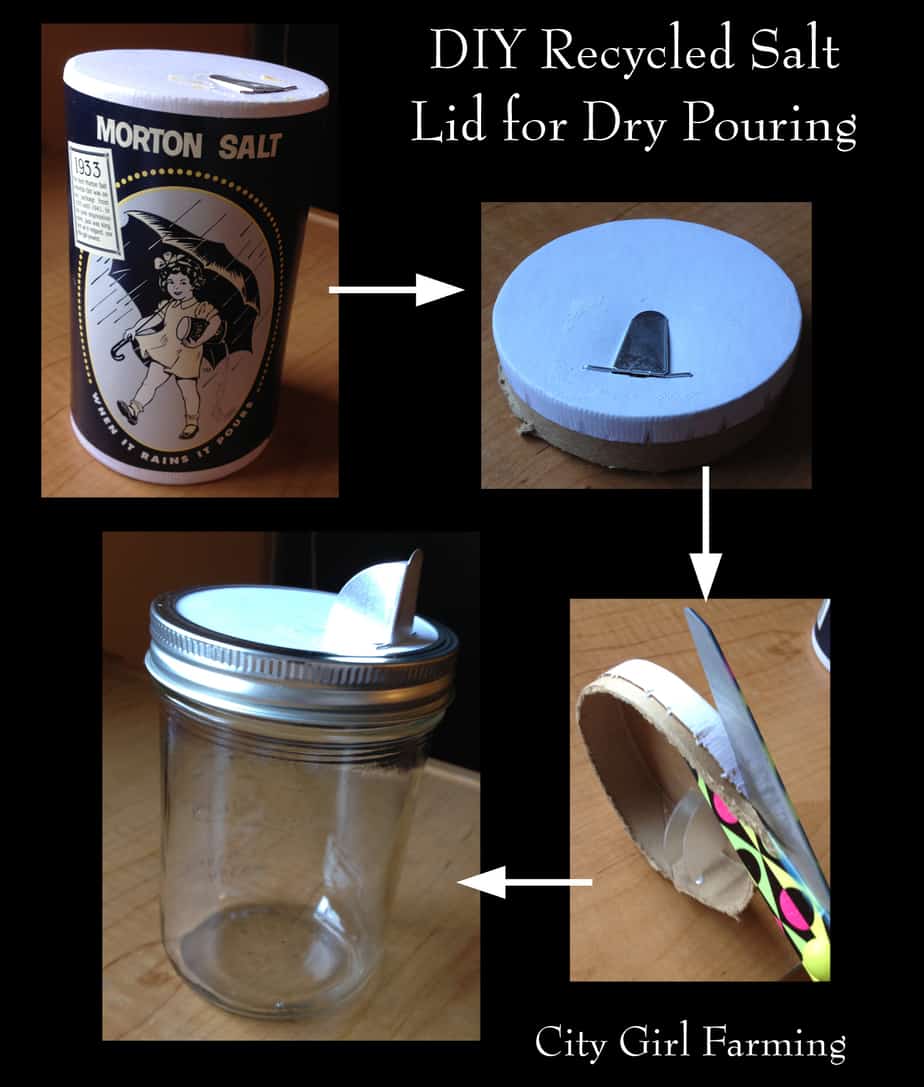 The next is almost as simple. You need a 1/4 inch drill bit, a hammer, a glue gun, a small pair of pliers and some 1/4 inch stainless steel finishing washers. I found the original instructions here. I didn't have all the supplies she suggested, so I made my own alterations.
This  is how I did it:
1. Screw the lid onto the  jar you want to convert. Drill a hole in it with the 1/4 inch drill.
2. Take the pliers and remove all the little shards of metal from the hole you just drilled.
3. Hammer it all flat.
4. Re-check the hole using the drill to make sure there's no leftover debris in the way–with the  straws I have, it's a perfect fit with no wiggle room at all.
5. Glue one finishing washer to each side of the jar lid, being careful to center it over the hole.
6. Wash it all and pour  yourself a drink!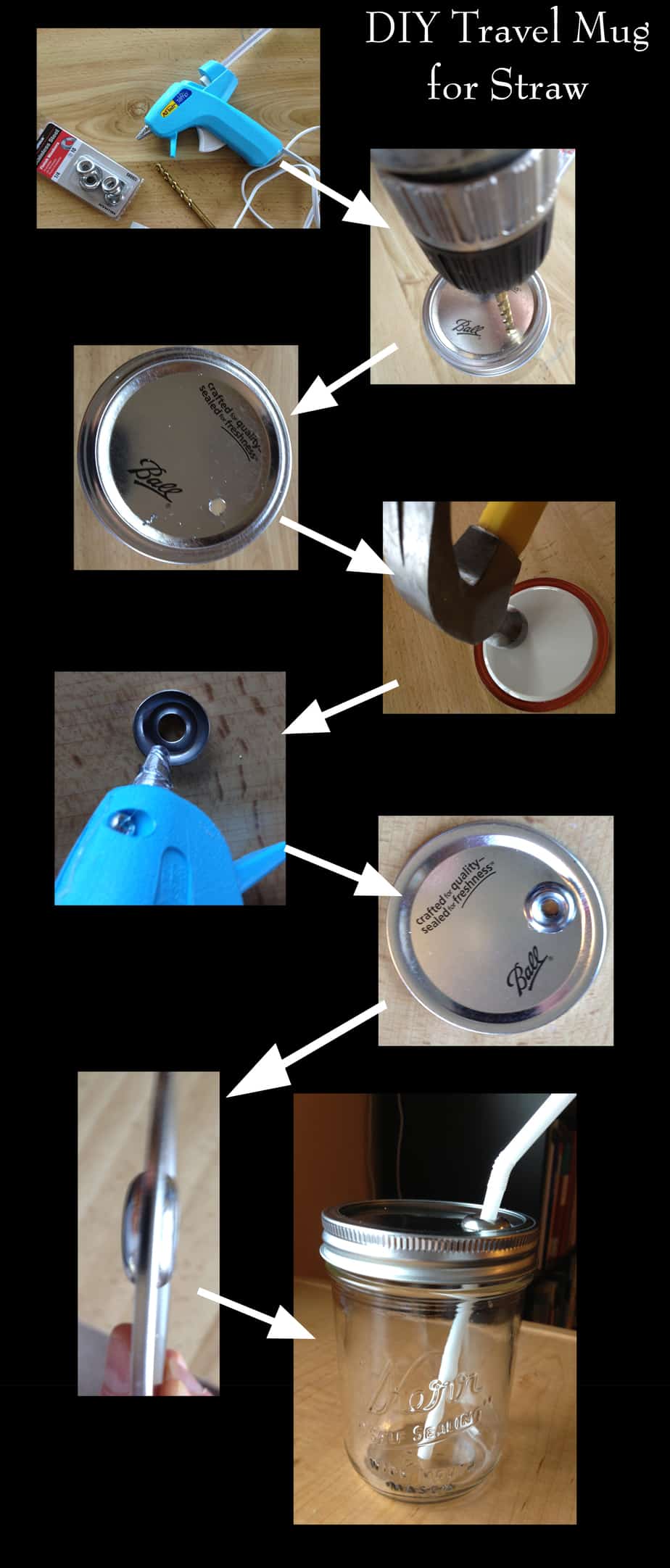 The washers were $1.98 for 10, so it's a super economical way to make yourself a travel mug with a straw. Super inexpensive  way to make gifts, too. (Yes, it's true, I've already got my gift list going for the people I'm going to make some of these for!) Does it get your creative juices flowing too??? 🙂
PS If you want to add stainless steel straws to your straw travel cups, here's the cheapest ones I've found. I just ordered myself several packs of them, and they'll still keep the total cost of your mug (jar, knit cozy, lid and straw) under $5.00. You can't go wrong with that!
*******
Disclaimer: I received NOTHING from anyone for promoting Cuppow or ReCap. They didn't even know I did it. I think they're both great companies with great products that will enhance any canning jar addict like myself. I own both products and use them regularly. I think you'll like them too.
If you buy the metal straws via this link to Amazon, I will get less than 5 cents for the referral. However,  I did search until I found the cheapest straws and these are the ones I'm ordering myself, and thought you might like to know about it too (I've seen these straws for over $10 EACH many places, so was excited to see 4 of them for less than $4).