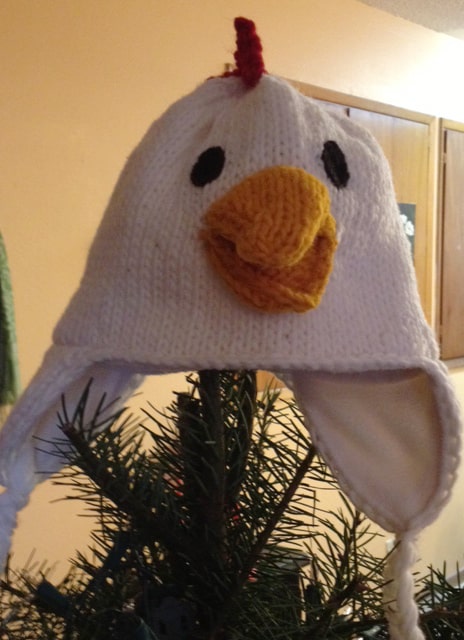 I have another giveaway for you. This time, a wool hand knit chicken stocking cap just in time for winter. The hat is fleece lined and is pretty stretchy so it will fit a variety of head sizes—mostly any child, but also adults that have smallish heads.
My 4-year-old niece is modeling one in this photo. Just a warning, though, wearing the same cap yourself probably won't make you as cute. Ha.
If you'd like to enter to win this cap, just leave a comment below telling me you'd like it. And tell me something you're making for Christmas. How's that? Easy. I'll draw the name on Tuesday evening and announce it to you on Weds so I can ship it out fast.

Next, I'd like to congratulate Patsy from Tennessee for winning the "I (heart) chickens. It's People I can't stand" mug. If you had your heart set on winning it, have no fear, you can buy one for yourself at the City Girl Farming store over at Zazzle.
I think I need to order myself one as well!
I've been messing around with clay this week, trying to create a chicken ornament. Here's my first attempt. There are some things I'd do differently next time, but for my first try, I'm okay with it.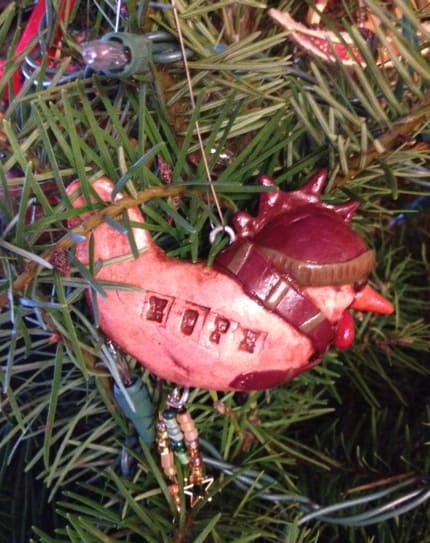 If you'd like to make one yourself, you'll need these supplies:
Sculpey (or other clay that can bake hard in oven)
Tin foil
Masking tape
Eye screws
Acrylic paint
Beads (optional)
Thin bead wire or thread (if you use beads)
Rubber alphabet stamps
Old rag
First I made a form with tin foil and tape. Just a general form. Nothing fancy. I then rolled out sculpey and covered the form, pushing and molding it to fit.
From there, I added colored sculpey and eye screws. A note here: I should have added the top eye screw closer to the top of the head to balance out the weight and help the ornament to hang more straight.
In the oven to bake according to clay instructions.
I then decided to 'antique' it but using brown paint and then immediately rubbing it off with an old rag. I think I went overboard with it, though, and next time I will thin it out and rub more of it off so it's not so dark.
I coated it with a clear glaze. And when dry, strung beads on super thin beading wire and wrapped them around the bottom eye screw. Another note here: I wish I would have used heavy thread instead of wire so that they beads would hang more free and less stiff.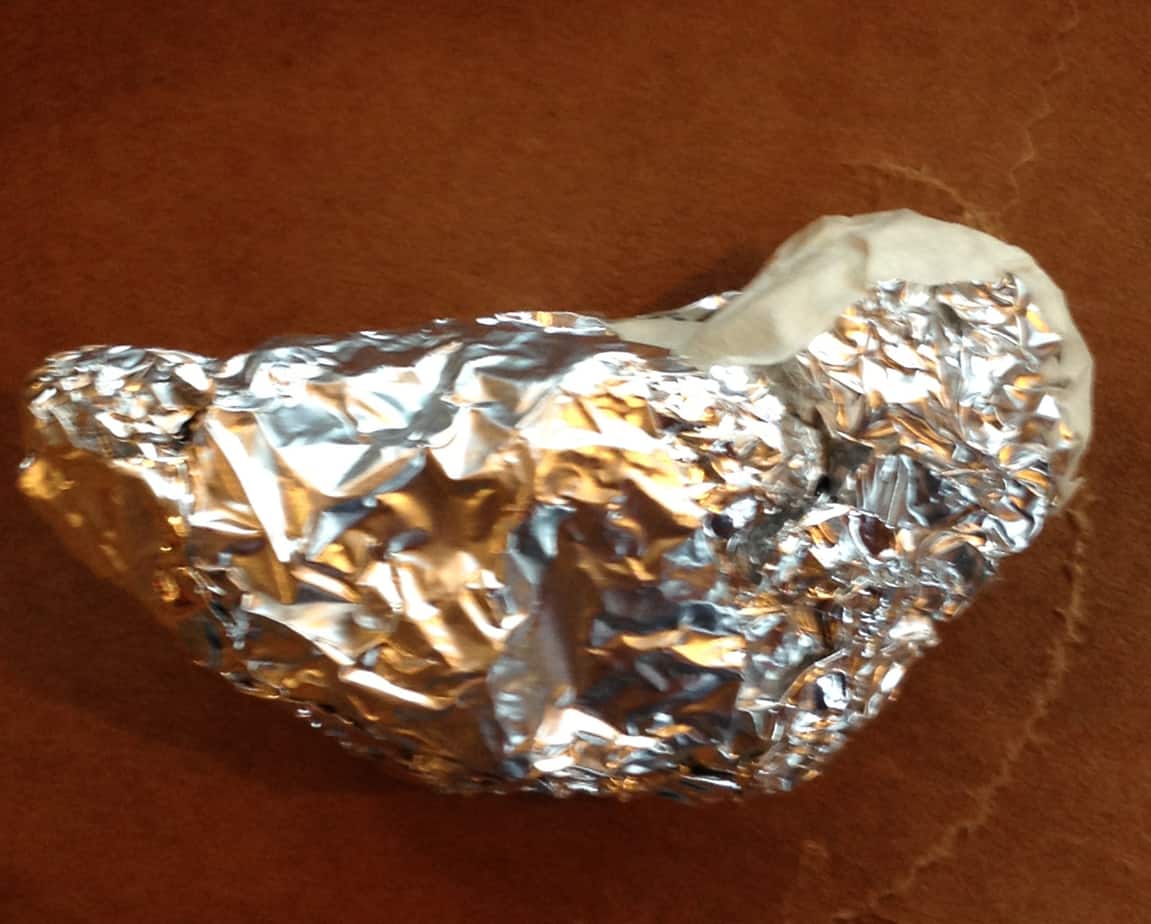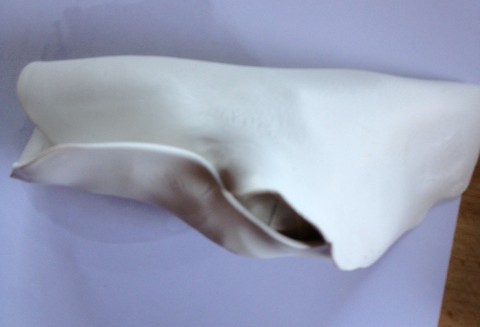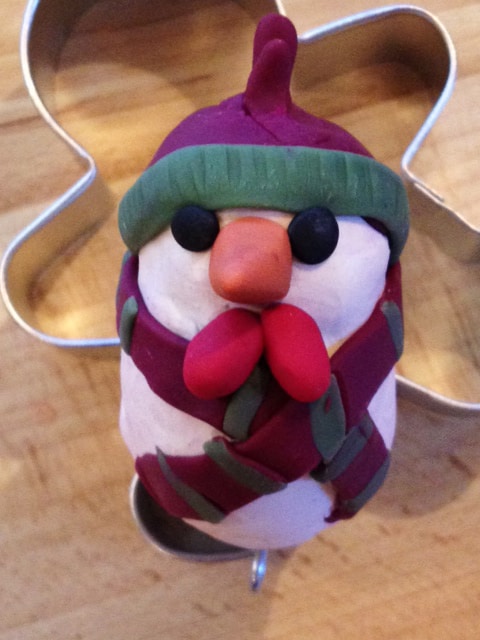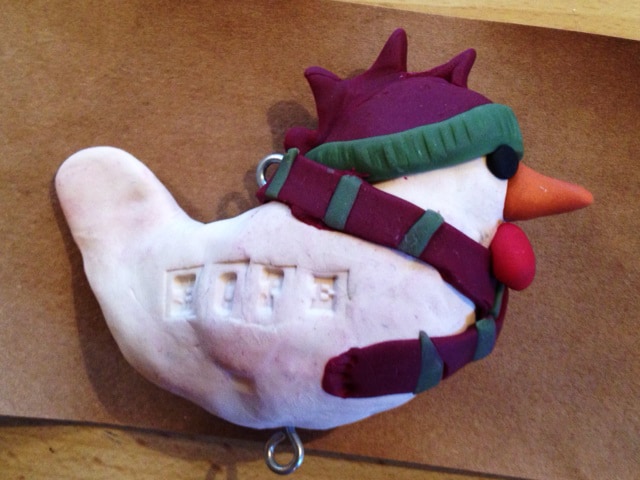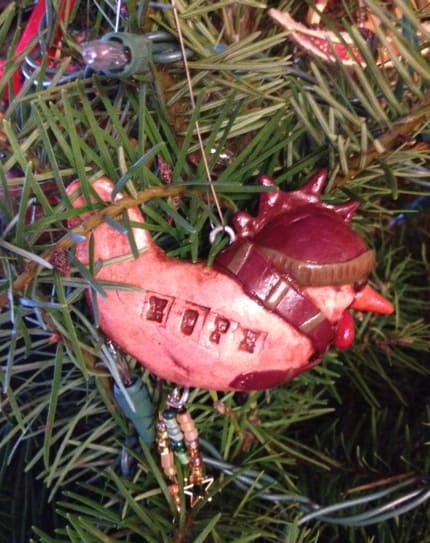 That's it. Even though not perfect, it was super easy and inexpensive to make. Once I get a moment to come up for air, I'll try it again and hopefully get a better end result.
There are probably a bunch of you out there that know how to do what I just attempted much better than me. Feel free to give your expert opinions and advice.
And don't forget to enter the drawing for the chicken hat. Everyone needs one, right?