The first time I found lice on my chickens I freaked out! I didn't know at the time that chicken lice was fairly common, easy to treat naturally, and that those lice don't like people (whew). Here's all you need to know to keep lice at bay with your flock and how to treat it if is comes around. 
What is Chicken Lice?
What? Chicken lice? Just saying that makes you kinda feel itchy, right now, doesn't it? The first thing I want to say, then, is that chicken lice like to hang out chickens and not people. We won't catch' lice from chickens in the same way kids catch head lice from their classmates at school. Breathe a sigh of relief.
With that out of the way….chicken lice are an external parasite that chickens catch mainly from exposure to wild birds (or other chickens that have it). Lice aren't good for chickens. They chomp away on them, eat their feathers and irritate them to no end. A lice infestation can cause a reduction in egg laying. In extreme cases, they can cause anemia and even death.
Here's a severely eaten feather below: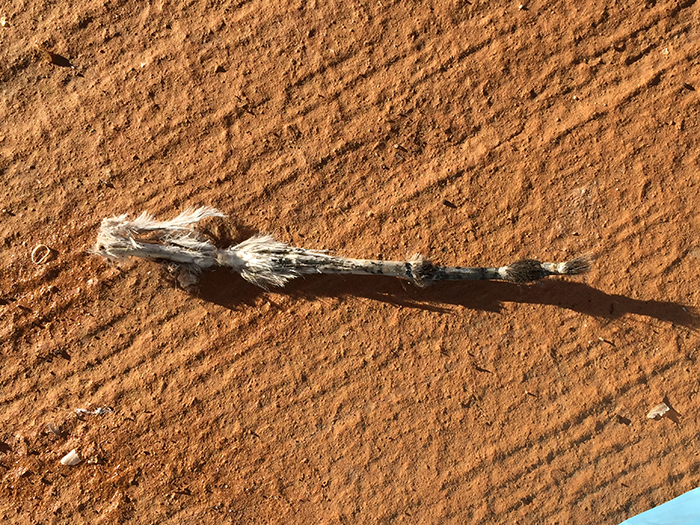 How to Know if a Chicken Has Lice
If you see your birds becoming freakishly obsessed with cleaning themselves, it might be that they're picking at the lice that are picking at them. Since a bad infestation of lice can actually kill a chicken, it's important to deal with the problem as soon as you discover it (and it's also a good idea to routinely check your flock by randomly picking a hen or two up and searching for lice).
Chicken lice tend to hang out around the vent area of the bird, but also are under the wings and around the cape of the neck, but can be anywhere else on them too. They sort of look like flat oval toasted sesame seeds, tan in color. They're much bigger than human head lice, and easier to see.
And they lay huge piles of eggs that they glue to the base of the chicken's feathers (so the eggs don't fall off). These eggs are easy to see, especially if you have a chicken with darker colored feathers as the eggs are white-ish and are laid in clumps. (I've read some sources to say that you should scrape those eggs off when you see them, but good luck on that one. I couldn't get them to budge. When I say glued on, I really mean it!)
You might also be able to find them crawling around near the eyes of your chickens, if you look close.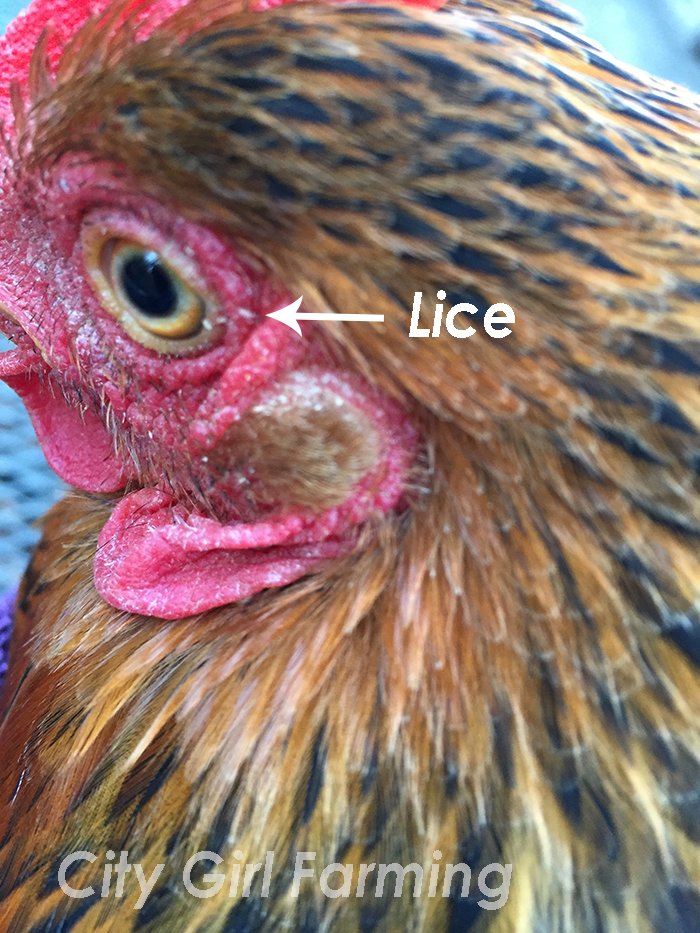 Even if you only find lice on one chicken, it's best to treat the whole flock. For a typical city flock of two or three hens, that's probably not a huge deal, but I routinely have 15 chickens (or more) to treat…TWICE…as any treatment you use will kill the live lice, but not the eggs, so you need to do whatever you do twice, to kill the new lice when they hatch.
How to Treat Your Flock for Lice
A very popular way to deal with lice is to use a commercially made treatment that comes in powder form. Simply sprinkle your chickens all over with it, down to the skin (make sure you don't get any of it on your skin). The problem with this solution is that it's toxic. I don't really want my chickens to have to deal with harsh chemicals (not to mention you're not supposed to eat the eggs for 2 weeks after treatment and I didn't want to waste all those precious eggs). Thankfully there are other alternatives.
The treatment I use is a bit more labor intensive (maybe?) then dusting them with powder. But it's easier on the birds and you can still eat the eggs.
For my lice treatment, I give my chickens a two-part bath (Yes, all of them). I set up a bathing station in the yard and haul warm water out from the house. I fill one bath with water and Dawn dish soap and the other, with water and apple cider vinegar (I know technically Dawn isn't exactly super natural, but it's still safer than other alternatives).
The Chicken Bath
You can see one of my classy chicken bathing set ups below. Old mud room sink and old pressure canner in wheelbarrow. You can use whatever you want, but you'll likely enjoy (if enjoy is a word we can use here) this process more if you've got it set up on a table or something higher and you don't have to bend and squat all day while you do this.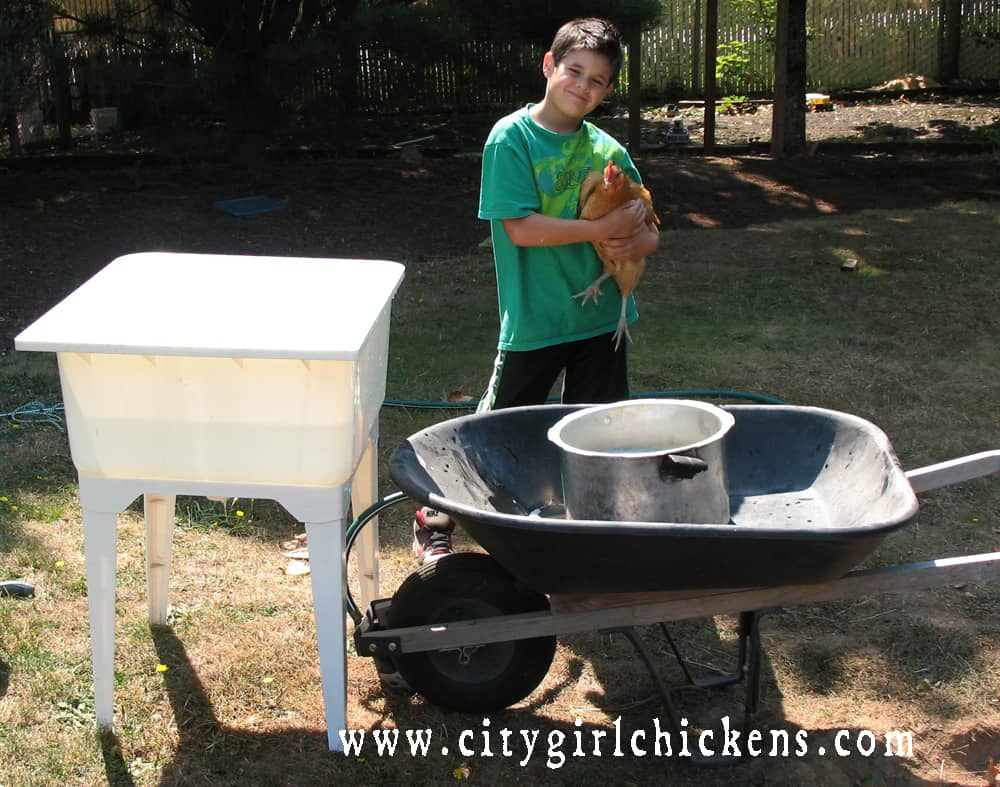 Wear clothes you don't mind getting wet. I also like wearing rubber (surgical) gloves and sunglasses or goggles. My chickens don't actually mind a warm bath, contrary to popular opinion (you know the saying: madder than a wet hen). A warm water bath mellows them out. (Getting them INTO said bath is sometimes tricky, hence the old clothes and goggles. But once in, most of them don't seem to mind.) When bathing your chickens, make sure to get under the wings and by the vent, and pretty much everywhere except their head. (If you've never bathed a chicken before you might be amazed at how many layers of feathers and how waterproof they are–try to get it all).
I also wait until the afternoon to catch and bathe chickens, hoping that they've already laid their eggs for the day. In all the fight to get them into the water, I don't want to squish an egg and cause all sorts of OTHER problems on top of it all.
One thing to keep in mind is that you shouldn't SCRUB the feathers like you would your hair. It will break the feather shafts. I tend to lift feathers in layers and dump the warm soapy water and repeat until the bird is sufficiently soaked.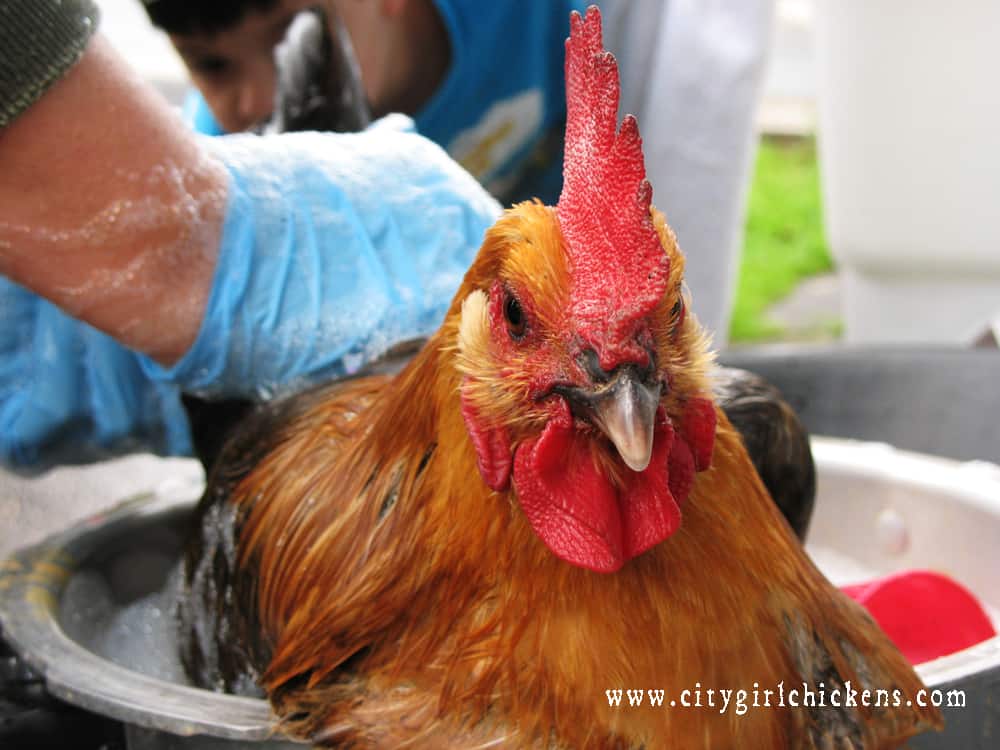 Once you've soaped your chicken, then transfer her to the tub of warm rinse water. (Add a couple tablespoons of apple cider vinegar to this water.) Rinse in much the same way, layer upon layer.
It's good to pick a warm, sunny day for bath day. This way they can dry themselves in the yard (I pat them off a bit with an old towel first). Some people (I've heard) use a blow dryer to get them dry. Um, that's not happening here on this farm with 15 or more chickens at any given time. (But knock yourself out if you want to do that.)
Cleaning Coop
The second-to-worst part a lice infestation is that the coop needs to be cleaned out. As in, completely washed down (I used a non-toxic cleaner made with vinegar and essential oils for this). New bedding put in. The roosts and nest boxes are areas most likely to come in contact with lice. (Lice just live on the chicken not in the coop, however, if any fall off, they could be in the bedding of the coop. Washing it all down is a safety precaution.)
Are you thinking the bathing part is the worst part? Well, it is, sort of. The worst part of this, or any, lice treatment is doing the WHOLE THING all over again in about 10 days. Yes, both bathing and cleaning the coop. This will kill the newly hatched lice and make sure you stop the cycle.
Oh joy!
The good news is that your chickens will be lice free, clean, happier and healthier. And you won't have to lose any eggs to treatment nor expose them or yourself to anything harsh!
When it's Done
Once this is all done, I like to sprinkle diatomaceous earth in the coop as well as in the areas where the hens take dust baths. DE helps discourage lice and mites from being a problem.
Still feel itchy? I do. It's much nicer to think of all this as a chicken spa day and not a delousing day. And remember: THEIR LICE WON'T LIKE YOU (or your other non-chicken pets)! And in the end, if you do it right, you'll win the war on lice. It's really pretty simple.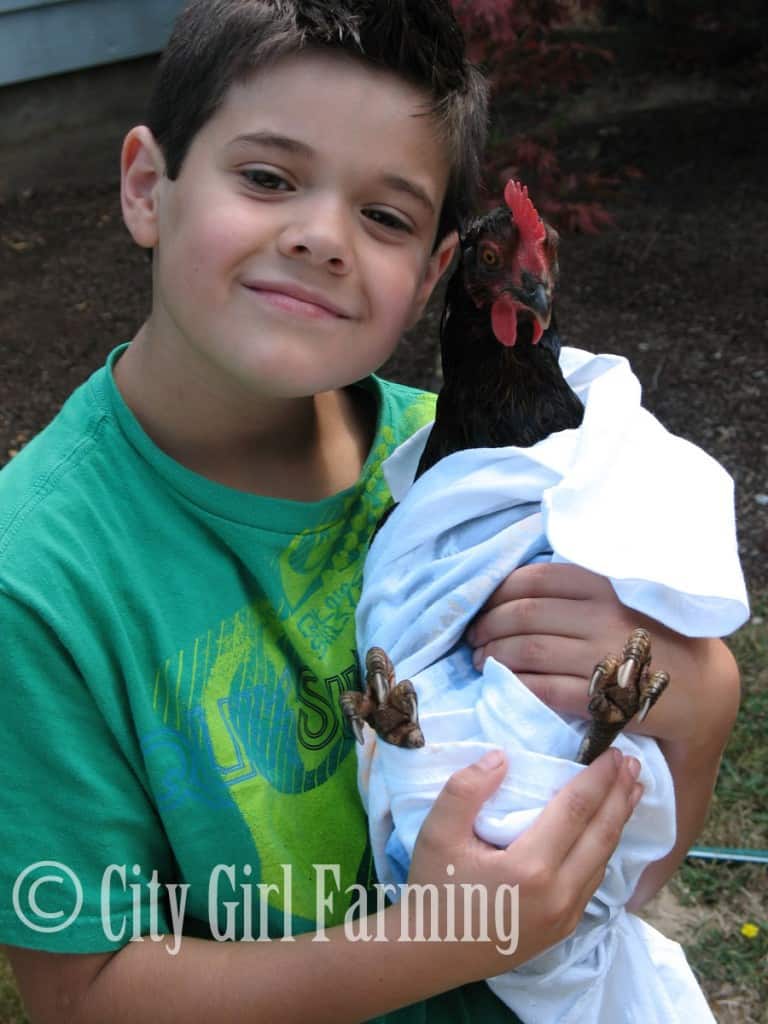 {PS if you haven't already made a regular practice of checking your flock for lice, it's a good idea. Simply pick a random hen up every once in a while and check for lice. Look under her cape feathers, under her wings, and around the vent area. Look for lice, lice eggs and feather damage (from the lice eating the feathers). It only take a minute and could greatly benefit the health of your chickens.}