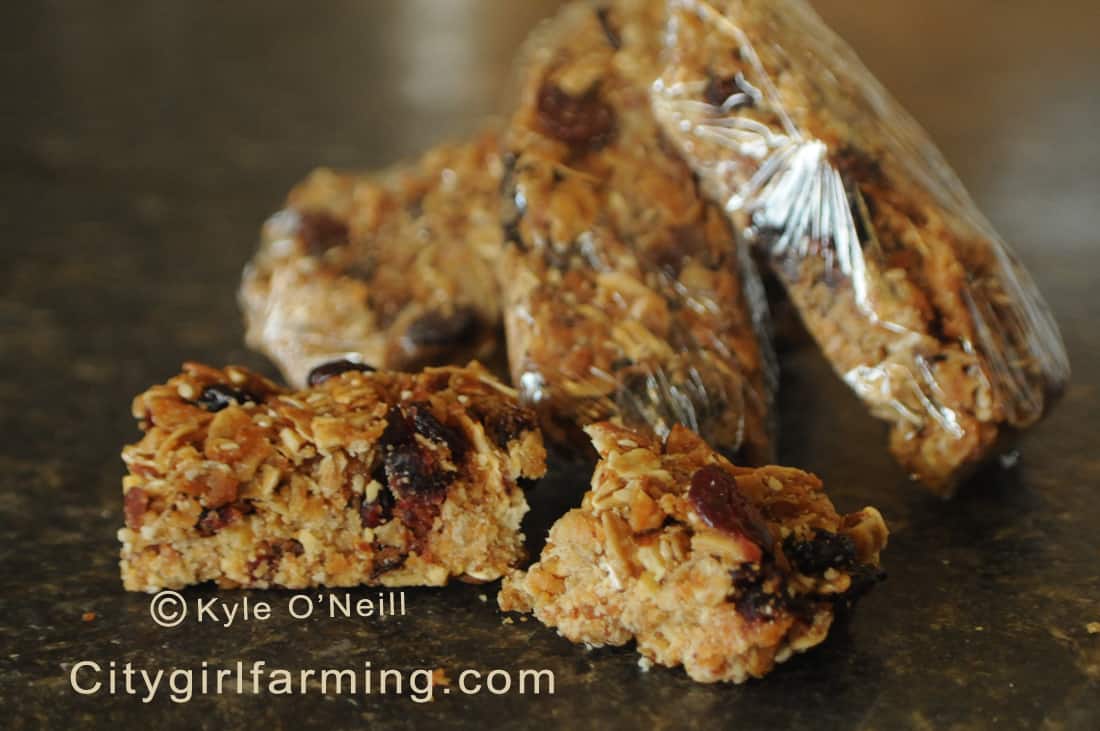 My youngest sister brought her daughter, Kally (my oldest niece) for a visit recently. Kally loves to come visit me. Well, not really. She loves my chickens. And the rabbit. And the kids that live downstairs…but I still get to see her some anyway!
With them, came a basket of goodies that my sis made for the trip. All sorts of homemade stuff (thankfully some of it made it all the way here so I got to try it) that tasted great and was healthier than the pre-made stuff you can buy at the store.
And even better, Kally loved them all. Me, too.
I begged the granola bar recipe off of Kyle, and she was even kind enough to take a photo for me. This is a super simple recipe. And you can mix it up a bit (I can't seem to stick to a recipe, ever, unless I'm canning) to come up with your own variations. Kyle made them with dried cherries and added a few rice crispies. I tried toasted quinoa instead of wheat germ (simply because that's what I had on hand the day I made them) and it was great. It added a little protein and a bit of a rice crispy-like texture. Next time I'm going to also add some almond meal, and maybe a few Cheerios…
The hardest part of this recipe is waiting the 2-3 hours for them to cool so you can cut them into squares or bars. I have to admit, I cheated a little…there was one whole corner missing before they were hard enough to cut. (I won't tell if the same thing happens to you.)
Here's the recipe:
2 cups old-fashioned rolled oats
1 cup sliced almonds
1/2 cup shredded coconut
1/2 cup toasted wheat germ
3 tablespoons butter
3/4 cup honey
1/4 cup light brown sugar
1 1/2 teaspoons vanilla
1/4 teaspoon salt
1/2 cup chopped dates (pitted)
1/2 cup chopped apricots (dried)
1/2 cup dried cranberries
Preheat oven to 350 degrees. Butter a 8×12 baking dish and line it with parchment (BOTH are necessary, if you ever want to get it out of the pan again). If you leave some parchment to overlap above the rim of the pan, it makes it easier to pull it all out later.
Toss the oats, almonds and coconut together on a cookie sheet and bake for 10-12 minutes to get them lightly browned. Stir occasionally. Dump them into a large mixing bowl and stir in the wheat germ.
Reduce oven to 300 degrees.
Mix butter, honey, brown sugar, vanilla and salt in small saucepan. Bring to a boil over medium heat. Cook and stir for 1 minute. Pour over the oat mixture. Add dried fruit and stir well.
Pour mixture into prepared pan and lightly press evenly (it might help to wet your fingers to keep them from sticking). Bake for 20 minutes or so, until LIGHTLY golden. Be careful not to over cook (unless you like really hard granola bars instead of the more soft, chewy version).
Cool for 2-3 hours before cutting (remember, I warned you about this part).
And feel cool about yourself as you pass out homemade granola bars. That is, if you feel like sharing them with anyone.