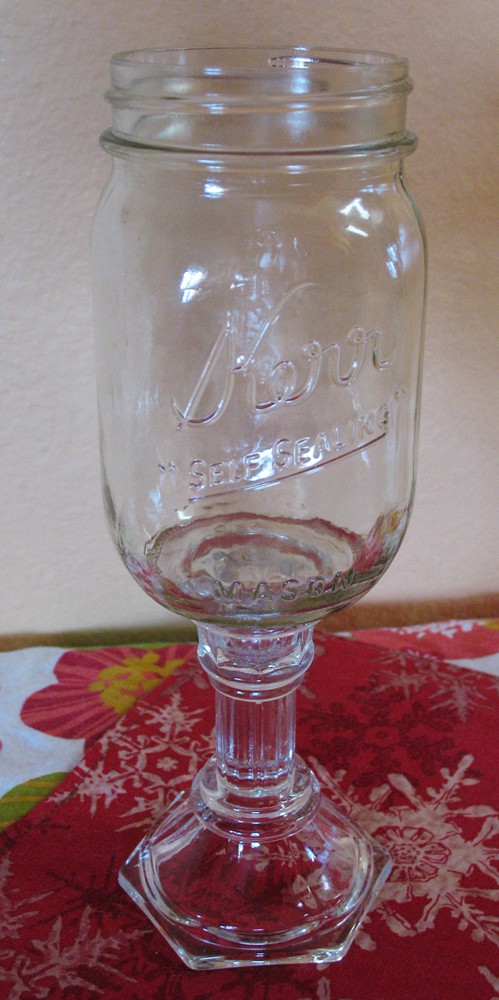 Have you heard of the Red Neck wine glass (actually spelled RedNek)? It's the one that CNN calls, "America's love affair with the irreverent, tacky and politically incorrect".
It was invented by Okie Morris, a self-proclaimed 'repurposer'. And it's apparently taking America by storm with over 5 million in sales in less than one year (This is according to CNN. You can read the whole article here).
I'd missed the whole phenomenon until a friend was given one for Christmas. I know it's supposed to be a take on the whole 'red neck' idea, but to me, it says HOME CANNER (of course, this is spoken from a girl who has canning jars as drinking glasses…) But still, I'd like to spin it into the HOME CANNER'S WINE GLASS instead.
 You can find them at Hallmark for about $15. Or you can make one yourself for almost free. All you need is:
Pint sized mason jar
Glass candlestick holder
Good glue (such as E6000, The Ultimate by Crafter's Pick, or other clear drying, waterproof glue that will adhere to glass)
A little wine (well, to try it out, of course!)
Make sure the jar and candlestick holder are both clean. Apply a layer of glue around the top of the candlestick holder. Carefully balance the jar on top of the glue, making sure to get it on straight with the candlestick holder in the middle of the bottom of the jar. Hold in place for a moment. Remove your hand slowly to make sure your jar doesn't tumble off. Allow to dry according to your glue's instructions.
I think these would make great Valentines Day gifts for all the home canners in your life. And don't forget to add a bottle of wine! After all, any 'irreverent, tacky and politically incorrect' gift can be made right with the perfect accompaniments, yes?
Enjoy!