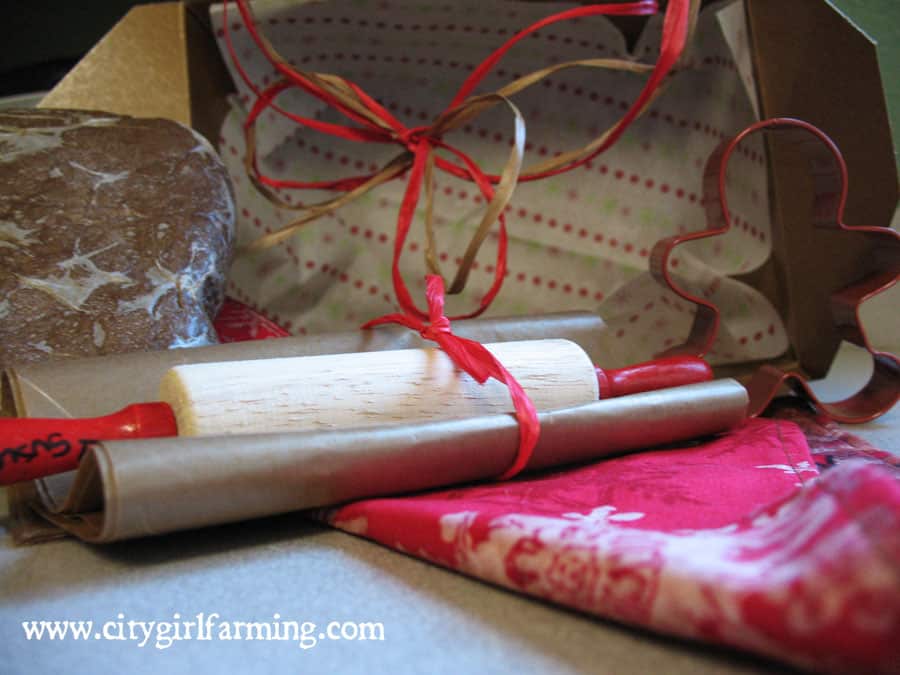 My friend Susie is one of the world's best gift givers. No matter the event, big or small, she inevitably puts together something sweet and clever to memorialize the event. Recently, she gave me a do-it-yourself gingerbread cookie kit, complete with mini rolling-pin (where she personalized the handles for the event), a gingerbread man cookie cutter, a homemade reversible Christmas napkin, and some cool waxed paper bags. And, of course, a big disk of gingerbread dough, ready to roll out and bake! She had it all assembled inside a brown t0-go container and wrapped it with raffia.
Simple, yet way cool. Thoughtful. Cute. Memorable. And it gave me an excuse to make cookies! Because I thought it was so great, I'm passing along the idea and the recipe to you to get your juices flowing. Don't like gingerbread? How about a batch of sugar cookies and a snowflake cookie cutter? Making them for kids and want less sugar? How about a batch or two of playdo or salt dough with kid friendly cookie cutters (or the smaller fondant cutters) and craft ideas and instructions?
See what I mean? It opens up a whole new realm of possibilities.
So, here are some recipes to get you started. And if you come up with other great ideas please share them with us!
Susie's Gathering Gingerly Cookies
3 1/2 c    flour
1 tsp       baking soda
1 TBS     ground ginger
2 tsp       ground cinnamon
1/2 tsp    ground cloves
1/2 tsp    salt
3/4 c      dark brown sugar
1/2 c      unsalted butter, room temperature
1            large egg
2/3 c      unsulfured molasses
Preheat oven 350 degrees.
Whisk flour, baking soda, ginger, cinnamon, cloves and salt. Beat brown sugar and butter on medium high until light and fluffy, 3 minutes. Add egg and molasses and beat to combine. Add flour (mixer on low and gradually add) mixture and beat to combine.
Form dough into 2 disks and wrap in plastic. Refrigerate 30 minutes or ready to use.
Roll out one disk at a time between parchment paper until desired thickness (1/8th to 1/4th inch). Cookie cut your heart away….
Bake until cookies are firm and edges begin to brown about 14ish minutes.  Rotate sheets half way thru recommended. Transfer cookies to wire rack for complete cooling.
Homemade Playdo
1 C flour
1/2 C salt
2 TBS oil
2 TBS cream of tartar
1 C water
Food coloring of your choice
Heat oil in medium saucepan. Remove from heat. Add all other ingredients. Cook in low for 4-5 minutes. Turn dough out on cookie sheet and knead a few times to get a smooth consistency. Store in air tight containers.
 Salt Dough
(which you can bake to harden and then paint)
1 C salt
2 C flour
1 C warm water
Mix salt and flour together. Add water slowly, mixing to form dough.
Turn out on lightly floured surface and  knead for at least 5 minutes (the longer you knead, the smoother your dough will be).
To keep dough soft and pliable, store in airtight container. To bake, make your creations and place on cookie sheet in oven set at 200 degrees. The amount of time it takes to bake depends on size and thickness of object (flat Christmas ornaments might take 45-60 minutes).
Once baked and cooled, you can paint salt dough! As long as these creations aren't stored in a damp place, they'll last for years to come.