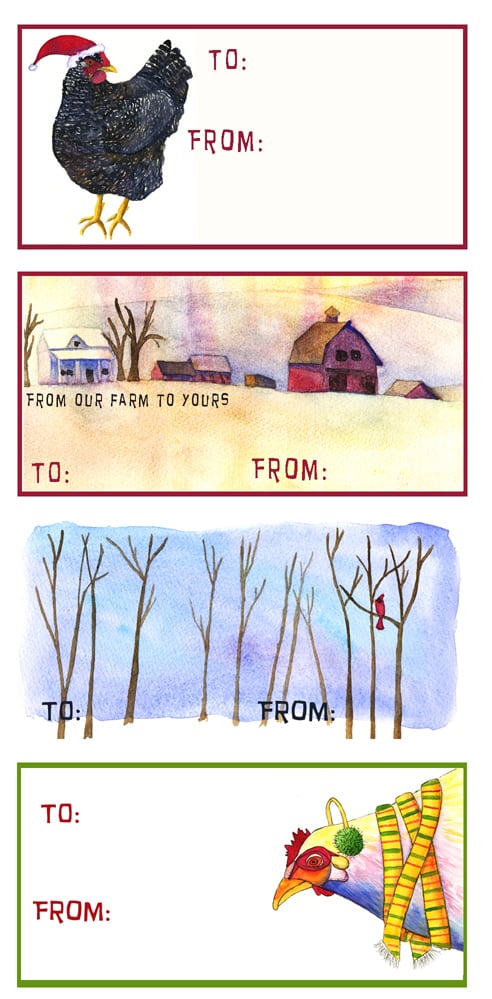 On the 8th Day of Farm Christmas…free downloadable gift tags! And once you've got them printed and ready to roll, you'll need some presents to put them on. So, here's a list of gift ideas for the city farmers (and future farmers) on your list this year:
For Kids:
Count Your Chickens. A board game that uses chickens to teach about counting and also encourages cooperation. For kids ages 3+.
Don't Throw it, Grow it: 68 Windowsill plants from kitchen scraps (by Deborah Peterson). I love this book! It includes instructions on how to plant spices from your cupboard (mustard seed, dill, corriander, etc.) anything else that can be planted from your food source (like peanuts, pineapple, almonds, kiwi, etc.) There's lots of good instructions on how to plant and care for each different seed. And it's a good primer on how food grows.
Philadelphia Chickens (by Sandra Boyton) An illustratated picture book/song book that has an accompanying CD to sing along with.
Moo (by Matthew Van Fleet) A board book filled with great photographs of all sorts of farm animals.
Playmobil Chicken Coop. I think this is pretty cool. It has a rooster, a roost, two nests, 3 chickens, 6 chicks, piles of eggs and a bunch more. Plus, they've got other sets that go along with this one that include other animals such as a rabbit and rabbit pen and baby goats and more.
Ohelie and Her Chicks. A super cute plush hen hand puppet that has an egg that hold 4 plush chicks.
For Others:
Apothecary Spice Rack. Handmade using reclaimed shipping crate wood.
Extra Extraordinary Chickens (By Stephen Green-Armytage) A coffee-table-like book filled with stunning photos of extraordinary chickens. 61 different breeds are showcased in this beautiful book.
Farming Game. A game created by a farmer where you buy fields and pastures, and are subject to weather and seasons. A great glimpse of the economic life and challenges of farming.
Mushroom Growing Kits. These are very cool. The kit includes everything you need to grow several cuttings of edible mushrooms indoors. I met the people making the kits and they're very nice folks.
Can It, Bottle It, Smoke It And Other Kitchen Projects (by Karen Solomon). This is the book that has the recipe for Homemade Nutella that I featured a few days ago, but it's got much more than that–you'll also learn how to make your own cornflakes, worcestershire sauce, rice or coconut milk, vinegar, tofu and more.
Bormioli Rocco Quattro Stagioni Canning Jars (not your typical canning jar) Handmade Canning Jar Soap Dispensers for the jar lovers in your life–canning jars on the fancy side!
Hen bag tote. Hysterically funny and cute all at the same time. A rubber hen purse with zipper and nylon handles.
City Girl Farming Store. Totes, t-shirts, magnets, keychains and more with farm friendly illustrations and designs.
Moleskin Gardening Box. A gardening journal that fits inside an accordian style box that has gardening pockets and seed envelopes.
Hose Clothes. A slick designer slipcover for your garden hose in fancy designs. (Oh, heck, just go to Dirt Conture and check out the whole site! I've already sent you there several times…it's a gardening store filled with all sorts of handmade garden-themed, unique gifts! I just recently discovered it and think it's great!)
Do you know of a great gift to give a city farmer? Let us know! In the meantime, print up those gift tags! Christmas is only 17 days away!
And, last but not least: Amy Stong won the Chicken ornament from yesterday. Congrats! And stay tuned for more giveaways before the 12 Days of Farm Christmas is over! Yay!
PS Disclaimer: I don't receive any compensation from any non-Amazon link listed on this blog post. However, if you follow any of the Amazon links above and make a purchase while you're there, I'll receive a few cents (literally). This in no way influenced my opinion on bringing together a list of gift ideas for the city farmers in your life.