Do you love onion rings? I mean, the real, crispy, old-fashioned homemade onion rings made with whole onions and real food?
Me, too!
Okay, normally, I try to eat healthy. But once in a while, I get a craving for really good onion rings. Not the terrible ones you can buy frozen in the store with minced up onions and who-knows-what inside. But the real deal. Crispy on the outside, a whole onion piece on the inside.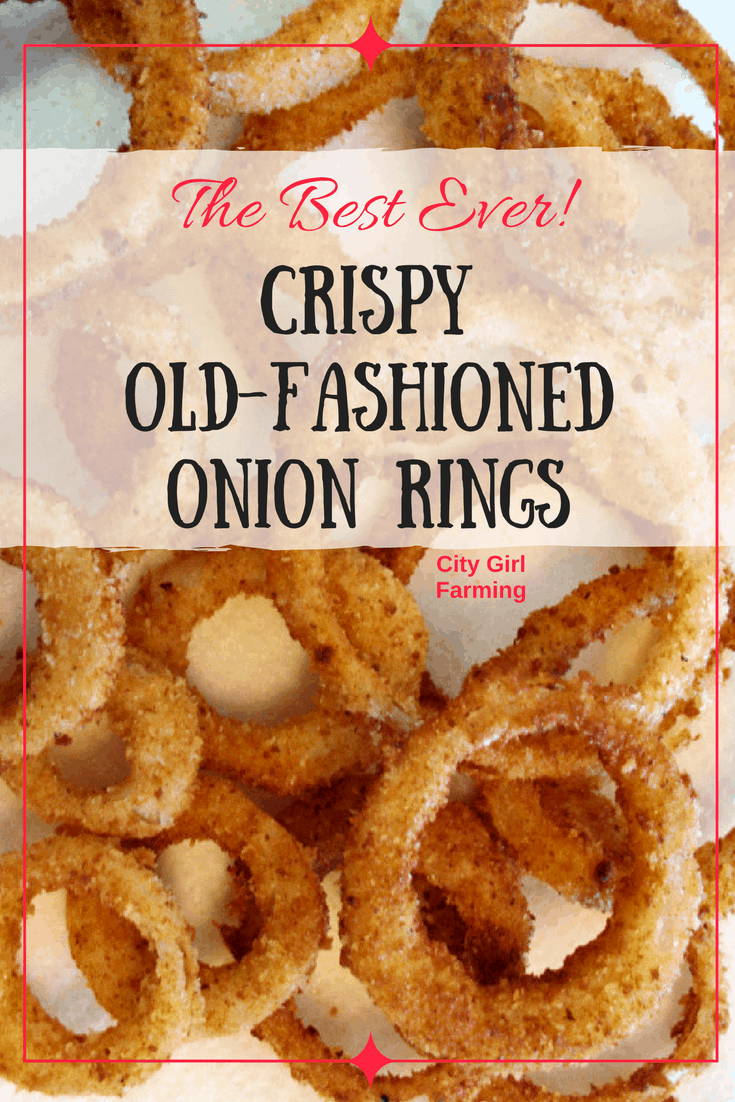 Mmmm. Sheer comfort food goodness.
Here's how you can make homemade onion rings with a crunchy outer crust and a real onion inside. They're actually the PERFECT onion ring in my books. And they're not hard.
Ingredients:
1 large onion, cut into slices
1 cup all-purpose flour
1 teaspoon baking powder
1 teaspoon salt
1 egg
1 cup (or so) of milk
3/4 cup dry bread crumbs
Salt to taste
Oil for frying
What to Do:
Heat the oil in a deep-fryer , if you have one. If not, use a frying pan (which is what I did). Separate the onion slices into rings, and set aside.
In a small bowl, stir together the flour, baking powder and salt. Place approximately 1/4 of this mixture in another small bowl so that you've got 2 bowls of flour mixture.
In a third small bowl, whisk together egg, milk. Whisk in the larger of the two bowls of flour mixture. Place bread crumbs in a fourth small bowl.
Separate the onion slices into rings. Dip the onions into the smaller flour mixture to coat them. Then, dip them into the batter mixture. Place the dipped rings on a wire cooling rack to 'drip'. (Easy clean up: place a cookie sheet with a piece of foil or parchment, etc underneath the rack so that it doesn't make a mess.)
Once the coated rings stop dripping, dip them into the bread crumbs, to coat.  Shake off excess crumbs. (I used regular bread crumbs and it turned out wonderful…but I've been wondering about Panko  crumbs…might have to try that next time.)
Fry the coated rings in oil, a few at a time (don't let them touch). Cook for 2-3 minutes (depending on how hot your oil is), until they're golden brown. Turn and cook other side. Remove from oil with fork and place on paper towels to drain. Salt (or other seasonings) as desired.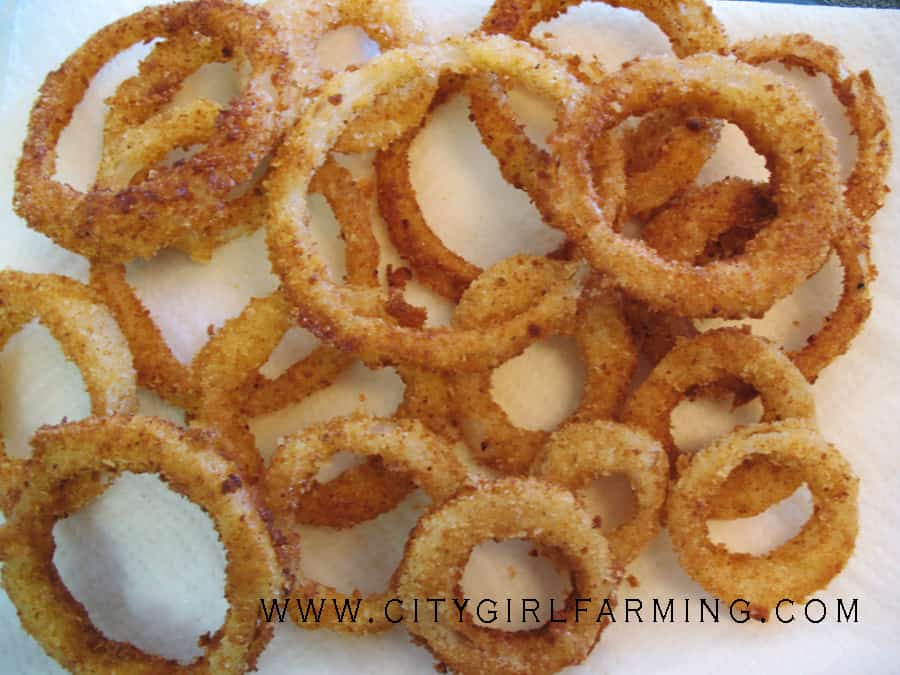 Gobble them down.
Once in a while it's fun to splurge like this. Even better if you've got fresh harvested onions from the garden. And if you start to feel guilty, stop! Afterall, it's just vegetables, right? 🙂