Did you (or someone you know) grow zucchini this year? If so, chances are you've got more zucchini than you know what to do with. I'm here to offer a little bit of help. Below I've given you 10 recipes and/or suggestions on ways you can use up some of that zucchini. This weekend, I'll follow up with 10 more suggestions, for a total of 20 ideas. That should get your juices flowing (and salivating)!
Personally, I think the humble zucchini is a bit under appreciated. It's fat free, only 20 calories per cup and actually even contains protein! It's also versatile, easy to grow and practically free.
According to the USDA, zucchini (1 cup, unpeeled and raw) is a great source of vitamin C (containing 35% of your daily needs), as well as vitamins A and K, and thiamin, niacin, phosphorus, riboflavin, potassium and manganese. It even contains a bit of fiber.
So what is everyone complaining about? Zucchini is the perfect summer vegetable. When life gives you zucchini, diversify!
Here's 10 ways to help you through a zucchini glut, if you're experiencing one. Try some of these recipes and suggestions out and you'll be begging for more zucchini, wishing you would have planted more in your garden this summer!
1. Grill it
There is more than one way to grill zucchini. Here are two ways I do it. I slice it length wise into slabs. Coat it with a bit of olive oil and seasonings of my choice (like fresh rosemary, garlic, salt and pepper) and slap it on a pre-heated grill and cook it to the desired done-ness.
Another way I do this is cut it in chunks; add other chunked vegetables (like onions, garlic, red peppers, asparagus, etc.) Toss with seasons and a bit of oil, and place it in one of those vegetable grillers (essentially a metal dish with holes in it and a handle) and cook this way.
2. Italianize it
Replace the noodles in your favorite lasagna recipe with zucchini cut lengthwise. Cuts the carbs and calories while adding lots of good nutrition.
3. Stuff it
This is especially good for those runaway monster sized zucchini that you failed to see and pick in a timely manner.  Sliced it in half, lengthwise. Scoop out the seeds and a bit of the pulp. Tuck your favorite meatloaf recipe into the hollow. Add the other half of the zucchini and bake in the oven until the meatloaf is done.
4. Noodle it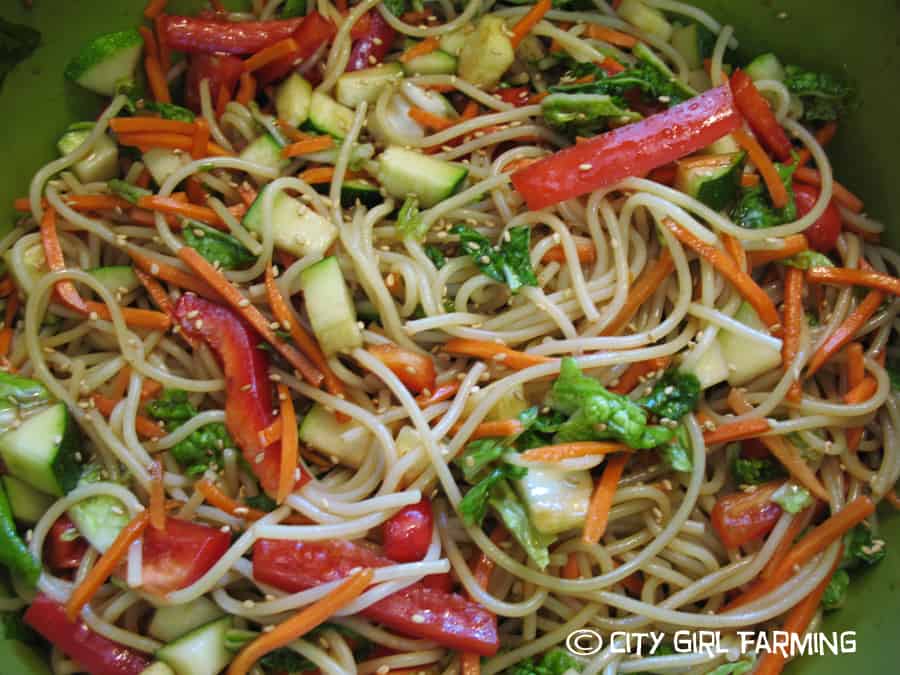 This recipe is from a professional catering and wedding planning business, Beautiful Events.
Cook as many servings of whole-wheat pasta as you want. When finished cooking, drain and keep them in a cold-water bath.
Combine the following, in the amounts you need for the pasta you've prepared:  2 parts sesame oil, 3 parts olive oil, 2 parts low sodium soy sauce, 2 parts rice wine vinegar, 1 part hot chili paste, 2 parts of any of these: Hoisin sauce, Ponzu, Teriyaki glaze. Also add a pinch of salt and fresh cilantro to taste.
Prepare any fresh, raw vegetables you like—peppers, nappa cabbage, carrots, green onions, etc. And don't forget the zucchini! Cut the veggies in different shapes.
Toss it all together and add toasted sesame seeds to top. This is a really refreshing summer salad!
5. Stir fry it
Cut it anyway you want and add it to your next stirfry.
6. Pan fry it
Here's the way I like to do it:  It takes 3 bowls, but it's worth it. In one bowl, add 1/2 cup flour, 1 teaspoon salt, and 1 teaspoon baking powder. In second bowl, add the same ingredients again. But this time, also add 1 egg and up to 1 cup of milk. Stir into a batter. In the third bowl, add breadcrumbs.
Slice the zucchini in 1/4 inch slices. First coat them with flour from the first bowl. Then, dip them in the batter bowl. Allow the slices to 'drip dry' on a wire rack (with a cookie sheet below it to catch the goop).
Add about a half-inch of oil to a frying pan and heat on medium high.
Once the dipped zucchini quits dripping, gently cover them with breadcrumbs and place in preheated frying pan. Cook until bottom size is golden, carefully flip and cook until done. Drain on paper towel. Season with salt and pepper to taste.
7. Blend it
Add it to your morning smoothie. You won't notice the taste, but it will add good nutrients to your breakfast drink.
8. Scramble it
Cut zucchini and tomato into cubes. Dice some onion. Sauté in frying pan until tender. Add eggs and your choice of seasoning and scramble.
9.  Bake it
This is a simple, tasty way to eat zucchini. Slice it and bake it with tomatoes, onions and cheese. Spray any size baking dish with cooking spray. Slice zucchini and tomatoes in approximately 1/4 inch slices. Dice onions. Grate cheese. Layer in the baking dish with zucchini on bottom and tomatoes next. Sprinkle diced onions over top and add your favorite cheese to the top. (I love both farmer cheese and feta cheese on this particular dish). Season to taste. You can also add fresh basil to the layers if you'd like. Bake in 350 oven for approximately 30 minutes or until done (it depends on how thickly you cut your vegetables and how deep you layered them).
10. Donate it
Give your surplus to a local food shelter with some other ingredients to make one of the above recipes (or the next set of 10 ideas still to come later in the week.)
All this food talk is making me hungry. I just picked a big fat zucchini out of my garden this morning. I'm heading to the kitchen to make myself some lunch!
Still need more ideas? Here's part 2 of the zucchini madness….