As some of you know, I let one of my broody hens give into her mothering instincts and hatch out a clutch of eggs. Seven of the nine hatched. There's some crazy wonderful things about watching a mama hen with her chicks. If you haven't had the experience, I HIGHLY recommend it. It's a sweet moment in time when you get to watch nature at it's finest. (If you missed the story, it starts here.)
However, one drawback in hatching your own chicks is that eggs don't come pre-sexed so you've got a 50/50 chance of hatching a rooster (or two or three…) And unless you're smarter than the average chicken owner, it's pretty darn hard to tell a baby soon-to-be-rooster from a baby soon-to-be-hen. So you feed them, watch them grow, and wait for signs that will separate the boys from the girls.
In my case, although the chicks came from various hens (all with a Buff Orpington father), I had two sets of chicks that came from the same kind of hen so they 'matched'.  And it just so happened that one of the chicks in each set grew faster in size of body and comb and feet. I decided these faster/larger growers were most likely to be roosters-in-the-making. Although at this point, I can't know for sure, I'm fairly confident, as I had a 'twin' chick to compare them to.
Another give-away is the constant sparring–between the two suspect chicks and one other. They face off constantly, cape feathers raised in warrior-like display, trying to prove who is the stronger among them. Since they're so small, they never cause any harm to each other. It's much like watching a couple of growing boys arm wrestle to prove themselves.
(I happened to have my camera outside with me one day when two of them were going at it, and caught it on video. Here's the footage.)
With these tentative observations, I decided I'm raising three roosters and four hens…maybe! And with all the struggle for power, the coop seemed a bit small. So, I decided it was time to send the boys to the country…I loaded them up and took them to a feed store that actually BUYS roosters. They'll sell them to someone looking specifically for males to add to their flock. With them gone, the stress level among my flock (now down to 7 grown hens and 4 (hopefully) hens-in-the-making), immediately decreased.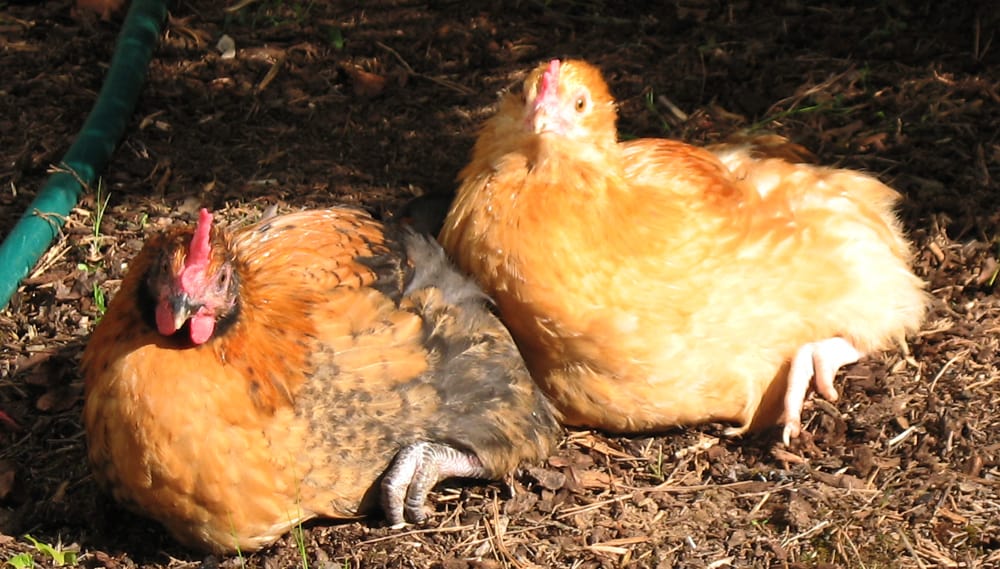 Seems like a win/win for everyone.
I do have to admit, though, I'm gonna miss those little buggers…they were still super cute and non-aggressive (to humans)…so I was a bit sad to see them go. However, I know in the long run, my neighbors will all be much happier. And probably, so will I.