About a year ago, I discovered the most amazing bread book ever: Artisan Bread in 5 Minutes a Day.  Okay, if you haven't discovered it yourself already, you're probably rolling your eyes at the title. But, honest, it's as easy at 5 minutes a day! Really!
Their main basic recipe for dough can be made into millions of different things. One great thing about the dough (besides the fact that it's practically effortless and tastes delicious and it's super versatile) is that you can make it ahead and use it up over the course of two weeks.
And when I go into an upscale store and see a beautiful loaf of artisan bread for sale for $5, I smile to myself knowing I can make my own for less than 50 cents! Yep, I'm totally sold on that book and how it's helped change my way of thinking about homemade breads!
Anyway. I've been having a great time making artisan loaves, dinner rolls, pizza, bread sticks, cinnamon rolls, olive bread, pumpkin bread, all sorts of bread…and one day I decided to involve some nieces and nephews in the project of making some soft pretzels.
In the Artisan Bread Book, they say to use their bagel dough recipe. I didn't do that because I had leftover regular bread dough that I wanted to use up. It worked perfectly (mostly the only difference anyway is the addition of a bit of sugar).
The kids had fun shaping the dough into pretzels and other shapes (like snakes, for instance). And although this recipe is a bit more labor intensive than making a simple loaf of artisan bread, the results are tasty.
First, you need some dough. To make the basic recipe, you just need 4 ingredients: 3 cups warm water, 1.5 tablespoons each of yeast and salt, and 6 ½ cups of flour. Stir it all together and let it sit on the counter for 2-5 hours (loosely cover it, but make sure it's not airtight).
From there, you can either shape the dough or refrigerate it for a while to make it easier to handle (I suggest that for the soft pretzels because it's hard to shape a pretzel than a free form loaf of bread).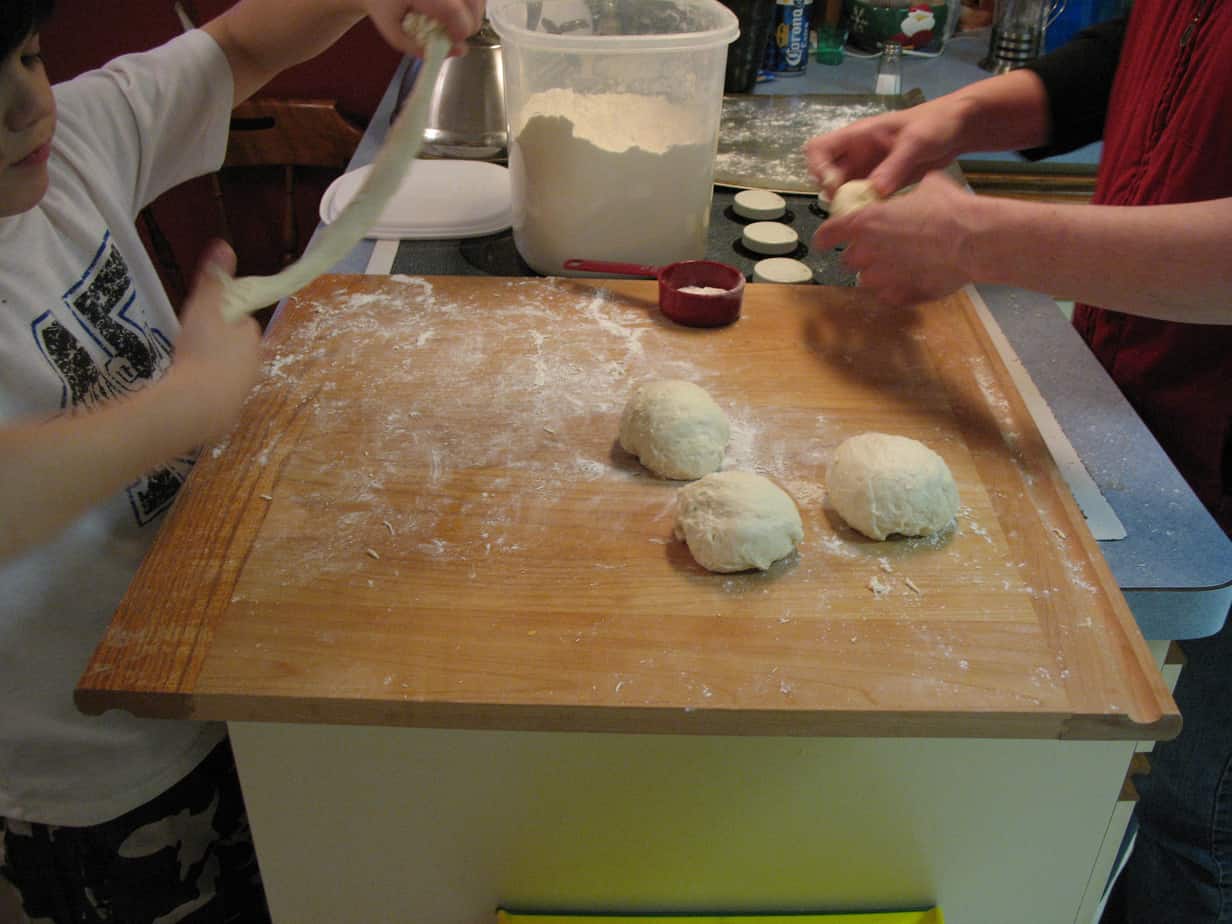 When you're ready to make pretzels, cut off a ball of dough, roll it into a rope on a floured surface, and shape into a pretzel. Let them rest for 20 minutes after they're formed.
In the meantime, heat the oven to 450 degrees. If you want to bake the pretzels on a baking stone, place the stone in the oven at this time. If you want to achieve a nice crust on the outside of the soft pretzels, also add an empty pan (not glass) on the oven rack below the stone and let it pre-heat as well.
And also, bring a big pot of water to boil. Add 1 teaspoon of baking soda and 1 tablespoon of cream of tartar to the water. Reduce the water to simmer and drop pretzels in one at a time. (Don't let them touch each other). Simmer for 2 minutes, flip and simmer for a minute more.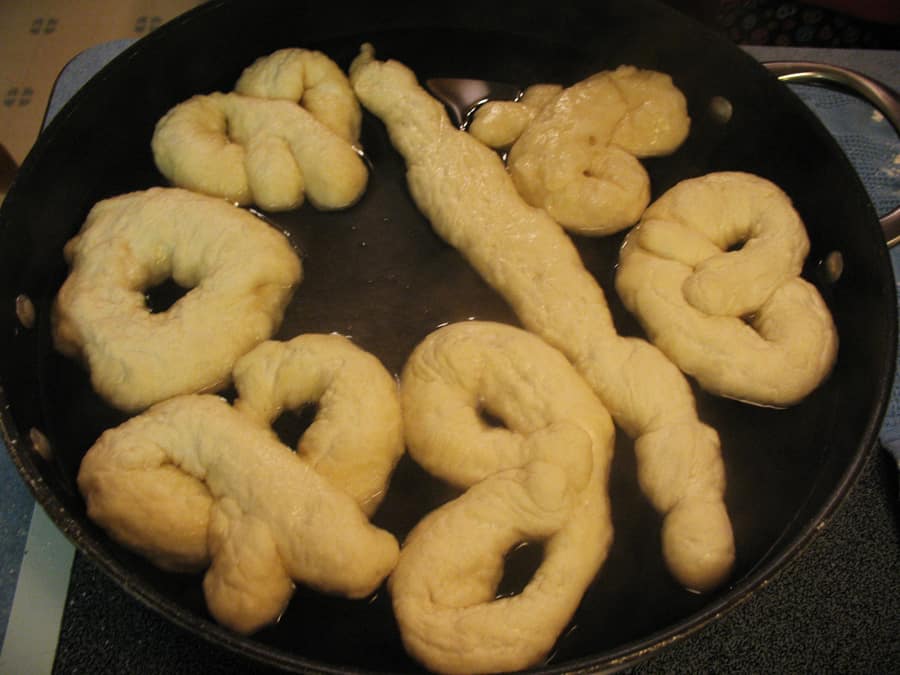 Remove from water and place on a floured towel to help absorb some of the liquid. Brush them with a mixture of 1 egg white and 1 tablespoon of water beaten together. Sprinkle with coarse salt, sesame seeds or other favorite soft pretzel toppings.
Place pretzels in the oven, either on a cookie sheet or a pre-heated baking stone. Add a cup of hot water to the empty pan on the rack below (this will create steam in the oven to give the bread a crisp outer texture) and quickly close the oven door.
Bake for 15 minutes, until brown and firm. Or, if you like crispy pretzels, bake 5-10 minutes longer.
We made a double batch of pretzels and there wasn't a single one to be found later that evening! I guess you could say they were a big hit! Not only that, it was a great project for everyone to enjoy and only cost pennies!