The ice cream cone that really isn't one…a perfect treat for April Fool's Day…
When I was a kid, my mom would bake cupcakes in ice cream cones as a special treat. That was back when cupcake pans didn't come in all sorts of amazing shapes and having a cupcake in an ice cream cone was a novelty. It was also back when bringing homemade treats to school was the norm. Nobody I knew brought store bought goodies to share.
So, on my birthdays my mom would bake a batch of ice cream cone cupcakes and pile the frosting high. She'd load up a well-worn Tupperware container (leftover from when she sold them out of her big blue suitcase), and I'd board the bus holding my prize cupcakes, beaming with pride to have something so cool to share with my class.
I haven't thought of those cupcakes for years. But the other day, in the middle of a super rainy, overcast week, I remembered them. I wondered if they'd be such a big hit today, with all the treats, novelty candies, and stuff that glitters these days. But, I really wanted to make some, so I used the rain as an excuse and whipped up a batch to share with my nieces and nephews. They're super easy to make, here's all I did:
I placed an ice cream cone in each hole of a regular sized muffin tin and threw 4 mini marshmallows in the bottom of each cone just for fun. I then filled the cones with batter up to the part where the rim angles out on the cone. Contrary to what you might think, the cones are amazingly stable in the tins, and are easy to transport to and from the oven without them falling over.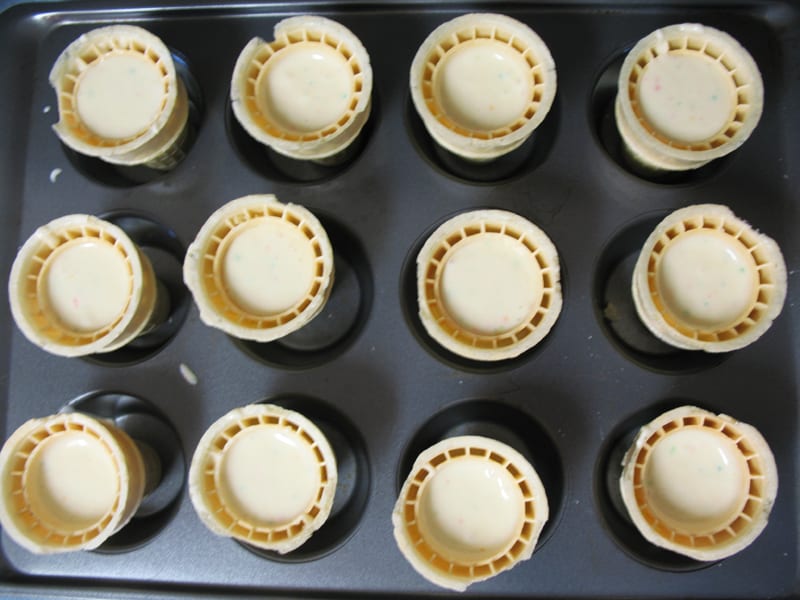 (Making these cupcakes requires a batch of cake mix—made from scratch or from a box—just follow the directions as normal…if you'd like some recipes from scratch, here's one for Chocolate Cupcakes and one for Vanilla Cupcakes.)
When they came out of the oven, I carefully picked each up and pricked the bottom of the cone with a tiny hole (I used the point of a sharp knife, you could also use a fork, etc.) to help the steam to release (and to keep the cone from getting soggy).
The mini marshmallow idea didn't turn out to be so great, as they bubbled up to the surface and made the cupcakes a bit brown. lumpy and sticky (although the kids loved how they tasted…but I was worried about the LOOKS!)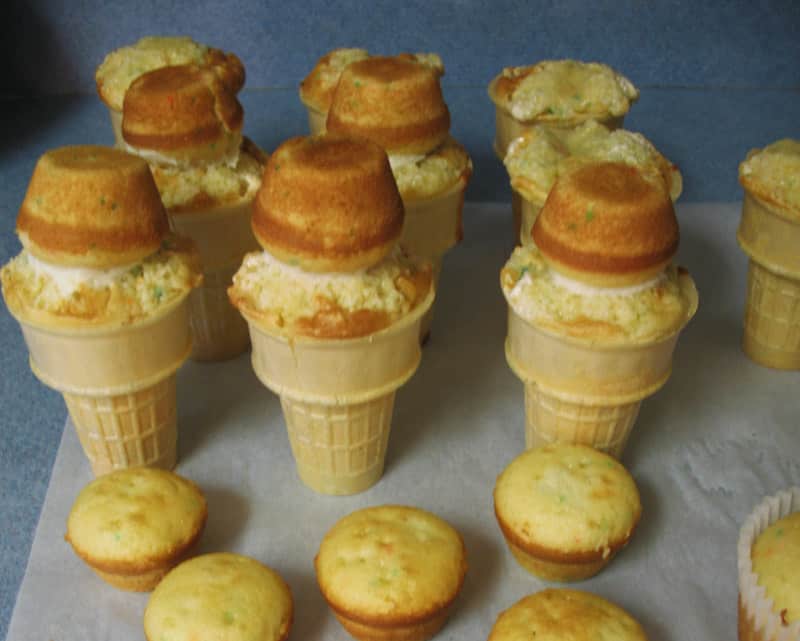 I also baked some of the cake batter in mini muffin tins (spraying the tins with cooking spray and not using cupcake papers). Once they cooled, I turned them upside down and 'glued' them to the top of the cooled cupcake to create some height.
I then made a batch of basic butter cream frosting by throwing softened butter, vanilla, and powdered sugar together with a tiny bit of cream. I don't have a recipe for this; I just dump the ingredients together and mix until I have a creamy consistency. 
I frosted the cupcakes and sprinkled them with candy toppings. And I held my breath to see what the kids of today would think of such a simple treat. Of course I worried for nothing. They were a smashing success! It ended up being a great rainy day treat for the kids and a great nostalgic trip down memory lane for me.
PS After the fact, I thought it would have been a good treat to save for April Fool's day…too late for me, but maybe you still have time to make a batch today…if not, though, they're a good kid pleasing treat, either way!