It started out as a potential crisis. I received a photo on my phone from my friend, Linda. The text said, "RED ALERT! Look at Betty's toes!"
The close up of Betty's feet revealed large bulb-like growths on several toes. It didn't look too promising. I worried that Betty would end up walking around on two stumps, her toes falling off around the chicken run as she clomped along.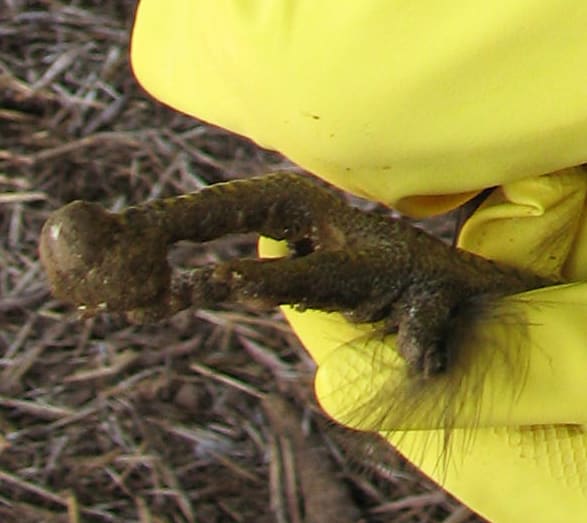 Because I was almost as worried at Linda, I scheduled time the following day to go over for a house visit. Keeping in mind, of course, that I didn't have a clue what was wrong with Betty, nor how I might fix the problem. But, I wanted to lend moral support–to both Linda and her chicken.
When I arrived at Linda's house, I walked over to the chicken coop to inspect the hens. They all gathered on the other side of the chicken wire, hoping for treats. I spied Betty jostling for position in the group, her feet sporting big clumps growing randomly from her deformed toes. Poor girl! We needed to help her out.
I grabbed a couple of plastic grocery bags for my feet (if the chickens did have a disease, I didn't want to bring it back to my chickens), while Linda filled a dish pan with warm water. Our first line of defense: a foot bath for Betty. We needed to see what was under all the dirt so we could decide what to do next.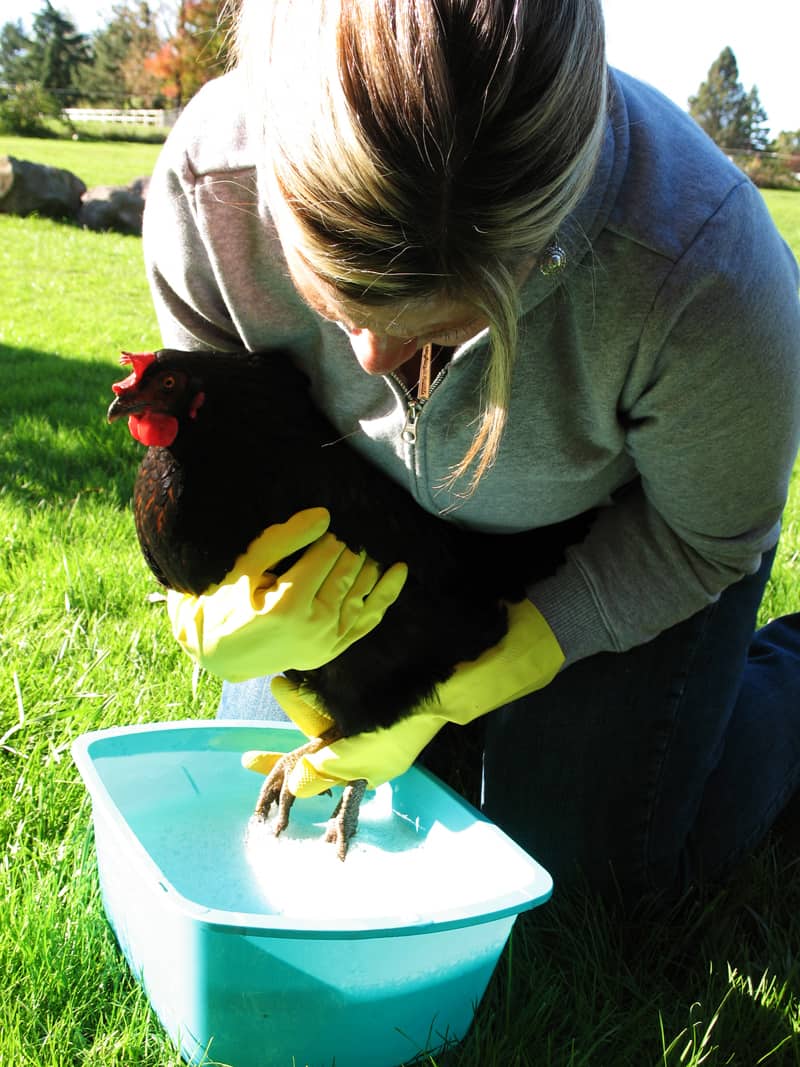 Linda caught Betty, dipped her feet in the warm water and hoped for the best. Much to our relief, the mysterious foot-clump disease was a combination of dirt, poo and hay mixed together to form some amazingly solid cement-like 'growths' on the poor girl. It took some serious soaking, pulling and cutting with scissors to get the clods off. Before too long, Betty was good as new–maybe better. She quietly settled in against Linda's body and enjoyed her special treatment. Before heading back to the hen-house, she stretched out in Linda's lap to catch a few sun rays (and dry off).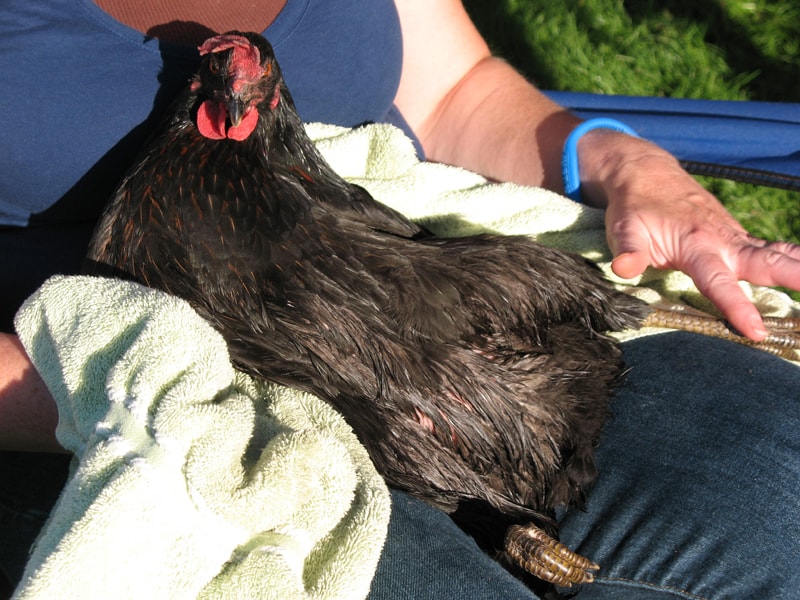 Who said chickens don't have a good life? A great life.
I wonder if Betty had a bet going with the other hens…"Hey girls, watch this…let me show you how it's done. We work hard out here, giving up eggs every day. It's about time they show us some consideration! A spa day, that's what I'm saying! I'm tired of walking around in the dirt like some sort of animal…"
Betty's much smarter than we give her credit for. After all, I've never had someone come to my house and give me my very own spa day!
And Linda and I are just happy that the red alert downgraded to a chicken pedicure.