The bees need our help, yes, but we also need theirs, especially if we have gardens, flowers, and fruit trees that need pollinating. Setting up a simple bee water station is a win/win for all of us. The bees get a safe place to drink water and we get their help in our garden spaces.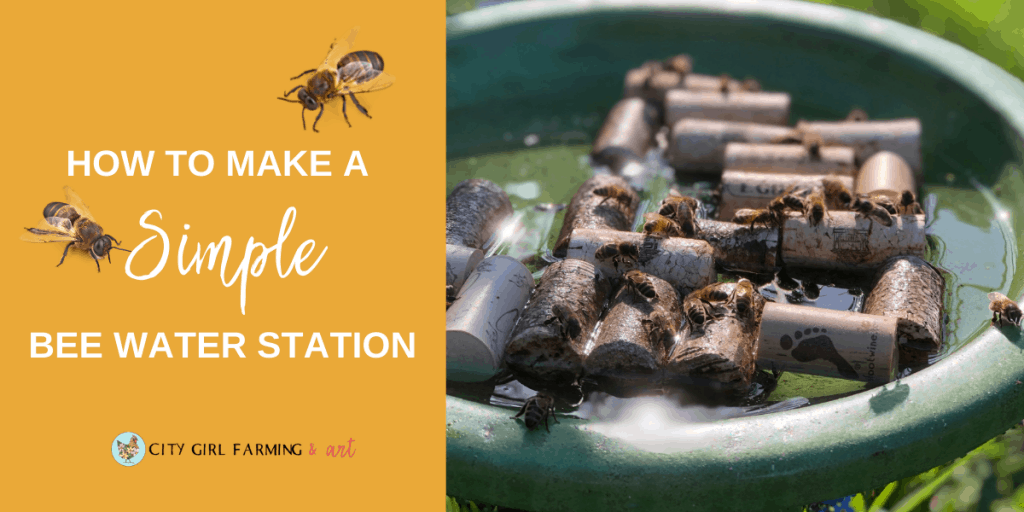 Around here, bees are the bomb. I plant flowers for them. I don't use chemicals in the yard. I cultivate masses of dandelions on purpose just for them…and invariably, I run outside multiple times per day to heroically save a drowning bee in the birdbath just outside my home office window.
One Step Bee Water Station
Yes, it's partly true that I also relish a certain amount of distraction in my work-week…but I was getting sick of digging soggy bees out of the birdbath. So, when a friend suggested I try some wine corks to give the bees something to land on, I was all over it.
It's so simple. Just dump some corks in your birdbath. The corks float. And you've instantly got yourself a simple bee water station.
Of course, there are lots of other things you could use. The basic idea is to give the bees something to land on (or crawl up on if they fall into the water) so they don't drown.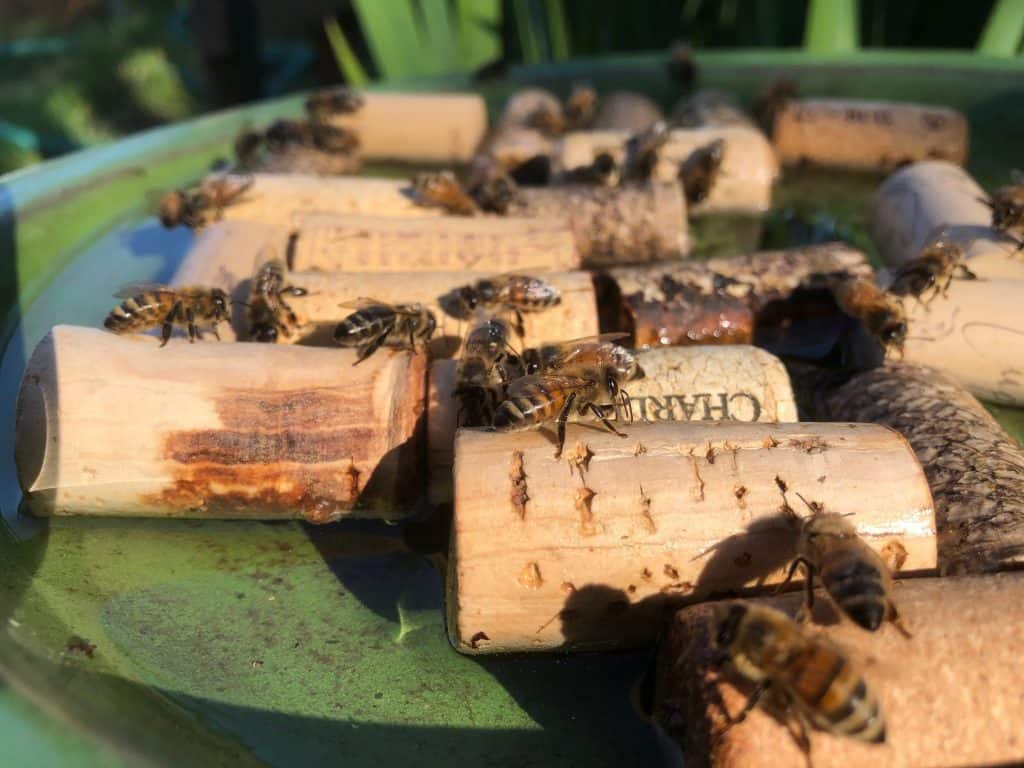 What If I Don't Have a Birdbath?
Not a problem! Any sort of shallow dish will work. You just need something that will hold water.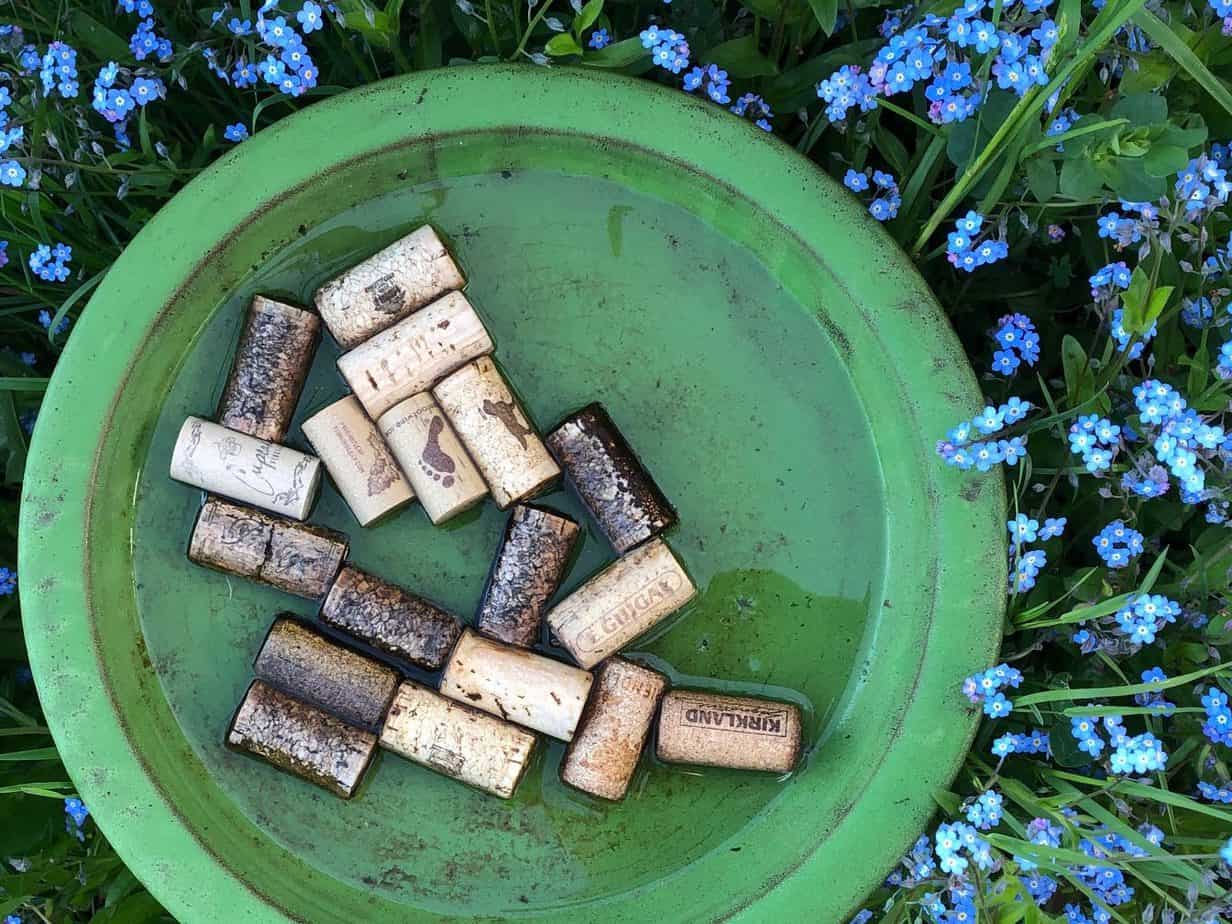 What Other Things Can I Use Besides Corks?
Lots of things! Here are some suggestions:
River rocks
Marbles
Seashells
Twigs/small branches
Etc.
Basically, you're looking for things that will either float or will stick up out of the top of the water to create a place for bees to safely land.
I've even heard of people who use a plastic bucket and drill holes all around the rim of the bucket (about an inch or so down) and fill the top of the bucket with 'packing peanuts'. The peanuts float, but the water holes keep them from floating out of the bucket if it rains and water overflows.
Another method that uses corks, but not as many corks, is to take a mesh and cut it just smaller than the opening of your birdbath (or bowl or whatever) and staple corks to the mesh. This will keep the mesh floating an allow bees to land on the mesh.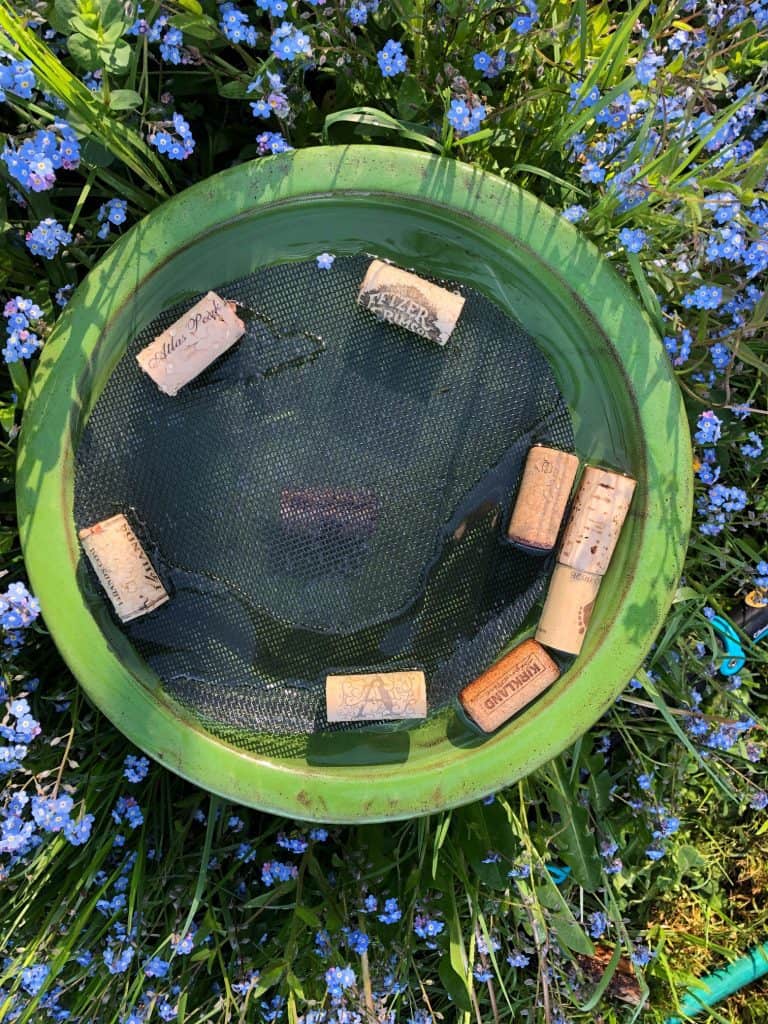 I'm trying this method out currently to see if the bees like it more or less than just the straight corks. If this is the winner, I'll stay with it, otherwise I'll go back just the corks alone.
How to Attract Bees to Your New Bee Water Station
It might take a bit for the bees to find your watering hole. Don't give up! Once they find it, they will visit it regularly. And when they find it, it's important to keep it filled up for them. They will come to depend on your bee water station for their survival.
You'll get bonus points (and easier discovery) if you also plant flowers nearby that attract the bees to that area. If you're not sure what to plant, here's a great list of flowers that pollinators love.
It's also important to keep the bee water station clean. Remove the corks/rocks/whatever at least once per week and wash out the birdbath/bowl. The corks won't last forever and will need to be replaced from time to time. If they're slimy (and the slim doesn't easily wash off), it's time to toss it and use a new one.
A bee water station is so easy to do and so helpful for both the bees and for the rest of the world, I hope you do consider setting up one (or more) in your own yard to help the bees.