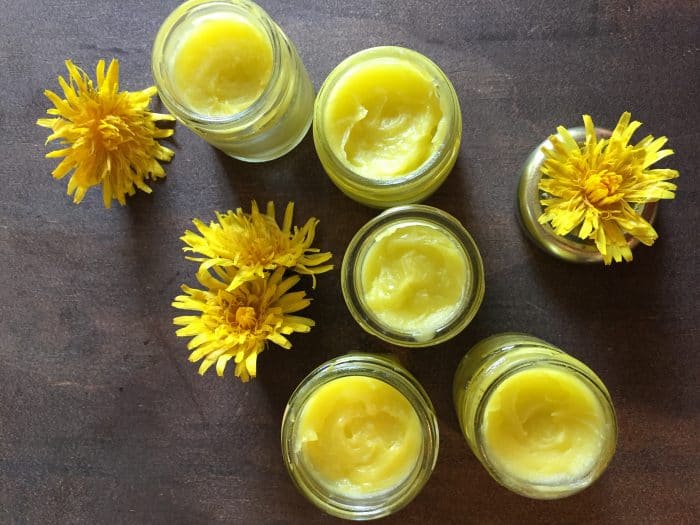 Dandelion salve isn't just another experiment with the ever lovely dandelion. (You might have noticed by now I have a great fondness for this lowly flower and have since childhood.) Dandelions are chock full of great health benefits. Some of them worth noting for inclusion in a salve are their anti-inflammatory properties, their ability to soothe the skin and their help in lessening the pain associated with arthritis and sore muscles.
This salve is made even more powerful with the addition of essential oils.
It's super easy it is to make and is a great solution aches and pains (it's cheery bright yellow color is a plus too, in my opinion).
To start this process, you'll need a cup of dandelion flowers (just the heads of the dandelion–but no stems or leaves–you can leave the whole head intact. You don't need to remove the greens from that part unlike you do for some other dandelion recipes).
Make Dandelion Oil:
1 Cup of dandelion flowers
1.5  cups of olive, apricot, almond or other oil that stays in liquid form
Pick the dandelions from an area that you know is chemical free. It's also a really good idea to avoid areas where they are growing close to busy streets (because of the pollution from traffic). You will want to let the dandelions air dry for a couple of days to help remove some of the moisture (if you don't let them dry out a bit, they will potentially create a cloudy oil and one that won't last as long). I put mine on a baking sheet in the oven and let them stay there for four days (since I live in a moist region and its rainy season).
Once the dandelions are dried out a bit, add them and the oil to a saucepan. Cook on a low simmer for 2-3 hours.
Strain the oil.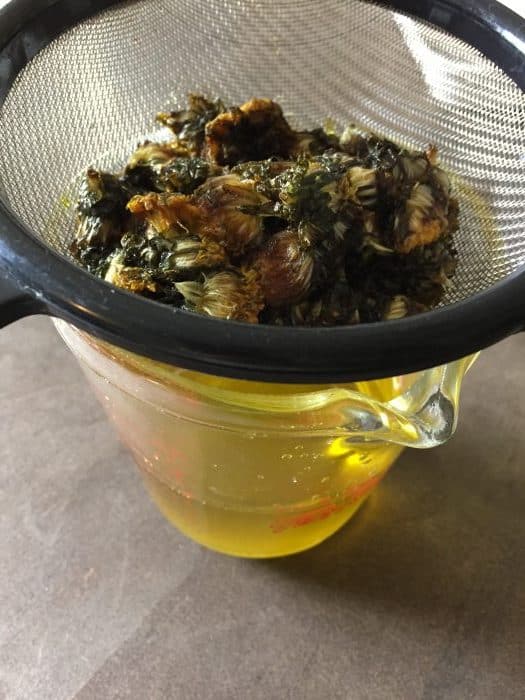 Make Dandelion Salve:
You will need 1/2 a cup of the dandelion oil to make a batch of salve. (You can store the rest of the oil in a glass jar in a cool, dark area.
1/2 cup dandelion oil.
2 Tablespoons beeswax pellets (you can get them here)
Essential oils of your choice (I used 10 drops each of Frankincense, Marjoram and Lemongrass for their known ache-and -discomfort busting abilities)
Add these ingredients to a double boiler. Or, the way I like to do it is add them all to a glass Pyrex measuring cup for easy pouring when I'm done. If you use the glass cup (make sure it's heat sensitive) then you will want to use a saucepan filled with water and a canning ring for the glass cup to sit on to bring the water near boiling.
Simmer and stir until the beeswax is melted.  Once melted, remove from heat and let sit for a few minutes to cool a bit (you don't want to wait too long because you don't want the salve to harden, but it's better to add essential oils at a cooler temperature to help retain their therapeutic value).
Stir in 20-30 drops of essential oils of your choice (this is optional).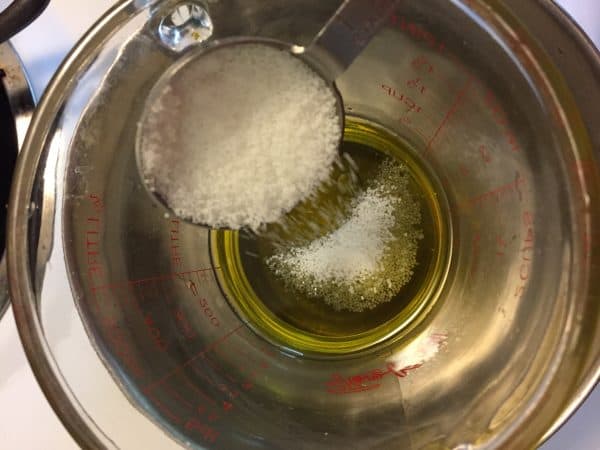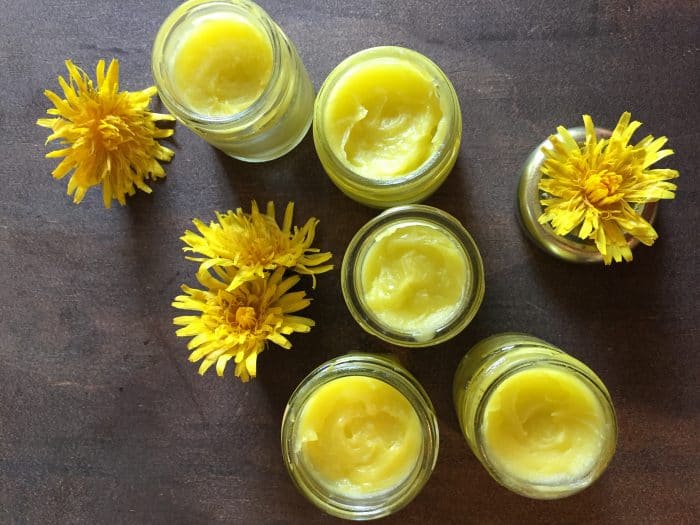 Essential Oil Options
While adding essential oils is an optional step, it enhances the anti-inflammation properties of the salve and helps decrease aches and discomfort. What oils you use depends on you. There are a lot of good oils would pair well with this dandelion salve.
Lavender
Peppermint
White Fir
Myrrh
Rosemary
Juniper Berry
Helichrysum
Vetiver
Sandalwood
Thyme
(If you're interested in my favorite oils, you can get some of them here.)
Store this salve in an air tight container and apply to achy parts of your body when needed.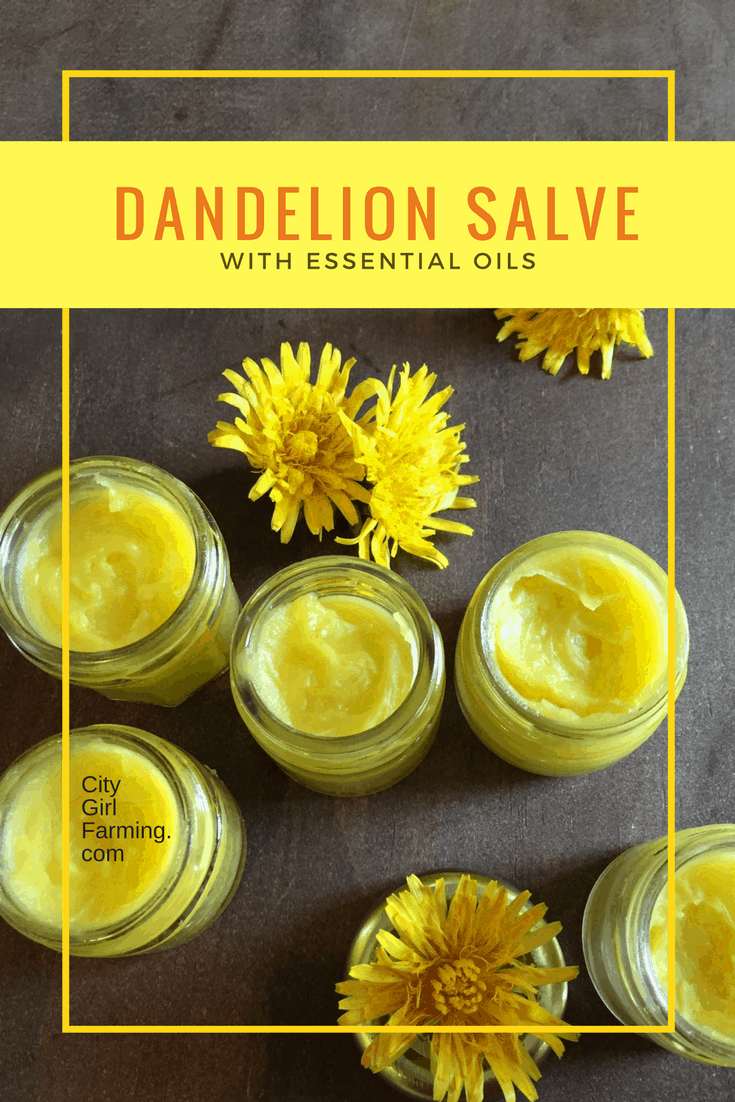 And, as always, the FDA hasn't endorsed anything I've said here today and I'm not a doctor, nor am I trying to diagnose anything. Also, this post contains affiliate links. If you click on them and make a purchase, I earn a few cents. It helps pay for this blog, but it doesn't cost you anything extra.