Straw Bale Garden
Have you ever considered growing your garden ontop of some straw bales? It's a great (and easy) way to garden.
Advantages to Straw Bale Gardening:
1. It's easy. No digging, tilling, weeding, etc. Just plop a bale down and build your garden on top.
2. Your garden will decompose over the winter and you'll be able to start from scratch next spring.
3. Since the garden beds are on top bales of straw, your garden grows about 2 feet off the ground. This makes for easier watering and harvesting. You don't have to bend over or kneel!
4. You don't have to build a raised bed to contain your garden, it's contained on the bale of straw.
5. It costs less than a traditional raised bed garden because you don't use as much soil and compost (not to mention getting to skip building a frame to contain it all in).
6. It's a novelty that will give you something to talk to people about!
7. If you have limited gardening space and can't rotate your crops every year, straw bales are perfect for you--since you start from scratch with a new bale every year, crop rotation isn't a problem.
How to Start a Straw Bale Garden:
1. Buy bales of straw--make sure to get straw and not hay--hay will sprout weeds into your garden!
2. Arrange the bales in the location you want your garden and soak them really well. It's best to let your bales soak for several weeks if you have the time. If not, let them soak (water them if the spring rain doesn't do it for you) for at least 2 weeks.
A friend of mine is growing her garden on straw bales this year. She said we could watch it and see what happens. Here's the first pictures of Vonny's garden...she's just starting to set up her bales and plant.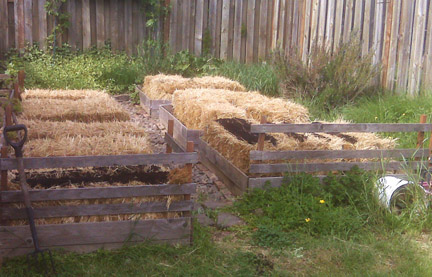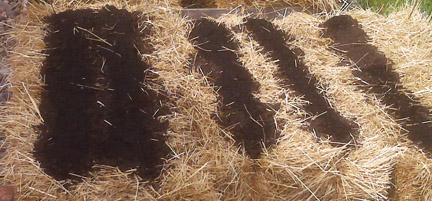 A bit further into the season...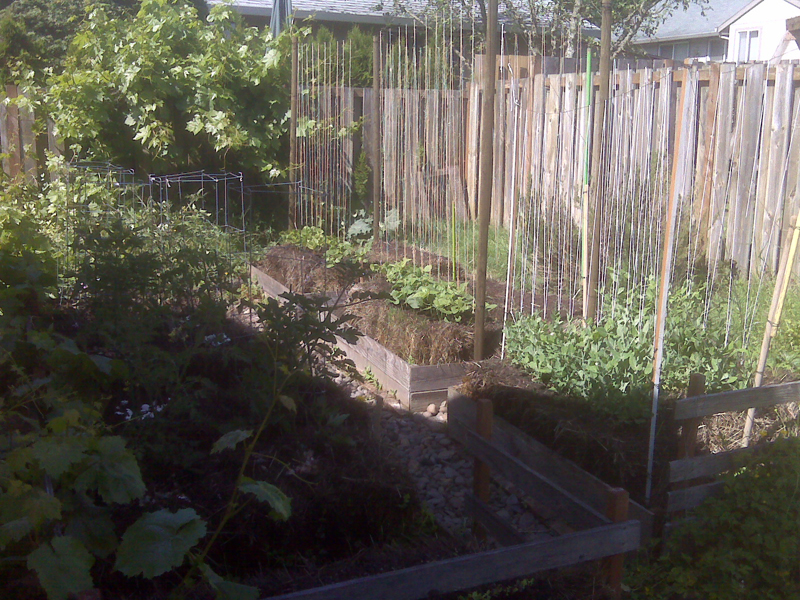 3. Add a couple inches of soil/compost mix on top of your bales. Plant your seeds and plants like you would if planting them in the ground.
4. Water your plants as normal, but skip the tedious weeding, kneeling and bending!
5. At the end of the season, allow nature to take it's course and break down the bales for you so that your space is ready to go with new bales next spring. OR, if you want to get a head start on your garden for next year, get new bales in the fall and let them age through the winter so they're ready to plant next spring.
Tomatoes growing on bales....
Although you can't see the bale anymore....here's some squash growing on bales...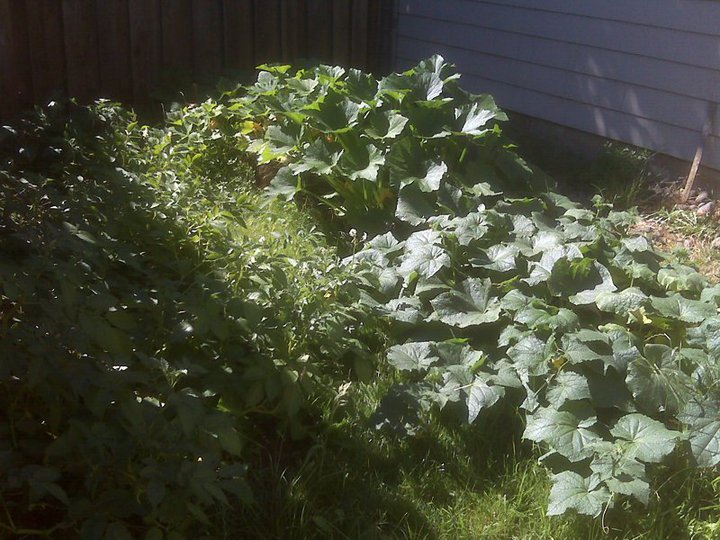 So simple with such beautiful results....doesn't it make you want to try your own straw bale garden? If you do, send us some pictures! We'd love to see your results!!
Would you like to grow potatoes in straw, too? Here's how.
Other garden information:
City Gardening
Climate Zones
Equipment for Starting Seeds
Growing Upside Down Tomatoes
Organic Slug Control
Preparing Your Soil
Salad Tower Garden
Starting a Vegetable Garden
Starting Vegetable Seeds Indoors
Starting Seeds with Peat Pellets
Kids Theme Garden