Yes, you can buy a compost bin at many local stores and online. You can get pre-assembled bins, bins that 'tumble' your compost, paneled bins you can put together. You can easily spend over $100 on a compost bin.
But if you're not into shelling out a bunch of cash for a place to stash your garbage, here's a composting solution that is virtually free, takes very little time, and uses recycled materials.
Make a Homemade Compost Bin out of Used Pallets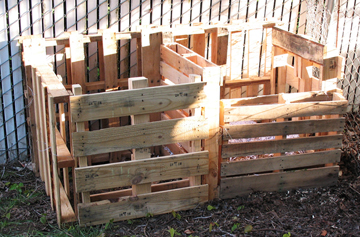 Getting used pallets for free is pretty easy. Lots of places give away their excess or slightly damaged pallets for free. A great place to find them is to look on places like Craigslist or Freecycle where people post their freebee give-a-ways (I got mine on Craigstlist after just a few days of keeping my eye out for free ones near where I live).
The only things you need to make a compost bin out of pallets is 4-7 pallets (depending on whether you want a double or single bin), a few long screws and some heavy wire. Simply set your pallets up in a box-like shape, screw them together with a couple of screws (or heavy wire, if they're too awkward to screw together). For easy access to the compost inside the bin, don't screw the front pallet to the rest of the box--attach it with heavy wire (or hinges if you want to get fancy) so that you can remove the panel completely.
If you've got the wire and screws laying around the garage, the cost of this project is the gas required to go pick up the free pallets you find.
A bonus to having a compost bin made from pallets is that there is a lot of 'air' space to give your compost breathing room. This will aid in keeping the smell down.
Other information you might like to know about composting:
How to Keep your Compost Bin from Smelling Bad
How To Get Rid of Flies in Your Bin