Chickens are the new pet of the 21st century city dwellers. Or so it seems. Okay, they might not replace dogs and cats in popularity (yet), but chickens are riding the wave of popular city pets and there's good reason for it.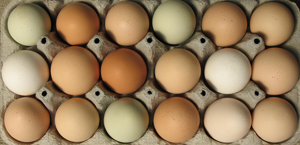 Reason Two: Fresh fertilizer!
Yes, good old fashioned chicken poop. For free. Non-chicken owning city dwellers actually have to PAY for this commodity, but not you! You get it fresh and free, right from the natural source.
Reason Three: They're Organic Bug Killers!
Chickens love to eat bugs. Those same bugs that love to eat your garden. If you let the chickens eat the bugs, the garden will be left for you!
Reason Four: Unlike your children, they never get too big
Chickens are small. They stay small. They won't eat you out of house and home because they're having a growth spurt. You won't have to build them a new home because they outgrew the old. They take up very little space.
Reason Five: They're cheap (no pun intended)
The biggest expense in raising chickens is providing them a place to live. It's even cheap to buy the chickens in the first place. You won't have to take out a loan to start a small city brood of hens.
Reason Six: You don't have to be an expert
Learning about the doesn't take a Ph.D. In fact, it's easy to get started. And easy to stay going.
Reason Seven: Free entertainment
Chickens have personality! And they will entertain you without even trying.
Reason Eight: They're gentle animals
For the most part, chickens are very gentle animals. This is especially true if you give them lots of human attention when they're little.