Keeping Bees
Mason Bees Verses Honeybees
Often when people think of 'keeping bees' they think only of honey bees, honey and hives. This is one kind of bee for the city, but there's also another kind of bees--mason bees. Because they are both beneficial to our gardens and the world around us, we'll take a look at both kinds of bees.
If you're considering keeping bees, first you need to decide which kind of bees you'd like to keep. Below we'll take about some of the pros and cons to both honey bee and mason bee keeping.  
Keeping Mason Bees
Well, really, you don't KEEP mason bees, per say. Not like you "keep" honeybees. But, there are things you can do to encourage mason bees to hang out around where you live.
The pros of keeping Mason bees are that there is essentially no upkeep or costs involved. At least not really. All you need to start is a mason bee house, which you can make from scrap wood.
That's it. If you build it, they will come. Probably.
If you don't want to leave it all up to nature, you can buy some mason bees to get started. Check with your local nursery or online. The prices and offerings vary, so check around before buying them.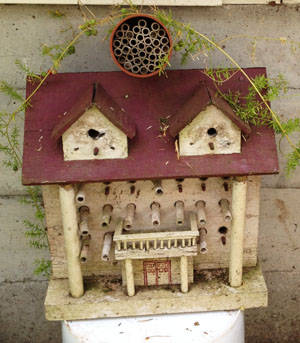 There are also many options for buying a pre-made mason bee house
But if you've got a little time, make your own. It's easy--check out how to make a mason bee house here.
Besdies the minimal cost and upkeep, another pro of keeping mason bees is that they're experts at pollination. Way better at it than honeybees! So, essentially, you get a lot more bang for your buck (which are very minimal to begin with).
Another pro of mason bees is that they don't sting. If you have any fears related to being stung, mason bees are a great place to start because they won't sting you.
The biggest con is that with mason bees, if you're looking for honey, is that you won't get any from them. Mason bees don't make it.
Another con is that a mason bee's season is very short. Because of this, many plants that bloom later in the season will miss the awesome pollination feats of these tiny insects.
However, with little to no start up costs, upkeep or effort, mason bees are surely an easy addition to your urban farming efforts with big pollination rewards.
Keeping Honey Bees
Honey beekeeping is a bit more intense as far as education and equipment, but once they're up and going, they don't require a TON of effort. More than mason bees, but less than you'd think.
A big pro to keeping honey bees that's the same as mason bees is that they pollinate our world, which is essential to our food supply.
Another big pro, which mason bees can't supply, is HONEY. Honey bees make honey and a beekeeper reaps those benefits.
Because the honey bee population is in danger, keeping bees is a way to help the honeybees get by. (If you don't think you can commit to being a beekeeper yet, you can always plant your yard with plants that encourage and feed honeybees.)
Warre Hive
The cons of starting up with honey bees instead of mason bees is that the up front cost is more (which is understandable since it's free for mason bees!). The upkeep is also more time consumming, although not so much that it qualifies for more than a very part-time hobby. (If you'd like to get into honeybees and you'd like to start small, consider starting with a top bar hive which you can either buy or make yourself.)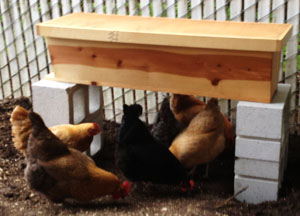 Top Bar Hive
There is also the sting factor. But, the threat of being stung is actually quite a bit lower than most people think. Honey bees by nature are fairly docile and don't sting you unless they view stinging as the last resort (because if they sting you, they give their life for the cause).
Yes, there are certainly precautions and protocol to follow, but bee stings from your honey bee hives will be minimal, if at all. Yet, it's still a factor and still something people think about when deciding if beekeeping is for them.
If you love the thought of harvesting your own honey, have $300-500 to invest, don't mind learning about beekeeping and how to care for your bees, don't go screaming out of the backyard if a bee flies by...then quite possibly beekeeping might be a great fit for you.
Or, better yet, do both. Why not make a couple mason bee houses and start with one or two bee hives?
Other information you might find helpful:
Starting with Bees

Honeybee Dance

Honeybee Deaths

How to Feed Honeybees

Keeping Bees (Mason vs. Honey)

How to Build a Mason Bee House